Wednesday, August 31, 2011
| | |
| --- | --- |
| | [5] |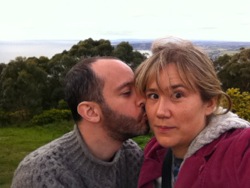 Trip to Victoria
There was no Jamie Oliver post this past weekend... because we went to Melbourne and the Mornington Peninsula! Eileen had been trying to get us down there for ages, so we figured it was finally time to go. We flew out on Friday night and back on Monday night, and in between we managed to experience: Fitzroy hipsters, Melbourne shopping, blindfolded Rubik's cube solvers, a lighthouse, Bass Strait, many wineries, a "cheesery", and a couple beer halls. It was a great little jam-packed mini-break. Photos are here. Thanks for hosting us, RT!


"University of Sydney joins forces with Jamie Oliver's Ministry of Food." Neat! On Friday, October 21, there are going to be cooking classes up on the quad at Sydney Uni. The Snook and I cook quite a lot so I don't think we'll be going. But if you have the day free and you'd like to learn to make some tasty meals, you should book in! (Link courtesy of Mary-Helen's Twitter.)


Shared today on Google Reader:here.

Tuesday, August 30, 2011

Shared today on Google Reader:here.

| | |
| --- | --- |
| | [2] |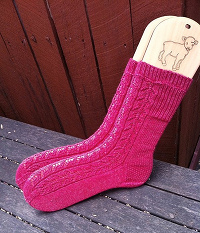 Fox Faces Socks
These are the fourth socks in the 2011 "Super Special Six Pattern Sock Club." I've caught up! After the stupid Nutkins knocked me two months behind schedule, I've finally caught back up to everyone else. These Fox Faces Socks by Nancy Bush were a very quick knit for me, and I'm pleased with how they turned out. The wool is Knitabulous's "Ultimate Sock" (which I think has been discontinued) in a beautiful faded pinky-red. I knitted both socks at the same time on a pair of 60cm 2.75mm circular needles. I followed the pattern pretty much *exactly*, which is like a record for me. (I did do one extra repeat on the leg though to add some length.) The toe is a weird one, with three sets of equally spaced decreases rather than the usual two. I actually like how it looks on the top of the sock, with two of the decrease bands emerging perfectly from two of the lace columns. I'm not sure how the third band will wear on the bottom of the foot, but I guess we'll see. These actually turned out a tiny bit short for me, and I couldn't be bothered frogging to make them longer. (I was running out of wool too.) So these lovely socks will shortly be winging their way to Chicago to grace the feet of my awesome cousin. She hooks us up with episodes of True Blood; I knit her some socks. It's a good system.

As usual, more photos and details over on Ravelry...

Friday, August 26, 2011
| | |
| --- | --- |
| | [3] |
RunningBlog: Week 34
A bit tired and sore this week. I'm also feeling a little depressed about my lack of speed, especially when CERTAIN PEOPLE have already massively surpassed me after just a few months' training. (*cough* Snook. *cough*) But I continue to plug away, turtle that I am. Sunday we did a 9:45 Magic Mile around Victoria Park and then jogged a bit through Newtown to hit four miles. Monday I went to Spudds after work. Tuesday I did a lunchtime run around the Botanic Gardens by myself. Wednesday I went to Spudds again. Lastly, today I did a lunchtime run with Raj.

Aug. 21: 6.68km
Aug. 23: 5.92km
Aug. 26: 5.91km
Total this week: 18.51km (11.5mi)
Total in 2011: 785.47km (490.9mi)

To meet my goal of running 1200km in 2011, I should be at 784.6km. I am ahead... but only JUST. I'm just not racking up the miles the way I was on my marathon training! Staying focused to hit my goal for the end of the year is going to be a challenge.

Thursday, August 25, 2011

Shared today on Google Reader:here.

Wednesday, August 24, 2011
| | |
| --- | --- |
| | [3] |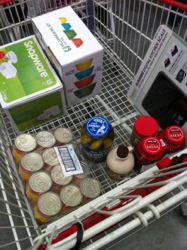 Costco Sydney
Last month Costco finally opened their first Sydney store, and pretty much the whole city went nuts. There are no other warehouse-type stores here (unless you count IKEA), so there was massive interest. We never had Costco in Indiana; instead we had The Wholesale Club and then Sam's Club. They're all basically the same though. The Snook and I were curious to see whether Costco's prices would justify us schlepping out there in the GoGet car. There aren't any prices on the Australian website, so the only way to find out was to go there ourselves. We signed up for a business membership online (hooray for having an ABN - saved us $5) and then headed out there Sunday morning. We got there about 10:15am... and there was already a queue of hundreds of people stretching through the parking garage. Wow. Luckily the line moved pretty quickly and we soon found ourselves at the entrance. We were able to get photographed and pick up our cards in less than 10 minutes. (The counter where people were signing up from scratch looked like it would take a LOT longer.) And then we were in! And it was CROWDED.

The store was just like the warehouse stores I remember from the States. We managed about 2 hours in there before we both started to go crazy. We didn't actually buy that much; we don't really have the room for perishables right now so we stuck to things we knew we could stash in the pantry. Mostly we just took photos of prices on things so we could compare back at home. They had a number of American products that I've never seen before in Australia, so that was pretty exciting. (Monterey Jack cheese! I haven't had it in 10 years!!) They also had quite a lot of their Kirkland home brand range. As expected though, they've really only got a couple of options for any given product category. Some stuff we could tell was a really good deal; others we weren't so sure of. Our fellow shoppers certainly looked to be taking advantage! The queue to the checkout was long but it moved quickly. By the time we left the store just after noon, police had blocked off the entrance to the full parking garage and were directing people to park at the shopping center across the road. So if you go on a Sunday, best get there early!

Now for the fun part: our price comparison. This was originally for our benefit, but I figure I might as well put it out there for future googlers. We basically just took photos of things that we thought we might actually buy. (Keep in mind that we eat a fairly low-carb diet; hence the lack of sugary, bready stuff.) Then we looked up those items online to see what they sell for elsewhere. For grocery items, I just compared to Coles and Woolworths online prices. (You may be able to get those items cheaper in the suburbs or with coupons, but I'd likely be paying premium at my inner city supermarket anyway so I just went with that.) Overall I was happy to see that just about everything was significantly cheaper at Costco. (Yay! Means we might be able to recoup our membership fee.) Read on if you want to find out whether you should make a trip out there too. [more...]


Shared today on Google Reader:here.

| | |
| --- | --- |
| | [12] |

File this under "Meaningless but Still Momentous": This is officially my 10,000th blog post. Yes, really. It's taken me just shy of 11 years to hit that milestone. Obviously my posting frequency has dropped off a lot in recent years, but I still can't see myself ever stopping completely. I was never able to keep a proper diary, so this blog has become the record of my life for the past 11 years.

As a fun little project, I went back to the beginning and made a list of the Old School Bloggers that I still read and follow to this day. There aren't many of us still chugging along after so long!

| | |
| --- | --- |
| | [2] |
Mink Car Cover - a project to commemorate They Might Be Giants awesome yet ill-timed album. I've just bought the digital version and I am rockin' out to it. The "NES-rock band" version of "Man It's So Loud in Here" made me dance in my chair. Hipster geek awesomeness.

Tuesday, August 23, 2011

TON OF WOOL
My friend Kylie Gusset has launched an intriguing new project: TON OF WOOL. Kylie is passionate about minimising the carbon footprint of the wool we knit with, and also about preserving and maintaining the Australian wool industry (most of which has moved overseas). For this project, Kylie has sourced a rare breed of Australian sheep (Cormo) that produce a beautiful fleece. She's also secured a "scour" that has agreed to process a ton of the fleece. (That's the minimum amount they'll handle.) She needs about $35K pledged in order to get this project off the ground. If you like the idea of preserving Australia's wool heritage, you should consider contributing. I did!

Monday, August 22, 2011
| | |
| --- | --- |
| | [1] |
RunningBlog: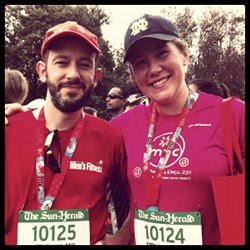 City2Surf 2011
Last Sunday was my fifth time running the City2Surf and the fourth for the Snook. (Previously: 2009, 2008, 2007, 2006. We only missed last year because we were overseas.) As we're both training for next month's Blackmore's Half-Marathon, the C2S was merely a training run for us this time. We were actually scheduled to do 17K, and the C2S is only 14K! So we left home a bit early and jogged/walked a few kilometers through the city to the starting line. It was a cool and misty morning, but somehow we managed to miss the small rainstorm that soaked most of the waiting runners. We had finally finagled our way into the Green Group (thanks to our qualifying times in last year's Run4Fun), but we positioned ourselves to the very back of the group. And then we were off!

With no specific time goal beyond hoping to maintain a sub-8:00/km pace, we took it nice and easy with 2:1 run/walk intervals. They spaced out the various group starts a lot more this year, and we found ourselves running on mostly empty streets for the first 4km. It was only as we neared the 5km mark in Rose Bay that the first of the Blue runners started to catch us. From then on, we were in the crush of 85,000 runners making their way to Bondi Beach. We did a great job of maintaining a constant pace and adhering to our walk breaks. Heartbreak Hill was tough, but not as tough as it was in previous years. As we ran down the last few km to Bondi, I remarked to the Snook that I didn't feel as shattered as I did at that point in previous years. We weren't going fast, but we were having a great time and enjoying ourselves.

We skipped the walk breaks in the last kilometer or so and tried to finish strong. As I have a history of very bad C2S finish line photos, we decided to make a plan for this one. Do you know the "Haters gonna hate" meme? Yeah, we decided to imitate that kid. The "before finish" video captures us in all our glory. (Watch for Snookums in the red shirt going from center to lower-right.) Our final time was 1:48:05, which is exactly the pace we'd planned for. Afterwards we headed over to meet up briefly with some of the Sydney Dailymile runners and snap a few photos. Then we headed to catch a bus back to the city. (The new bus system of taking everybody straight to Bondi Junction was BRILLIANT. That was the quickest we've ever gotten out after the C2S.) Overall a good training run and a fun day out with 85,000 other local runners!

Read on to see photos I took on the day. [more...]

| | |
| --- | --- |
| | [5] |
Jamie's 30 Minute Meals #28: Fish Tray-Bake
This is our 28th cooking/blogging experiment from Jamie's 30 Minute Meals... and I'm not gonna lie, the fatigue is starting to set in. But we started this thing, and dammit, we're gonna finish it. We chose this one because we had the episode recorded, asparagus is in season, and I started drooling when I saw a photo of the Banoffee Pie. Snook was on chef's duty and he finished in a very respectable 33:39. There were some definitely highlights and lowlights to this one...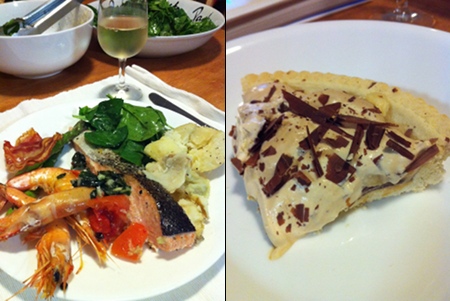 Substitutions: We already had some big potatoes in the pantry, so we just cut those up instead of using new potatoes. We had "banana prawns" rather than tiger prawns. Fresh red chilli is still very difficult to come by, so we went with dried chilli flakes instead. The pie calls for "Camp coffee," which we had to google. It's a kind of thick essence of coffee and chicory. Our supermarket actually had the local equivalent, but we decided against it (on the grounds that we'd never use up the rest). Instead, the Snook just made a shot of espresso and stirred a lot of sugar into it. Other than that, everything was as written in the recipe.

Quick verdict: Meh. It was okay. The fish tray-bake was tasty, but I dislike eating whole cooked prawns. I know why he does it; it's a time cheat. But I'd rather take the time to use cleaned prawns than have to tear their heads off, peel the shells, and de-poop them myself. (The ones we had were quite gritty, too.) The potatoes and the salad were fine, but there wasn't really much to them. We were divided on the salsa verde. I loved it, but the Snook thought it had too much raw garlic. But the Banoffee Pie... was a complete disaster. The problem was the bananas. Bananas are incredibly expensive right now in Sydney, and the best ones we could get turned out to be crappy quality and totally not ripe. We ate only a few bites of the pie and then chucked the rest away. Big disappointment! Overall we rated this one an 8/10 as cooked, but with a better Banoffee Pie we'd go up to 8.5. There just wasn't really any showstopping dish here, and nobody likes to eat prawn poop.

Read on for a photo essay of the preparation. [more...]

Sunday, August 21, 2011

Shared today on Google Reader:here.

Friday, August 19, 2011

RunningBlog: Week 33
This week was an improvement! Sunday was the City2Surf, which is technically a 14km race. However, the Snook and I were scheduled for 17km on our training plan. So we actually ran a few extra km's to the starting line just to get warmed up and make the distance. Monday I went to Spudds class after work, then did another on Wednesday at lunch time. I feel like my strength is starting to come back from being sick. Today I went for a lunchtime run (in some horrible winter Sydney weather) with my friend Raj. Good total for the week!

Aug 14: 18.15km
Aug 19: 5.56km
Total this week: 23.71km (14.8mi)
Total in 2011: 766.96 (479.4mi)

To meet my goal of running 1200km in 2011, I should be at 761.5km right now. Still holding onto that 5km cushion!


Shared today on Google Reader:here.

Thursday, August 18, 2011

Shared today on Google Reader:here.

Wednesday, August 17, 2011
| | |
| --- | --- |
| | [1] |
Shared today on Google Reader:here.

Tuesday, August 16, 2011

Shared today on Google Reader:here.

| | |
| --- | --- |
| | [2] |
Jamie's 30 Minute Meals #27: Spaghetti Alla Puttanesca
This is our 27th cooking/blogging experiment from Jamie's 30 Minute Meals. This one was going to be our dinner the night before the City2Surf, so we were thinking "carb-loading." And what's better for carb-loading than pasta? With that in mind, we chose "Spaghetti Alla Puttanesca, Crunchy Salad, Garlic Bread, and Silky Chocolate Ganache." We made sure to watch the episode so we knew what we were in for. I was on cooking duty for this one, and I actually pulled it off in 29:49!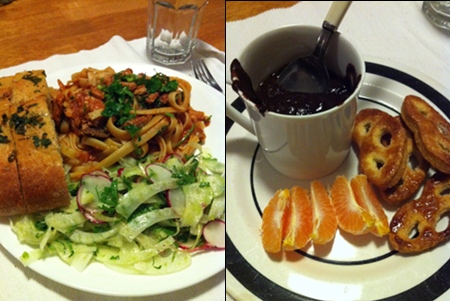 Substitutions: We used fettucine instead of spaghetti (simply because we already had a box of it in the pantry). We used a pinch of dried chilli instead of a fresh red chilli. For the dessert, we had an Australian mandarin rather than a true clementine. Other than that, everything was as written in the recipe.

Quick verdict: Nice! This is the perfect pre-race meal, if you ask me. My fettucine went a bit gluggy, but that's more to do with me overcooking it and not separating the strands enough. The sauce was a different sort of puttanesca than I'm used to: the Snook normally doesn't put tuna nor so much tomato in his version. He wondered at its authenticity but agreed with me that it was a very tasty tuna pasta regardless. The crunchy salad was better than I expected, but be warned - the recipe makes a LOT. We had heaps left over. The ganache was simple but effective, and having it with cookies and orange wedges was a nice combination. Overall we both rated it a 9.5 out of 10. It was quick to make and very tasty, but it just lacked the "wow" factor to make it a perfect 10. It's a great weeknight meal though... or even a pre-race feast!

Read on for a photo essay of the preparation. [more...]

Monday, August 15, 2011
| | |
| --- | --- |
| | [1] |
Shared today on Google Reader:here.

Friday, August 12, 2011

Latch Hooked Childhood Cats. The Snook and I have joked about turning Dr. Amy Jones into a rug of some sort when she's gone. This is nearly as good!

| | |
| --- | --- |
| | [2] |
RunningBlog: Week 32
Climbing back on the horse! The Snook and I dutifully skipped last week's 7K Bay Run (as ordered by our doctor) which meant we had more than a week off running. On Tuesday I went out in the early morning for a little jog around Newtown by myself. (The Snook ran at lunch.) I couldn't do Spudds this week as I was at a training course from Tuesday to Thursday. I went for another run today at lunch with Raj. I feel really slow and heavy right now (the training course was all carbs and coffee) but it's nice to be back on the right track.

Aug 9: 5.4km
Aug 12: 5.63km
Total this week: 11.03km (6.9mi)
Total in 2011: 743.25km (464.5mi)

To meet my goal of running 1200km in 2011, I should be at 738.4km right now. So yeah. The big cushion I built up in marathon training has totally been whittled down by a few weeks of injury and illness! It should start going up again though. This Sunday is the City 2 Surf, and I wouldn't miss it for the world...


Shared today on Google Reader:here.

Thursday, August 11, 2011

Wow, quiet around here, huh? I've spent the past three days away from work on this training course. It was a nice little change to not be staring at a computer all day long...

Wednesday, August 10, 2011

Shared today on Google Reader:here.

Monday, August 8, 2011
| | |
| --- | --- |
| | [4] |
Jamie's 30 Minute Meals #26: Spinach & Feta Filo Pie
With this meal, we venture into the second half of Jamie's 30 Minute Meals! It was the Snook's turn to cook this week, and we chose "Spinach & Feta Filo Pie, Cucumber Salad, Tomato Salad, and Coated Ice Cream." We picked the recipe because we had silverbeet and tomatoes to use up from the veggie box, and we happened to have all of the ice cream coating ingredients too. Unfortunately the time was a complete BLOWOUT, and he finished it in 43:57. (And even that wasn't quite long enough, as you'll see!) But those flavours... YUM.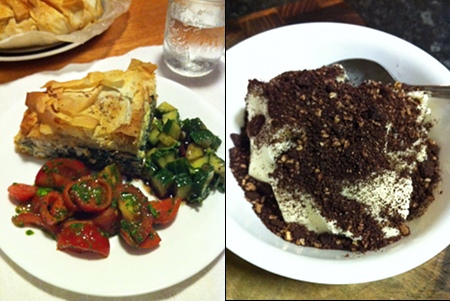 Substitutions: We used silverbeet (just the leaves) to substitute for 75% of the spinach. We used some Tasty cheese instead of Cheddar. We forgot the fresh red chilli for the cucumber salad and had to use dried chilli flakes. Everything else was as written in the recipe.

Quick verdict: This was a total winner in terms of flavour. The pie was excellent! The Snook had been worried about the cayenne sprinkled between the layers of filo, but it provided just the right amount of heat to counter the rich cheesy interior. The tomato salad was beautiful, and I can totally see myself spooning that onto some bread for bruschetta this summer. The cucumber salad was just okay, but I found the leftovers improved the next day. But the dessert? It was a revelation! The first of Jamie's "simple" desserts that was actually greater than the sum of its parts. I rated the meal as 9.5 out of 10, while the Snook gave it a 9. The only real drawback was the TIME. There is just no way to prepare this meal in under 30 minutes. The pie is meant to cook for 18-20 minutes, which means you need to get it in the oven in 10 minutes flat. There's just no way. It took the Snook more than 20 minutes to get his in! And when he went to serve it, he decided the egg filling wasn't set yet and put it back in for another 10 minutes (that I didn't even count in his official time). So this one gets major points for flavour, but you're not gonna make it in 30 minutes.

Read on for a photo essay of the preparation. [more...]


Shared today on Google Reader:here.

Sunday, August 7, 2011
| | |
| --- | --- |
| | [2] |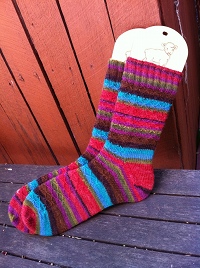 Leyburn Socks
These are the third socks in the 2011 "Super Special Six Pattern Sock Club." I'm catching up! My sock knitting mojo has returned, it seems. These were knitted out of the Regia Landscape 4Ply sock wool designed by famous textile artist Kaffe Fassett. (It's discontinued now, but I bought up a fair bit of it while I could.) I knitted them both at the same time on two 2.75mm circular needles. I modified the pattern quite a bit though. For the toe, I used Judy's Magic Cast On. I actually knitted the heel three times. The first time I did a short row heel, but it was too short when the Snook tried them on. Then I tried this toe-up heel flap but found the gusset wasn't quite deep enough. So I frogged it back and did the heel flap one more time, increasing several more times to make the heel deeper. That did the trick! I was so pleased with the heel that I forgot I was meant to do some increases afterwards, so I ended up having to do several increases all at once when I started the pattern on the bag of the leg. (I don't think you can tell though.) I didn't do any decreases for the cuff; I just switched to a 2x2 rib and knitted til I used up all the wool. (More photos and details over on Ravelry.)


RunningBlog: Week 31 - The Continuing Saga of the Mystery Virus
So when I last left you, the Snook and I were both laid low with some mystery malady. Symptoms: major tiredness, fever, some nausea, a bit of a sore throat, and swollen glands. We spent Friday and Saturday basically sitting on the couch resting, but we dragged ourselves out for a run on Sunday. Monday and Tuesday we were wiped out again. Tuesday night I went to my doctor to see if he had any advice, especially as we had two races scheduled over the next two weekends. He told me straight: "You're not training this week, and you're definitely not racing on Sunday." WHAAAT? Well, crap. So we haven't done any other running or exercising all week. I feel mostly recovered, but my lymph nodes are still noticeably swollen. If they don't go down soon, Dr. Chin wants me to have a blood test to make sure we don't have mono (i.e. glandular fever). My teammates Kunaal, Raj, and Chiefy are right now running the Bay Run without me. (The race organisers were kind enough to let us defer our entries til next year.) Hopefully we can get in a few runs this week so we're mentally prepared for next Sunday's City 2 Surf!

July 31: 6.57km
Total this week: 6.57km
Total in 2011: 732.22km (457.6mi)

To meet my goal of running 1200km in 2011, I should be at 715km right now. My cushion has definitely been eaten up in the last month! I need to put the ankle sprain and virus behind me so I can get back onto a regular training schedule.


Just wasted two hours of my life watching "Every Which Way But Loose" in a fit of misplaced nostalgia and missing my Dad. Dear god, that is a TERRIBLE movie. It's completely random and makes zero sense. The gag where Clint "shoots" Clyde was the only funny 10 seconds in the whole thing!

Saturday, August 6, 2011

Shared today on Google Reader:here.

Friday, August 5, 2011
| | |
| --- | --- |
| | [1] |
Shared today on Google Reader:here.


Have you heard? Miss Fee was on the radio this morning! It was the 10th annual ABC Knit-In, and she got interviewed about being a "groovy young" knitter. Yay Miss Fee!

Thursday, August 4, 2011

Shared today on Google Reader:here.

| | |
| --- | --- |
| | [2] |
Wow. The guy from The Oatmeal ran an ultra marathon last week. I am worried that I don't seem as scared by his description as I probably should be.

| | |
| --- | --- |
| | [2] |
Ooh. The Colette patterns blog is doing a Rooibos sewalong. Very tempted, but I'm not sure that style would look good on me. What do you guys think? Suitable for tall and curvy, or not so good?

| | |
| --- | --- |
| | [2] |
Another crochet afghan to make. Uh oh. I might be developing an obsession here.

Wednesday, August 3, 2011

Shared today on Google Reader:here.

Tuesday, August 2, 2011

Shared today on Google Reader:here.

Monday, August 1, 2011
| | |
| --- | --- |
| | [2] |
Jamie's 30 Minute Meals #25: Spring Lamb
This is our 25th cooking/blogging experiment from Jamie's 30 Minute Meals. Wow! We're officially HALFWAY through the book! For this week's recipe, we chose "Spring Lamb, Vegetable Platter, Mint Sauce, Chianti Gravy, and Chocolate Fondue." We chose it because we had the episode recorded, and because it's one of "lower" carb recipes left in the book. (Normally we cook our Jamie meal on Saturday - which is our Diet Cheat Day - but this weekend was the Snook's birthday, so that took precedence.) I was on chef duty for this one, and the Snook clocked me at 38:42. I was really annoyed with that time, given that I was flat out the whole time and this meal had a LOT of components. There's no way you could do it in 30 minutes! Time concerns aside, it was a very tasty meal and quite possibly the best lamb I've ever cooked.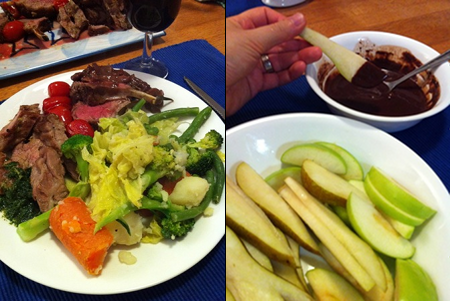 Substitutions: The recipe says to remove the fat from your rack of lamb, but we left it on. (Jamie leaves it on the show, and the photos in the book clearly show it on too. Besides, it's tastier that way!) We couldn't find "lamb neck fillet," so instead we bought a whole lamb neck and the Snook actually filleted it himself. We couldn't get cherry tomatoes on the vine, so loose had to do. I used full sized potatoes and carrots (chopped up) rather than the baby ones specified, and I used broccoli instead of runner beans. Other than that, everything was as written in the recipe.

Quick verdict: The lamb cutlets were cooked beautifully. Seriously, cutting that thing apart and seeing the blushing pink was like Masterchef, baby! And they were so, so good. The lamb neck... not so much. It was cooked fine, but it was just chewy and tough. (Is a "lamb neck fillet" something else in the U.K.??) The gravy was very good, if a bit chunky. (I used a bit too much bacon.) I think this mint sauce may have actually converted me to liking it! I'm just not convinced of the need for both sauce AND gravy. (The Snook tells me "it's traditional.") The veg was a nice accompaniment. The fondue looked to be a disaster at first but then came good after a bit more work. It's another one of his "afterthought" desserts though, and I'm not sure I'd bother with it next time. We both rated the overall meal a 9.5/10... if you don't count the neck fillet. It's a filling and warm late-winter/early-spring family dinner!

Read on for a photo essay of the preparation. [more...]


Shared today on Google Reader:here.

archives
You can search through the archives by post keyword using the form on the left, or you can browse by month using the links at the bottom.
"Moblog" refers to posts and images posted directly from my mobile phone.

"PW Blog" refers to posts recovered from my very first weblog, which dealt with news related to my college dorm.