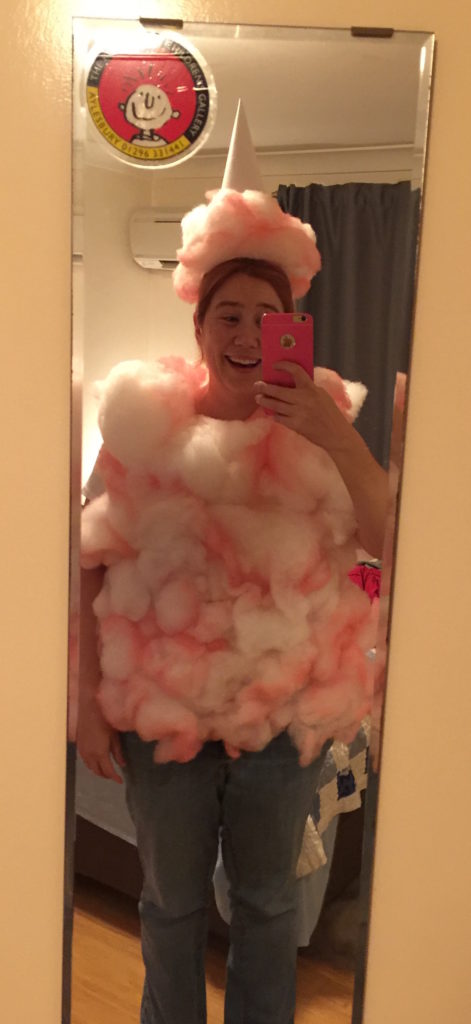 Yesterday was Canva's third birthday, and the plan was to have a "Carnival" themed party to celebrate. As you all know, the Snook and I don't mess around when it comes to costumes. We wanted to do something original and fun. (No "sexy ringmaster" for us, thank you!) I searched Pinterest for ideas, and I even looked through a gallery of freak show performers.
Me: I had a hilarious image of you as a bearded lady
but that might be offensive
The Snook: well, I'm offended 😛
In the end we decided to play it a bit safer. The original plan was to be sideshow performers – either plate spinners or bottle balancers – until I stumbled across this: DIY Cotton Candy Costume. We both laughed at the idea and decided to go for it. I documented the entire process and figured I'd share it here.
Materials: I bought two large 1kg bags of polyfill stuffing from Lincraft. (This turned out to be WAY TOO MUCH. We probably used less than half of it!) We also bought a scan of spray adhesive and a couple big sheets of thick white paper. At Bunnings we got two cans of cheap spray paint, one each in pink and blue. And at Kmart we bought two white t-shirts. The only other things we needed were elastic (which I already had) and a couple painting tarps.
I started by spreading out a clear plastic tarp in the back garden and emptying the first bag of stuffing onto it. I tore it into large chunks as I went, trying to spread it in a single layer. Then I used the pink spray paint on it and waited about 15 minutes for it to dry. I mixed it around and tried to expose more of the white parts and added another coat. (I wasn't going for full-on coverage, but I didn't want big chunks of stark white either.) When that was done, I piled it up and started on the blue.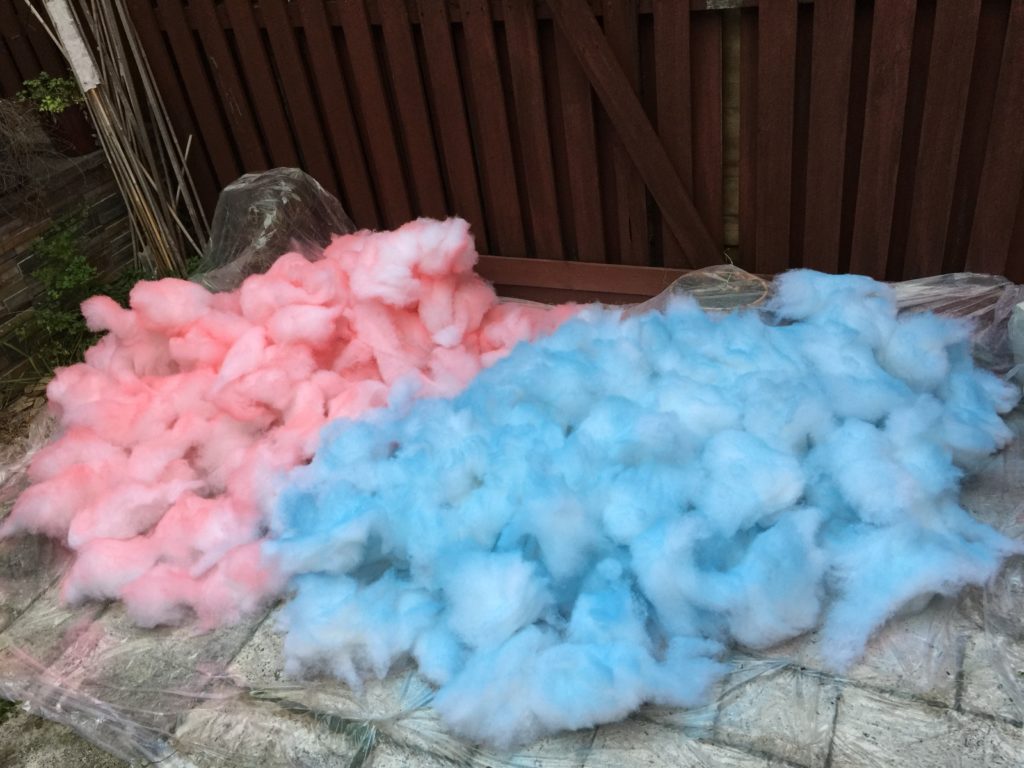 Honestly, at this point a normal person would've realised I had WAY TOO MUCH STUFFING, but I am an expert at persevering in the face of Crafting Stuff-ups. When it was all dry, I stuffed each pile back into the original bag and took it inside.
I have a sewing mannequin for myself, and I just happen to also have a spare one right now. (A friend gave it to me to donate to the Knitters Guild, and it's been sitting in my house since.) These ended up being PERFECT for sticking on the fluff. We set them up on another clear plastic tarp.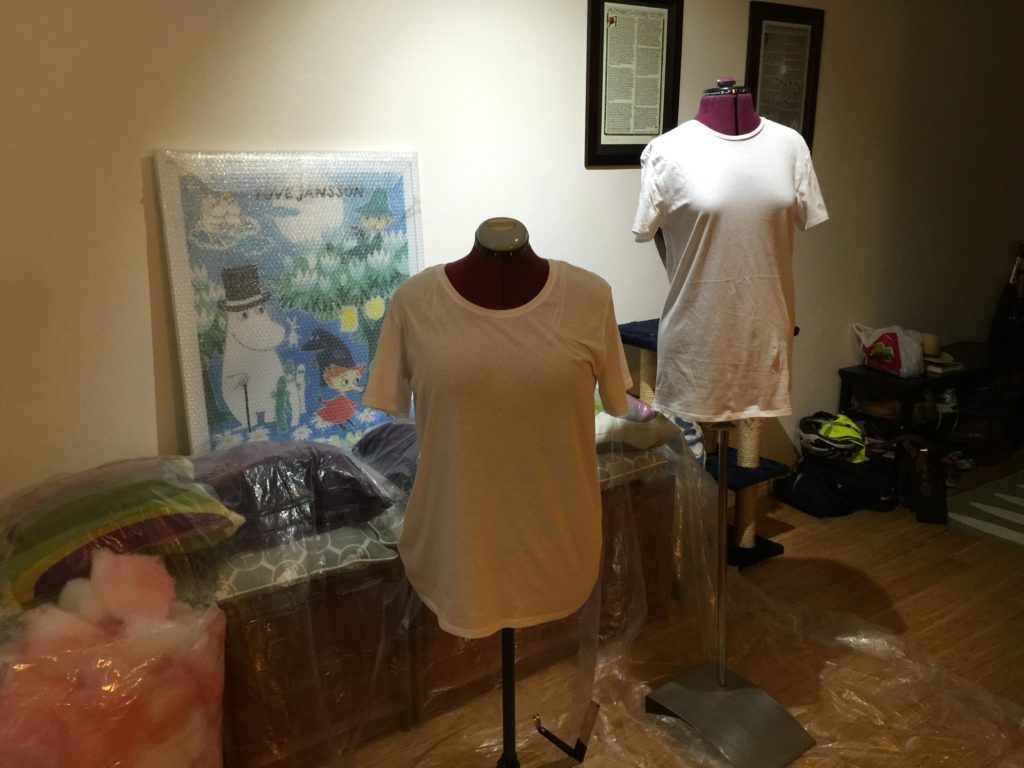 Now it was time to cover the shirts in fluff. The instructions on the glue said to spray each surface, wait a minute, and then stick them together. It worked pretty well! We were worried about running out of glue, so we started with just the front of the shirts.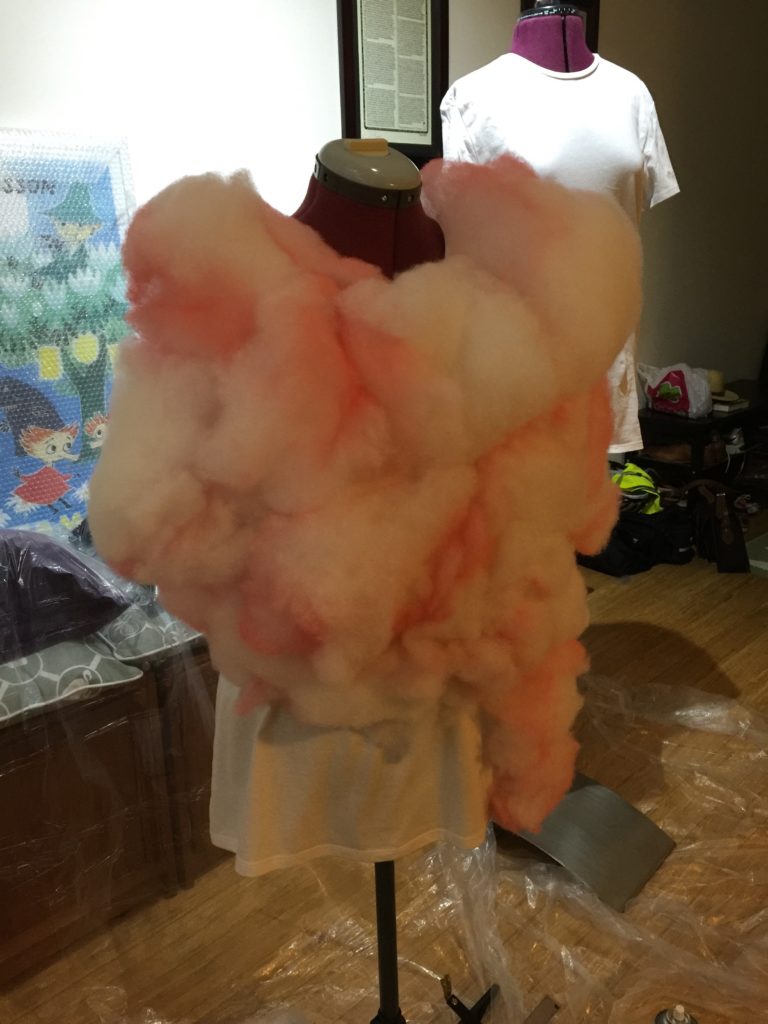 You can see here that the Snook is wearing a paper mask. This was wise. The paint and the glue both give off some serious fumes. (Ideally you'd do this part outside, but it was nighttime and it's been raining a lot lately.) We didn't bother sticking fluff to the sleeves so we tucked them inside the shirts as we worked. Fortunately we ended up having enough glue to complete the front and back of each shirt, but only just! We went through that entire large can. If we'd had more, we might have used some of the RIDICULOUS amount of extra fluff to add a second layer to round them out even more.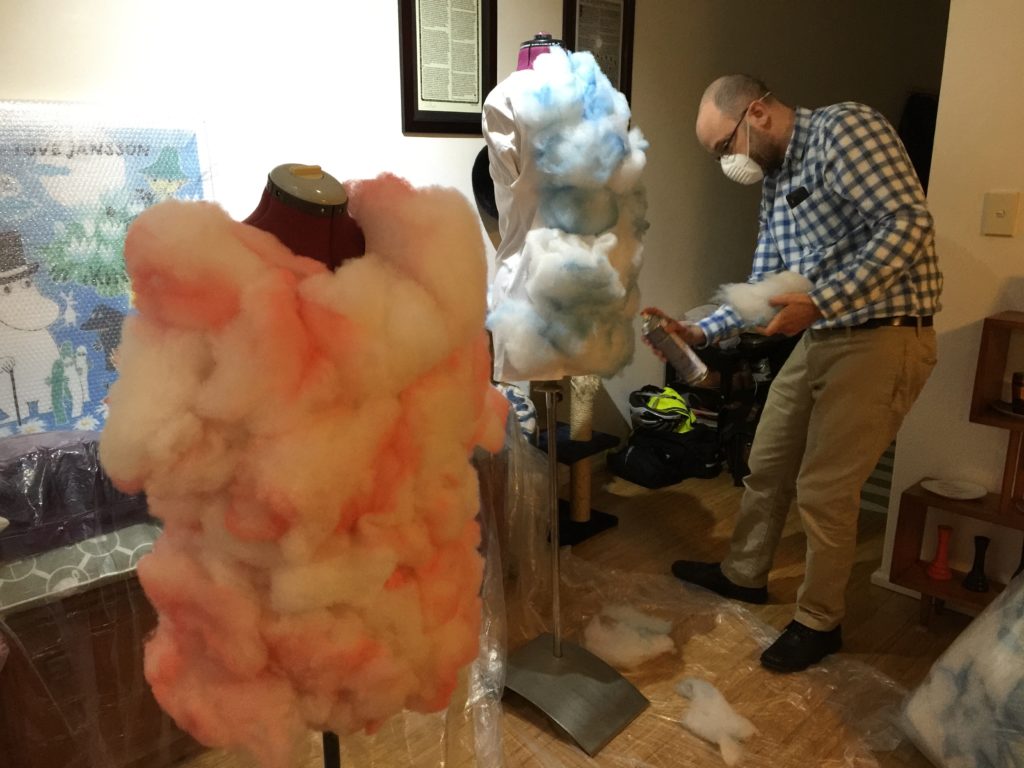 The Snook made our cone hats out of the white paper and used hot glue to stick the edges down. I used a stapler to attach elastic at each side.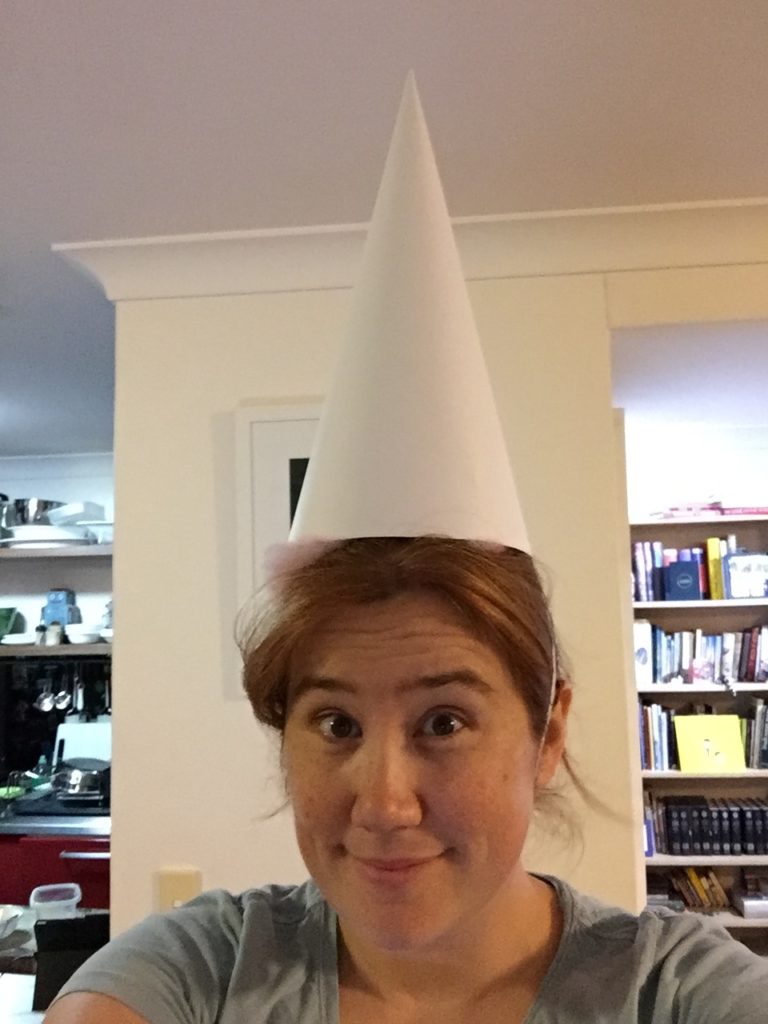 Since I had so much extra fluff, I actually stuck a fair bit down inside each hat to give it some extra form and stability. Then we used the last of our glue to stick a bunch of fluff around it like a wig.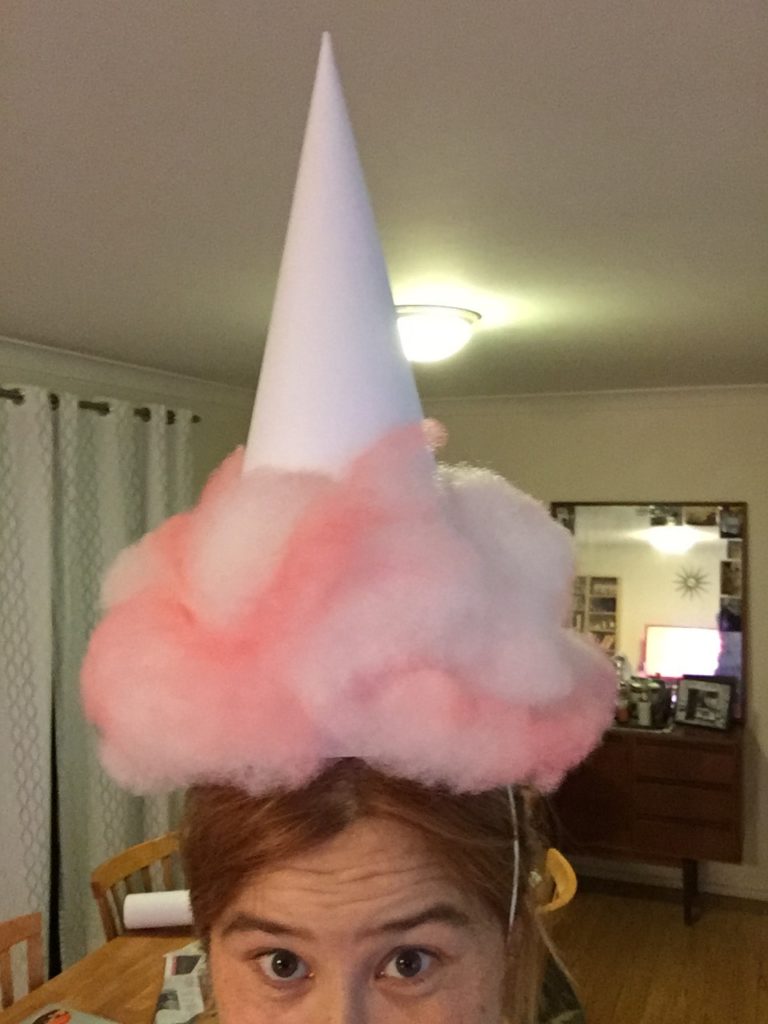 Here's the final view of each costume as we left them out overnight to dry. (You can also see the ginormous full bag of stuffing on the floor there, which I'll be using up for the next ten years.)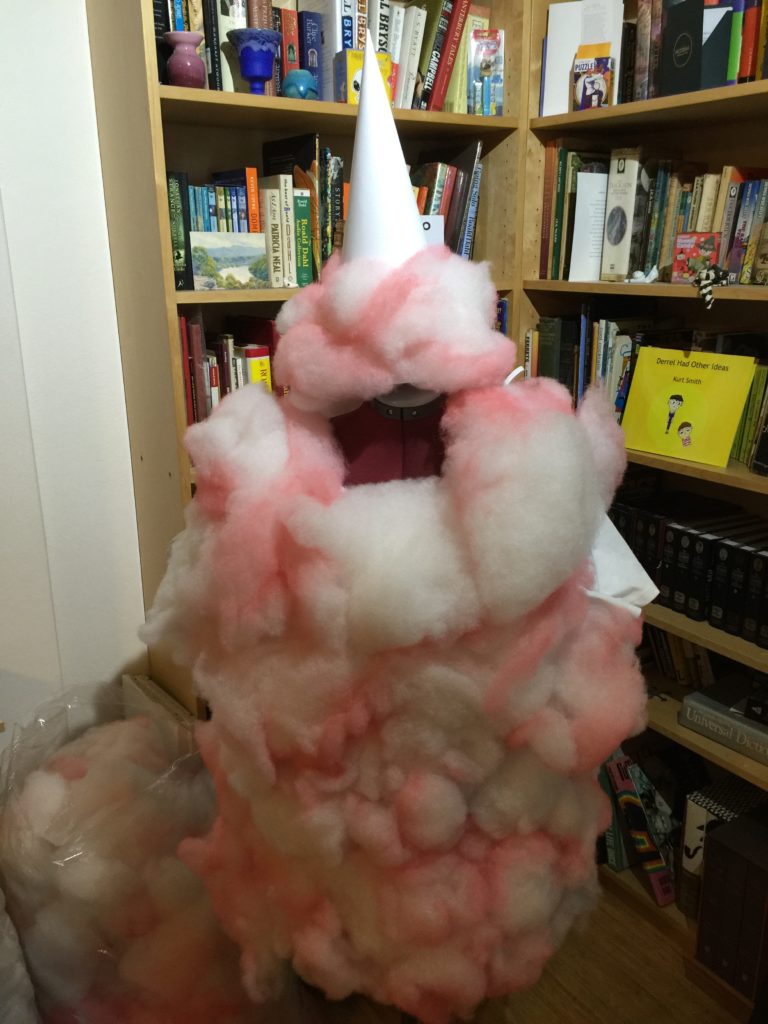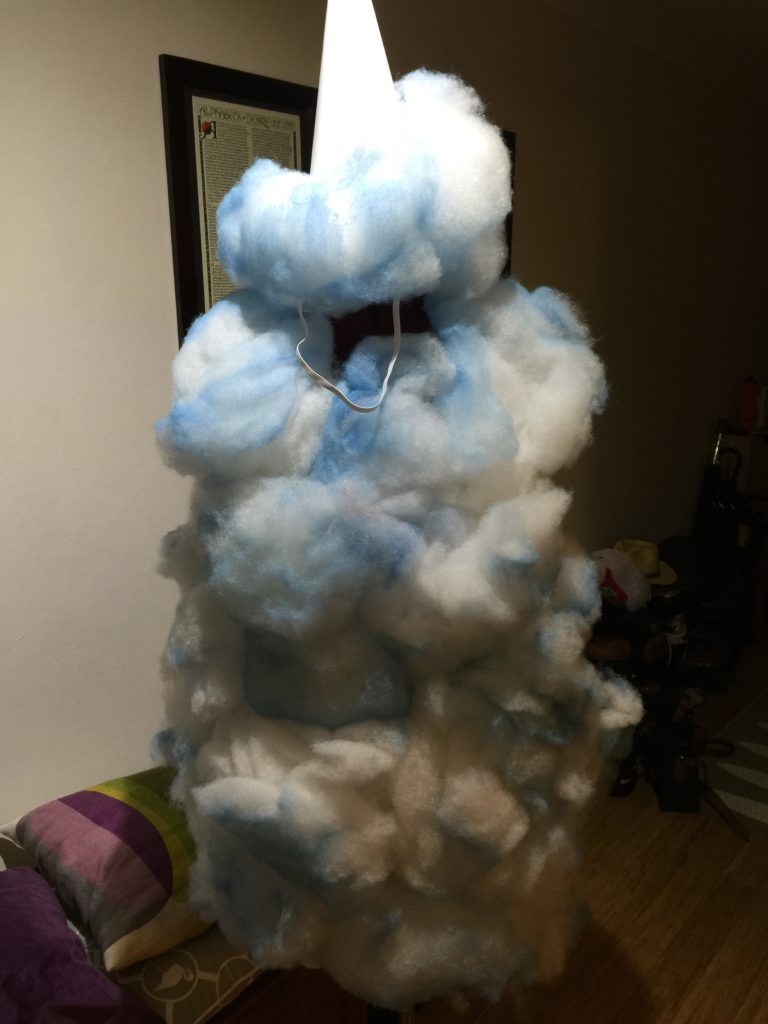 For the party itself, the Snook packed up the costumes in garbage bags and brought them along to the office in a taxi. It took us less than 5 minutes to put them on in the bathroom, and they were super cozy and comfortable. (They're also WARM, so this definitely isn't a costume for a summer party.) As a final touch, we used a red lipstick and a blue eyeshadow pencil to draw circles on our cheeks.
Aren't we adorable? Everyone wanted to hug us! Best costume ever.