Since I don't have a fixed office at YOW!, I need to carry my "office" with me. For the past fourteen months that's been in a battered black Herschel backpack. The "leather" is starting to flake off though, and I was getting tired of rummaging around inside to find my keys or wallet. So I've been thinking about getting something a little more professional looking. Over the weekend I asked a couple friends as well as Twitter if there were any messenger/satchel/laptop bags they'd recommend:
I have decided I need a new bag to replace my aging backpack. I have just gone down an "EDC" rabbithole. Anyone have a great satchel/messenger bag they recommend?

— Kris Howard 💃 (@web_goddess) January 6, 2018
EDC, if you haven't heard of it, stands for "everyday carry." There's a whole, like, scene around it, with websites and subreddits dedicated to showcasing the carefully curated toolkits that folks in various jobs carry around at all times. Here's mine, as photographed fifteen minutes ago at my coworking space: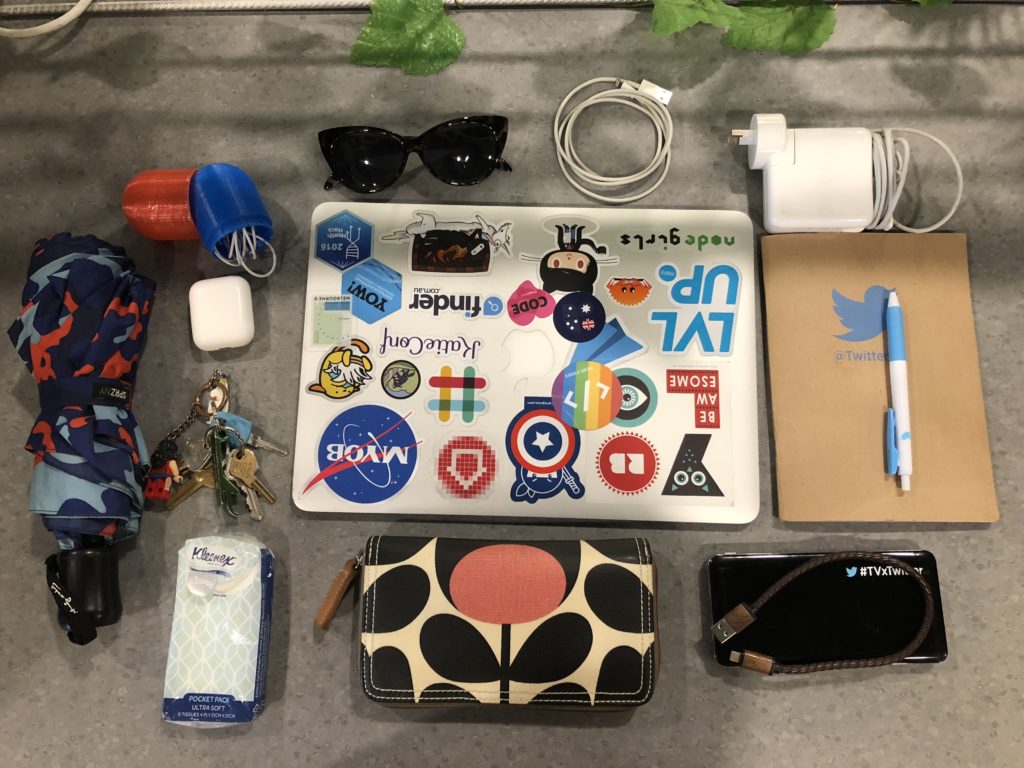 Nothing too unusual or "tactical" there, really. Starting in the middle and going around clockwise: I've got my 13″ MacBook Air (chosen for lightness when travelling), long USB-to-Lightning cable, power cable, notebook and pen (both swag from a Twitter event),  power brick (more Twitter swag), another short braided leather USB-to-Lighting cable, Orla Kiely wallet (with business cards inside), tissues, keys (with bottle opener keychain), umbrella, AirPods, wired ear buds (in a custom 3D-printed "pill" that Developer Steve made me), and sunglasses. Not pictured: chapstick, paracetamol, and other assorted lady necessities as needed. 🙂
A lot of folks kept recommending Crumpler messenger bags to me. I'm not a huge fan of the style though – they all look too much like neoprene camera bags to me. They're also huge! And having to undo those clips to get inside would annoy the crap out of me. (I notice that a lot of folks in photos leave them unclipped and dangling.) I also find the names of their product lines pretty cringeworthy. "Moderate Embarrassment"? No. Clearly this is aimed at a much hipper demographic than me.
Fossil have some very nice messenger and "work bags," but the marketing is aggressively masculine. Like, we get it dudes, you're way too manly to be carrying a purse, right? Ugh. Similarly, Code Republic do some very nice handbags that are secretly laptop bags. They're not my style, but I appreciate the effort. Still, I'd prefer my bag to be as gender neutral as possible.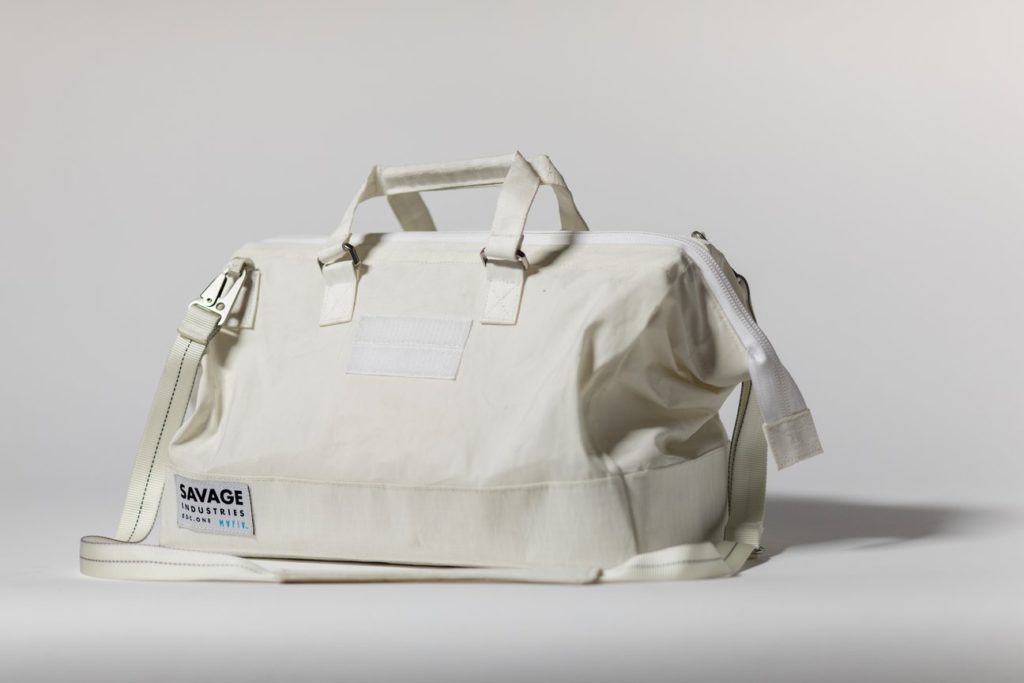 A few folks pointed me towards the new dedicated "EDC Bag" that Adam Savage recently launched. While I can appreciate the concept, it's a little too "tactical" for my needs. I don't need recycled sailcloth and exposed hook-and-loop and a clamshell spring opening. (Frankly, it reminds me of Mary Poppins's carpet bag just rendered in recycled materials.) The fact that they're hand-numbered takes this more into the realm of an expensive collectible to me than an everyday item.
Ultimately I narrowed it down to just a few choices:
Proyager. They're an Aussie company, and I liked the look of the Thao Vat Laptop Messenger Bag. Their bags are all canvas though, and I know from experience with my canvas Queen Bee bags that I'm really hard on them. I'd prefer something more waterproof and durable.
Toffee Cases. They're very local (the office is just down the street in Pyrmont!), and their stuff is stylish and unisex. I really liked the Fitzroy Satchel, but the colours weren't super inspiring. (There's a photo of a navy blue one which I loved, but doesn't look like you can order it.) They're also out of stock in the 13″ for the next few weeks. The Commuter Satchel was also very nice, and I actually had the navy version in my shopping cart for a while…
STM Bags. Another Aussie company with a good reputation. I noticed there was a stockist inside the Broadway Shopping Center, so I popped in to check out the Judge Laptop Brief in person. It seemed like it would carry all my stuff and allow easy access; there were plenty of pockets and compartments; the materials and workmanship seemed good; and it came in actual non-embarrassing COLOURS. It also has some useful features like a fleece lined pocket for your sunnies, and an opening between the main and front compartments for your charging cords.
The STM bag was the same price in the shop as online, as well as $70 cheaper than the Toffee Commuter. I decided to go for it! I'm still working out the best way of organising everything, but so far so good. I personalised it with a bunch of pins I've been collecting over the past couple years. (I'll probably have to take those off when I travel, I'm guessing…) Thanks to everyone who gave suggestions!
So what's in YOUR EDC?
Bag update! I ended up getting a Judge bag from @stmgoods. It's probably a little big for an EDC, but I reckon it'll be perfect for travelling. https://t.co/CxwhrWObbc pic.twitter.com/c58QurWBSy

— Kris Howard 💃 (@web_goddess) January 6, 2018