Hard to believe we've already been here for a whole week! It honestly still feels like we're on vacation. I'm sure reality will set in soon.
"So the toilet shelf… is kind of confronting."

I did warn him about German bathrooms. 😂

— Kris Howard 💃 (@web_goddess) August 29, 2020
That post caused some hilarity on Twitter amongst Aussies who hadn't heard about "the poo shelf." I remembered them from my summer in Germany 20+ years ago, but we hadn't encountered any on our brief stay last year. To my (initial) delight, our AirBnB bathroom features one. Yes, your business is right there if you want to check it out. I'm told it's great for, you know, spotting potential digestive issues. For now, Rodd and I are still at the "averting one's eyes" phase. 💩
Anyway, we spent our first weekend isolating in the apartment while waiting for our Covid results. We sat on the balcony when we could, but it was pretty rainy so we mostly vegged on the couch and watched Netflix. We managed to get groceries and beer delivered so we could cook, though the AirBnB kitchen is pretty tiny. We also discovered Lieferando, a delivery service like Uber Eats, and managed to order in some delicious schnitzel.
And then on Sunday… there was a minor emergency. We ate lunch and then were sprawled on the sofa, pretty much exactly as above. At one point, Rodd went to stand up and immediately swore. The floor – pretty much everything you can see in the photo below and MORE – was covered in water. We both jumped into action. I was worried it was the rain coming in the balcony door, but we realised quickly it was actually coming from the kitchen. There was no visible source at all. While Rodd scrambled to find the water shutoff valve, I grabbed every towel in the place and threw them down. I found a bucket in the closet and we began painstakingly sopping up the water with the towels. We worked for more than an hour, and we must've emptied that bucket 10 times. We also contacted our host, who messaged back later to apologise and arrange for a plumber the next day. In the end we learned that the kitchen had been recently renovated, right before we arrived, and the fittings for the kitchen hot water weren't correct. It's all fine now and nothing was damaged, but man, that day suuuucked. We were both so sore and tired from cleaning it all up. Fun adventure, eh?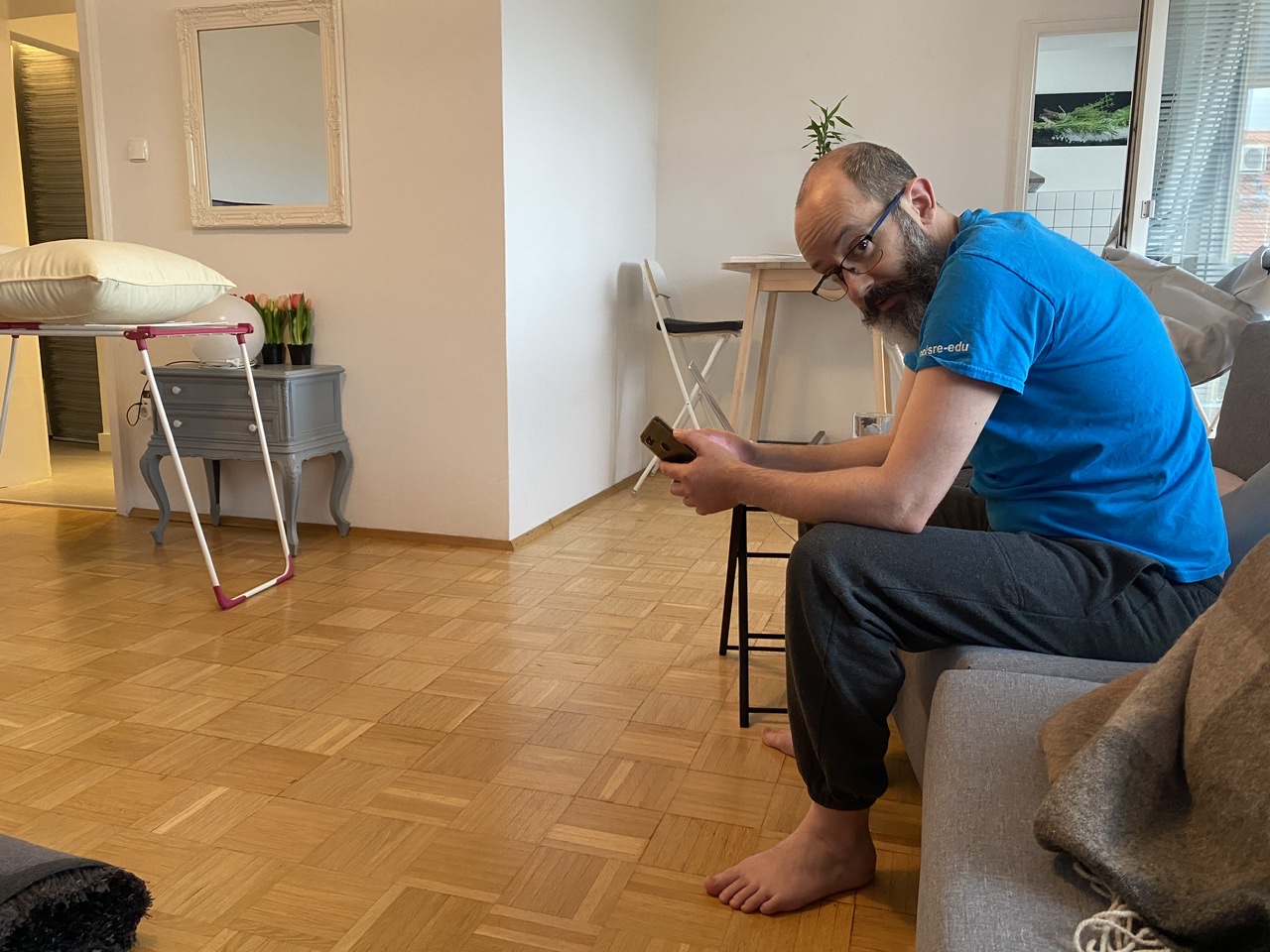 Thankfully, brighter things were on the horizon. Sunday night we both received our Covid test results, which were thankfully NEGATIVE. The weather also began to clear up, and on Monday we were finally able to go out into our new city. We went for a brief walk around Maxvorstadt, which is where we're staying. It's full of students, cafes, shops, and museums. It felt so odd after months of isolation in Sydney to see so many people around, sitting at restaurants and enjoying life. (While only some folks wear masks while walking around, it's mandatory to wear them when you go into a shop or enclosed place.) We ended up wandering to the nearby Königsplatz, which had a small summer festival set up complete with a Ferris Wheel. I managed to order us a "Käsekrainer" (cheese kransky) and Currywurst, which we ate in a small biergarten. It was lovely to get out into the sunshine.
On Tuesday I officially started my new job, and I've spent the last few days getting to know my team and working through my Onboarding plan. I am basically wearing two hats: as a manager I'm looking after the AWS Emerging Markets DevRel team, which currently includes Central and Eastern Europe as well as sub-Saharan Africa; and as a developer advocate, I'll be helping the team covering Germany, Austria, and Switzerland. I did manage to find the AWS office today, but I haven't been inside yet. Hilariously, none of my team are actually here! They're all spread out all across Europe. But I've met some of the local folks in the marketing and solutions architecture teams, and they're going to show me around hopefully tomorrow.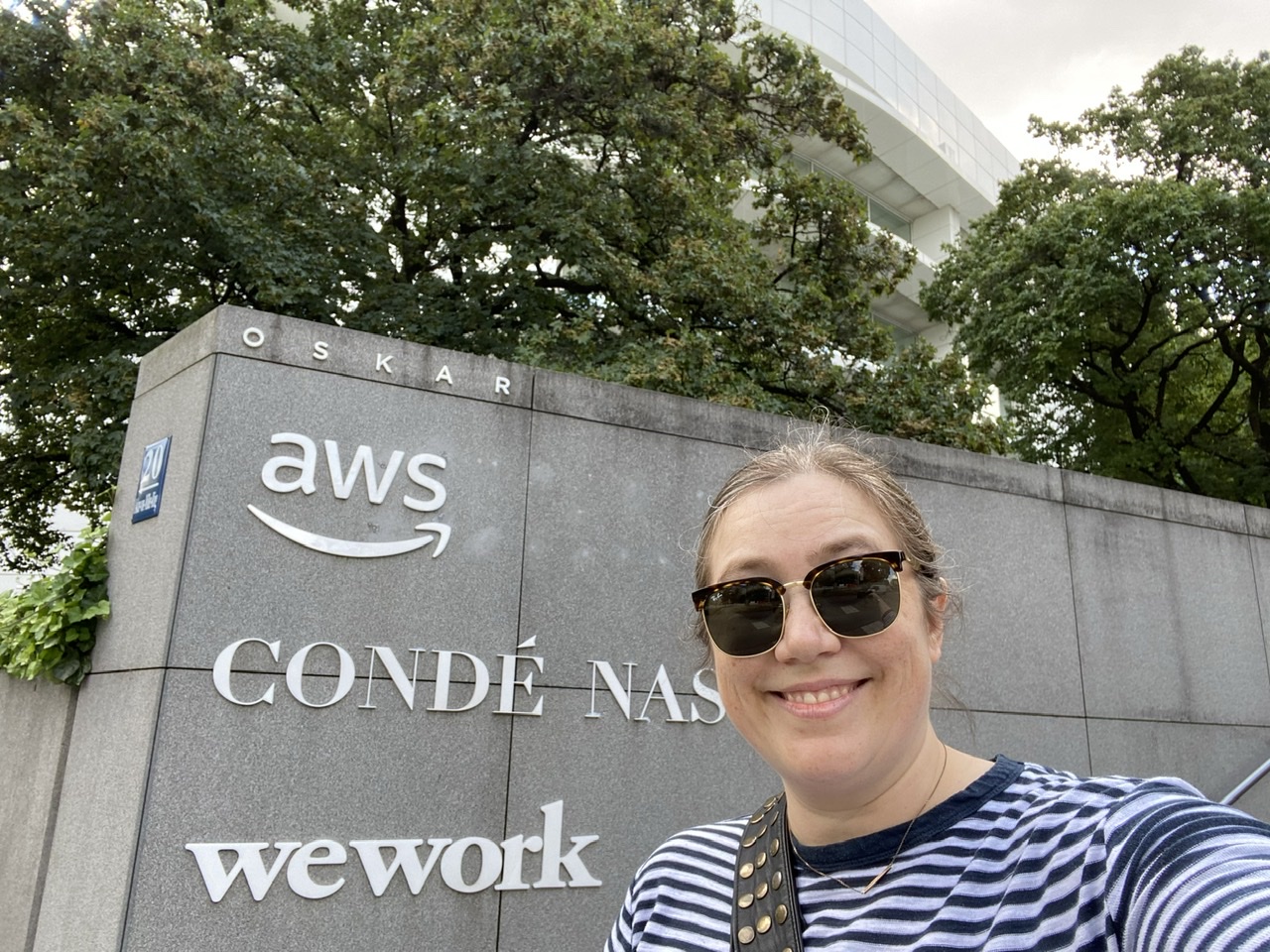 The other big news is that we may have found an apartment! We went to check out three of them, and we've decided on one. I've just sent off all the docs to the letting agency, so fingers crossed we get it and we're able to move in soon.
Did I mention it has multiple guest rooms? 😉