So it turns out that we don't get the keys to our new apartment until tomorrow, which meant we didn't need the weekend for moving house after all. With the sun shining and two days with nothing to do, we headed out to explore some of Munich's parks.
The Englischer Garten is a massive public park in the middle of Munich, bigger than Central Park in New York. It's named because it's in the "English-style" of garden, aka rambling and informal as opposed to rigid and geometric. We walked over from our AirBnB and started at the southernmost end. There were lots of other people enjoying the warm weather, including many folks on bicycles. (I really want a bike!)
One of the popular activities is surfing in the Eisbach. This is a man-made brook off the Isar river, and at one point it comes out from a tunnel and forms a standing wave. Surfers with short boards queue up and literally jump onto it, one at a time, riding for about 20s before they fall or jump off and are carried down the waterway. A large crowd had gathered to watch. We stood for a short time, trying to maintain 1.5m distance, but it was difficult given the small space. Definitely something that would've been more fun to cram in and see in non-Covid times!
We wandered down shady paths along the brook, amused to occasionally see a couple daredevils swimming down it. (You're really not supposed to; people have occasionally drowned.) Eventually it got smaller and split off into streams, with lots of little bridges across it and tiny man-made waterfalls. It was really charming and lovely.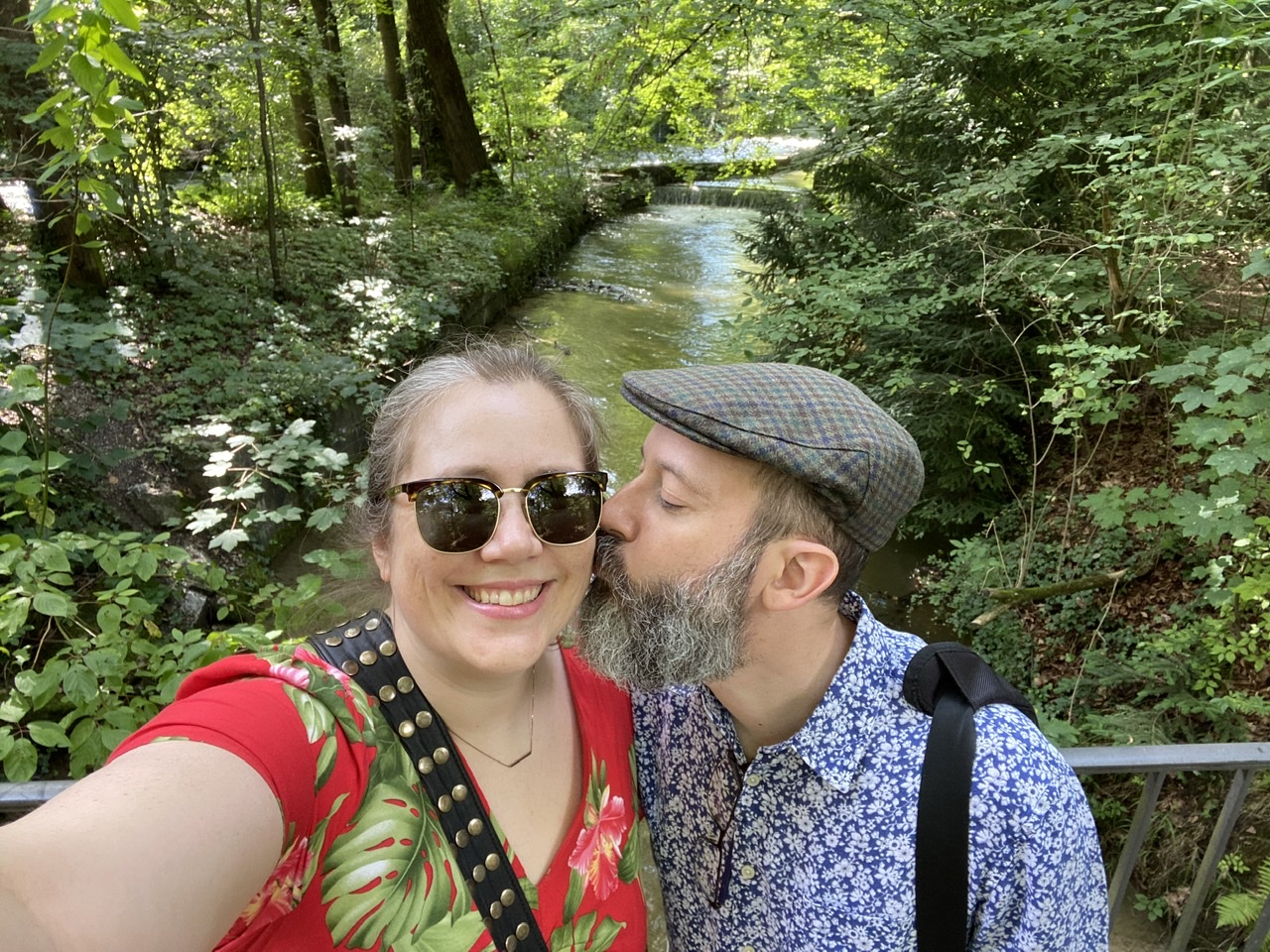 We popped out into the sun at the Chinese Tower. This wooden structure was built in the 18th century but burned down in WW2. It was rebuilt, and now the area around it has a large beer garden. We were tempted but realised that downing lots of beer would very quickly cut our walk short!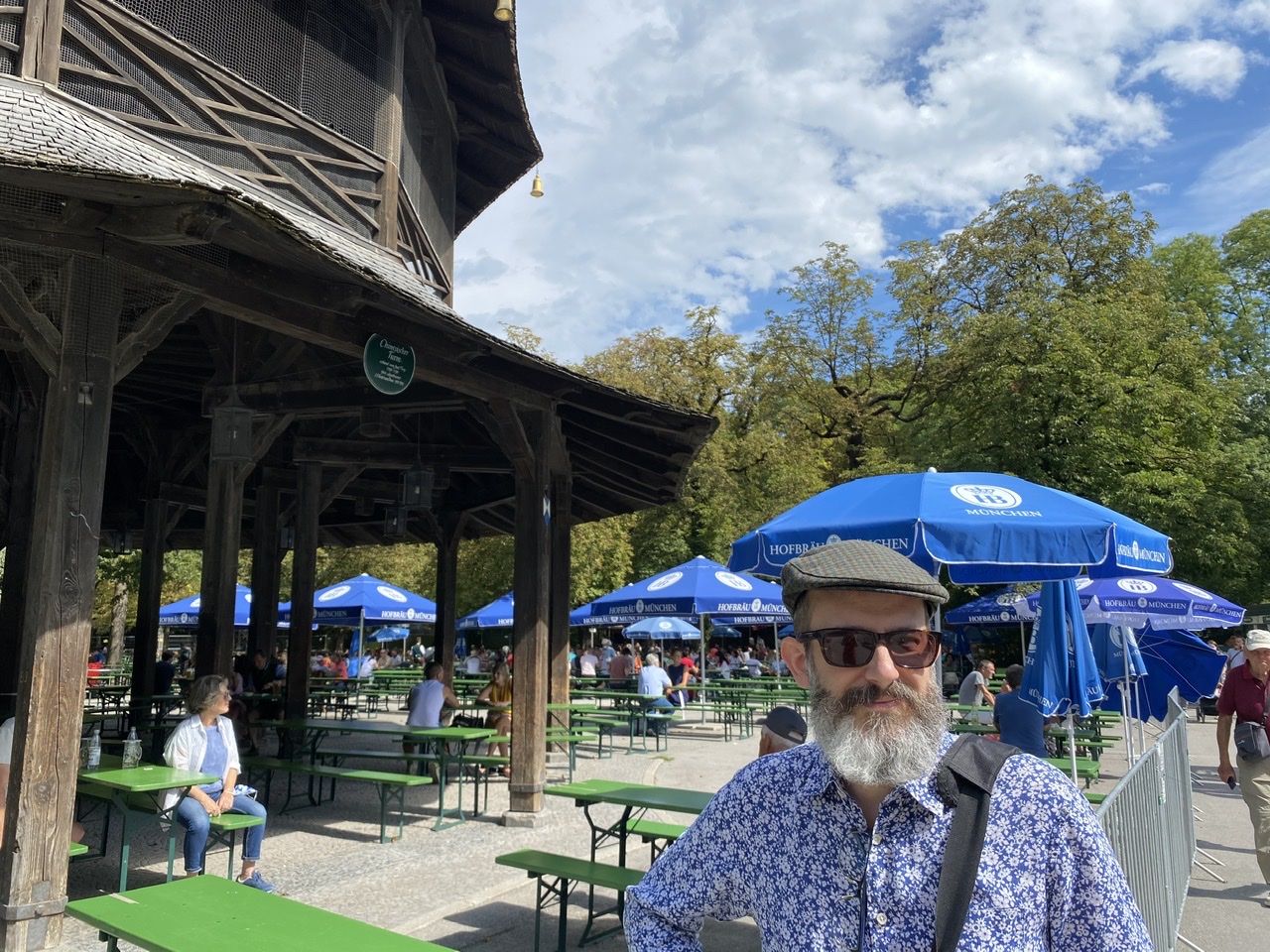 There was no way we were going to see the entire Garden in one day, so we turned south at this point back towards where we started. At one point, we spotted a bench and sat down to eat some snacks. It didn't take long to realise we were near the Schönfeldwiese, the famous meadow where nude sunbathing is allowed! FKK TIME, PEOPLE. Actually we only spotted a couple middle-aged dudes, who seemed to be having a nice time. The Snook was not yet tempted, but I suspect perhaps next summer he may change his mind…
We left the garden near where we entered and headed home towards Maxvorstadt. "Man, I wish I had some ice cream," I hinted. The Snook suddenly remembered that one of his colleagues had mentioned a really excellent ice cream parlour, Ballabeni, that was conveniently on our way home. We could see the queue out the door, but thankfully we only had to wait about 15 minutes. (They were strictly limiting the number of folks inside at any given time.) The Snook got a selection of sorbets, while I enjoyed a few of the ice creams. Lovely way to finish the day!
Sunday was cooler and rainier. Our new apartment is in Theresienhöhe, so we decided to scout out the neighbourhood. We took the underground (which meant we had to figure out how to buy tickets using the MVV app) to Schwanthalerhöhe station and then timed how long it took to walk to the house. Happily it's under ten minutes! We're very close to the Deutsches Museum Transport collection as well as Bavaria Park. We walked back to Schwanthalerhöhe to find our nearest grocery store and check out some of the local cafes. (Since it was Sunday most places were closed.) We're also not far from the Theresienwiese, the giant Showgrounds that would normally be gearing up for Oktoberfest right now. (Sadly, due to Covid it's not happening this year.) We were worried at first that being this close might be bad, but our residential area is on the other side of where public transport would be dropping people off, so we reckon it'll probably be okay. I wonder if next year we'll be able to hear it? The grounds are immense. This photo captures less than half of it…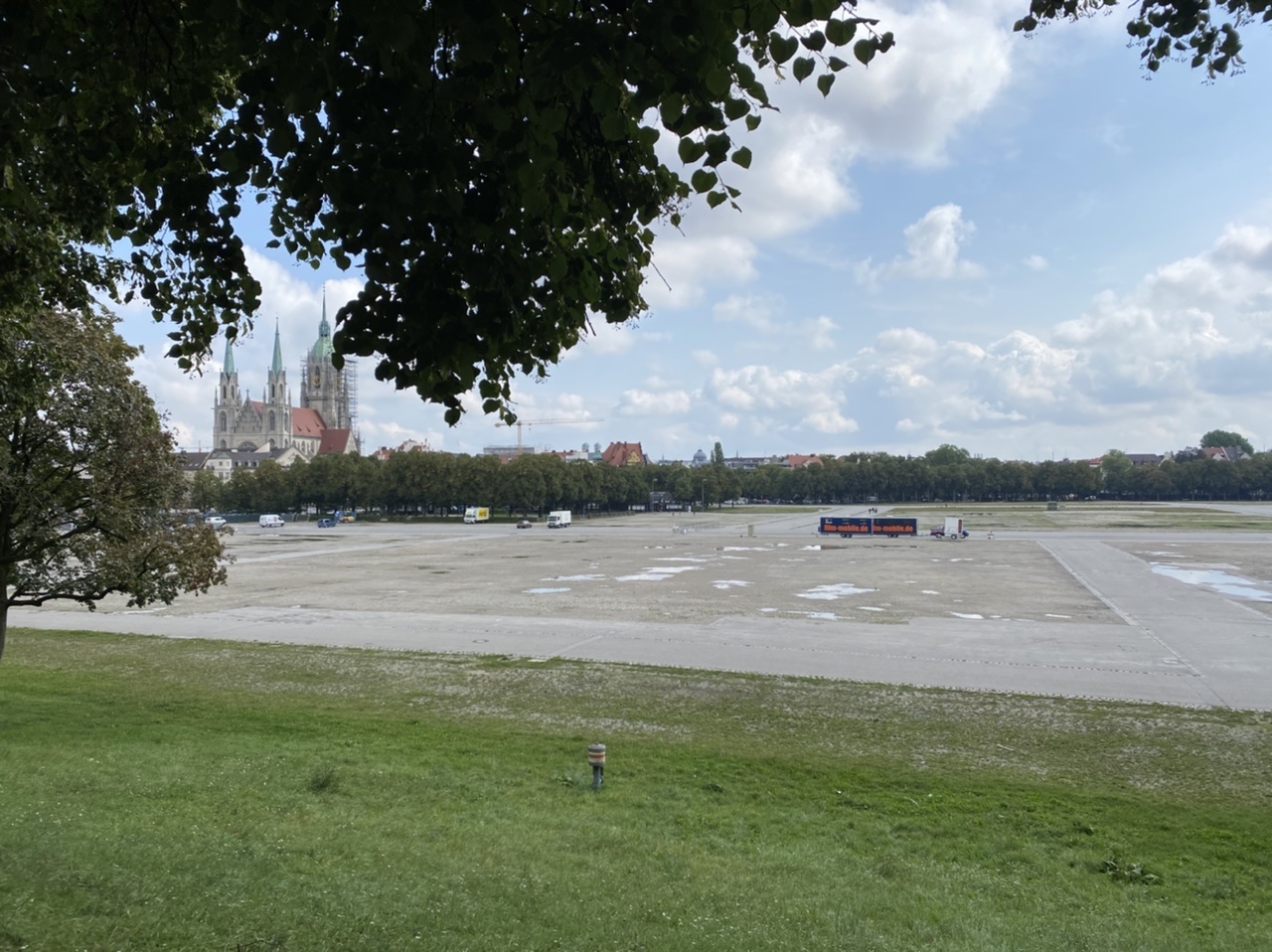 We then headed over to Westpark, a large park just southwest of our apartment. There's an elevated pedestrian and bike path to get to it, so you don't even have to go on the street! (I really want to get a bike.) We walked all around the waterway in the east section of the park. There was a group of older men and some little kids sailing remote control model boats on the Moll-see, which was super cute.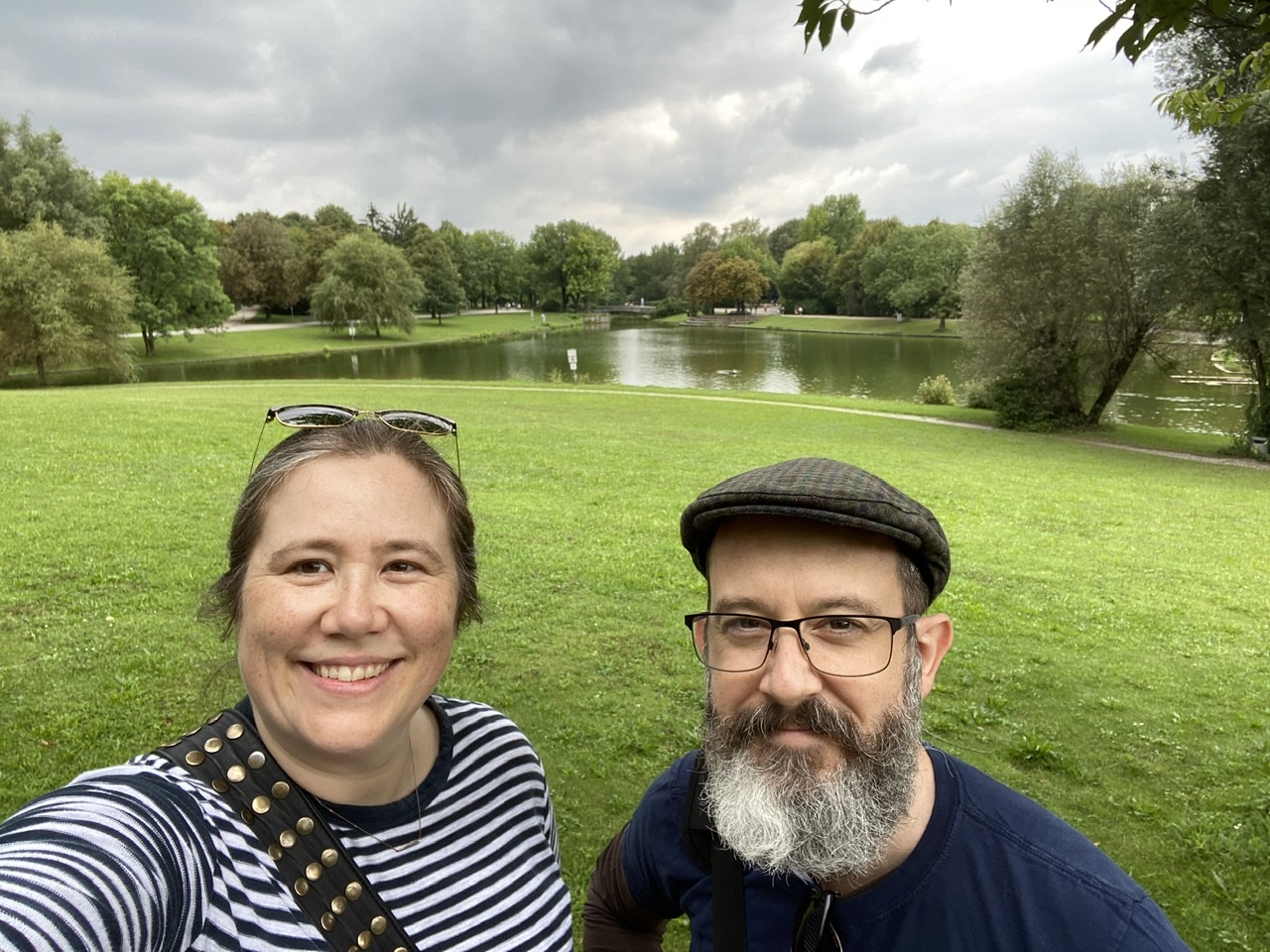 We were getting hungry, so we headed for the Hopfgarten, a large beer garden in the park. To our surprise it was pretty much empty, just us and another couple. However the nice guy at the kiosk was able to supply me with a giant pretzel and the Snook with a plate of schnitzel, so we were pretty happy. I asked the guy why it was so empty, and he said it was just that rain was forecast. The previous day it had been packed! Normally there are even bands playing music here.
We then headed back to Theriesenhöhe to catch a bus back to the English Gardens, where we were meeting up with some locals at the Seehaus beer garden. This was a part of the park we didn't see on Saturday, and it was a little emptier with the cooler, wetter weather. I could see the Seehaus on the other side of the lake…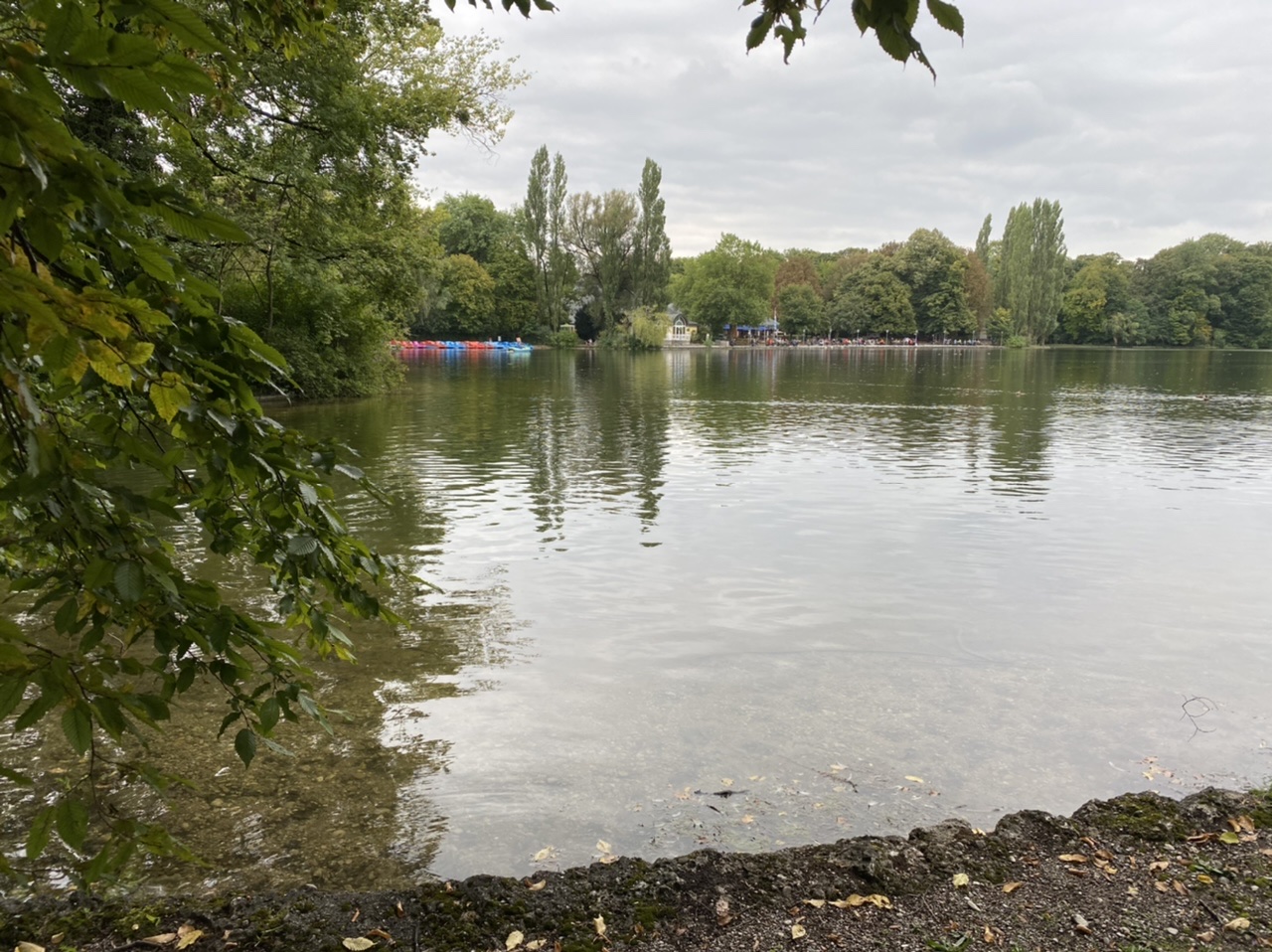 We were meeting up with an Australian couple – Rachel and Roy – who I'd randomly been introduced to a month earlier. It was Rachel's birthday and she kindly invited us to join them along with some of her colleagues and friends. We met Germans, Americans, some more Aussies, an English guy, and a Korean lady. It was a lot of fun, and the Snook finally got to order his first Maß of German beer. (I had one too.) Eventually it started to rain so we headed home, footsore and sleepy from 1.5L of beer each. 😂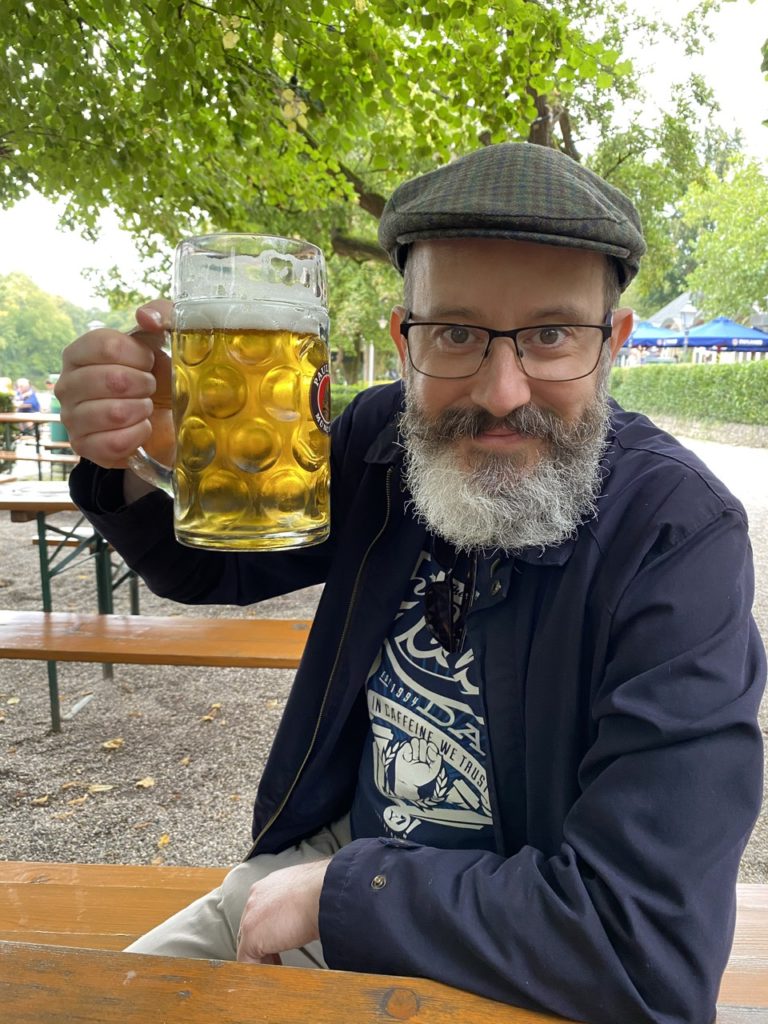 What's really crazy is that we've still only seen half of the English Gardens! There's a whole other giant section we didn't even touch. I feel so lucky that we've got the time to explore these beautiful places in the months ahead…