…in which I get my blog blocked by even more parental filters. 😂

Not long after we got to Germany, we had a realisation that gave us a new sense of urgency: if we're only in Europe for two years (which is the thing we keep telling our family, whether or not that stays true), then that gives us roughly 100 weekends to fill. With a countdown like that staring you in the face, watching Netflix and sitting on the couch seems like a big waste of time, even in a pandemic.
Last week it felt like we were both getting anxious cooped up in the house, so it was time to go on another adventure. "Only one hundred weekends, right?" Plus the forecast looked like we might get one day of sun amidst all the relentless rain and gray skies. (And as Covid numbers are rising, it also felt like we probably wouldn't have many more opportunities this winter to travel.) Our original thought was Neuschwanstein, but to our surprise, it's booked out for months! "What about the Zugspitze?" I asked. I knew it was Germany's highest mountain, and it supposedly wasn't very far away. "Did you know," the Snook giggled, "there's a mountain near it called the Wank?" That settled it. We were definitely going to go to there.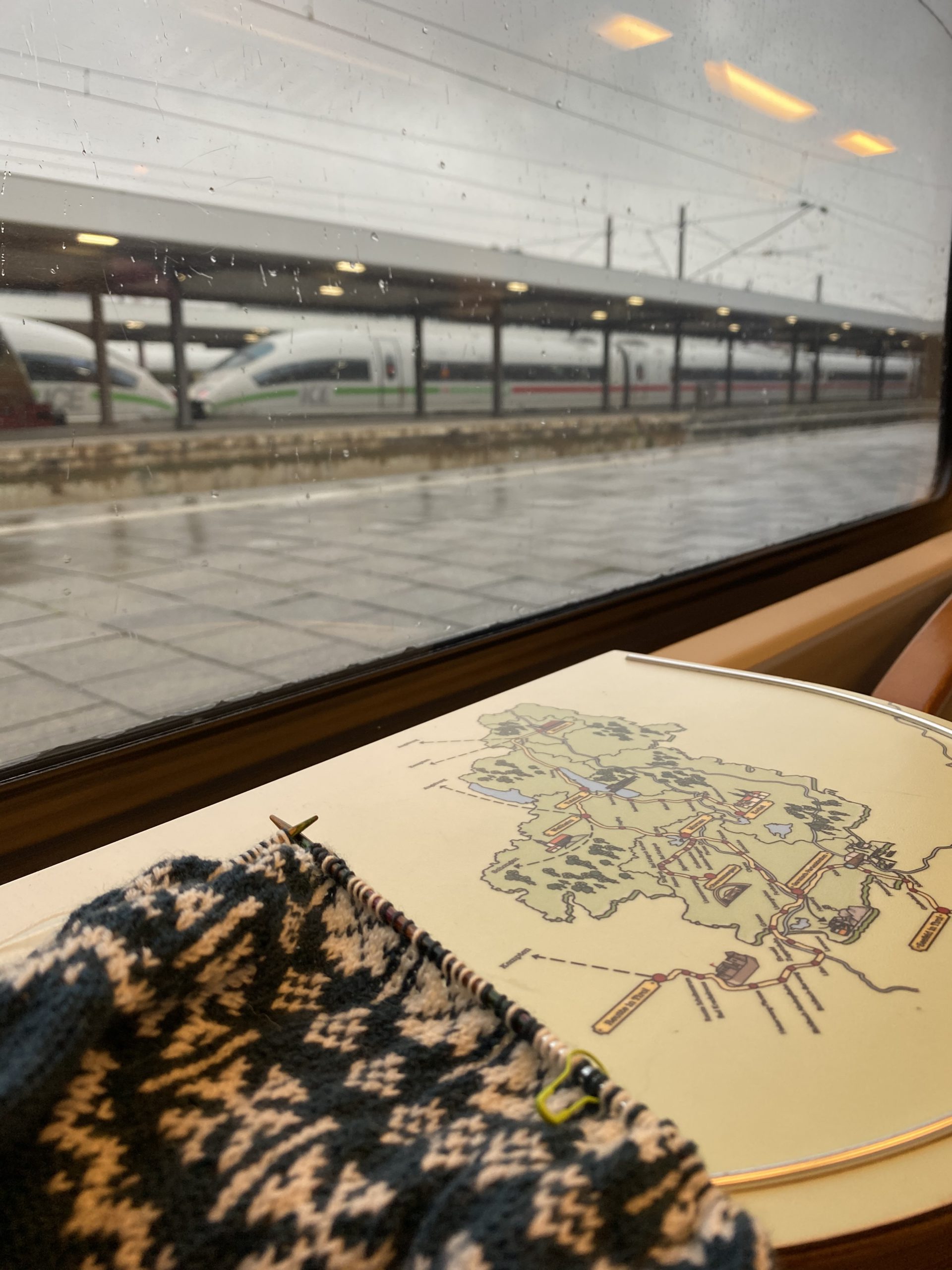 We caught the train Saturday morning from Munich Hauptbahnhof (central railway station). There's a special ticket you can buy called the "Bavaria ticket" that gets you pretty much all trains and buses for a full day, so we travelled on that. The weather continued to be horrible and cold and gray. I had my knitting with me, but within 20 minutes realised I'd made a fundamental error and had to pull the whole thing apart. So the train trip was perhaps less fun that it might've been. Still, the scenery was pretty and the train wasn't too crowded. (Everyone wore masks the entire time.)
Our destination was Garmisch-Partenkirchen at the foot of the Alps, and the trip took less than 90 minutes. At the train station we stowed our little suitcase in a locker and then caught a bus over to Wank. Unfortunately due to reduced Covid numbers the cable car isn't running as frequently as usual, so we had a little time to kill. We discovered the "Philosophenweg" (philosopher's trail) nearby and went for a wander. It was very, very pretty.

In the distance we could even see the ski jump from the 1936 Olympics! Unfortunately most of the tall mountains were completely hidden by clouds, so the Zugspitze was as yet hidden from us.
Then it was time… time to ascend Wank Mountain.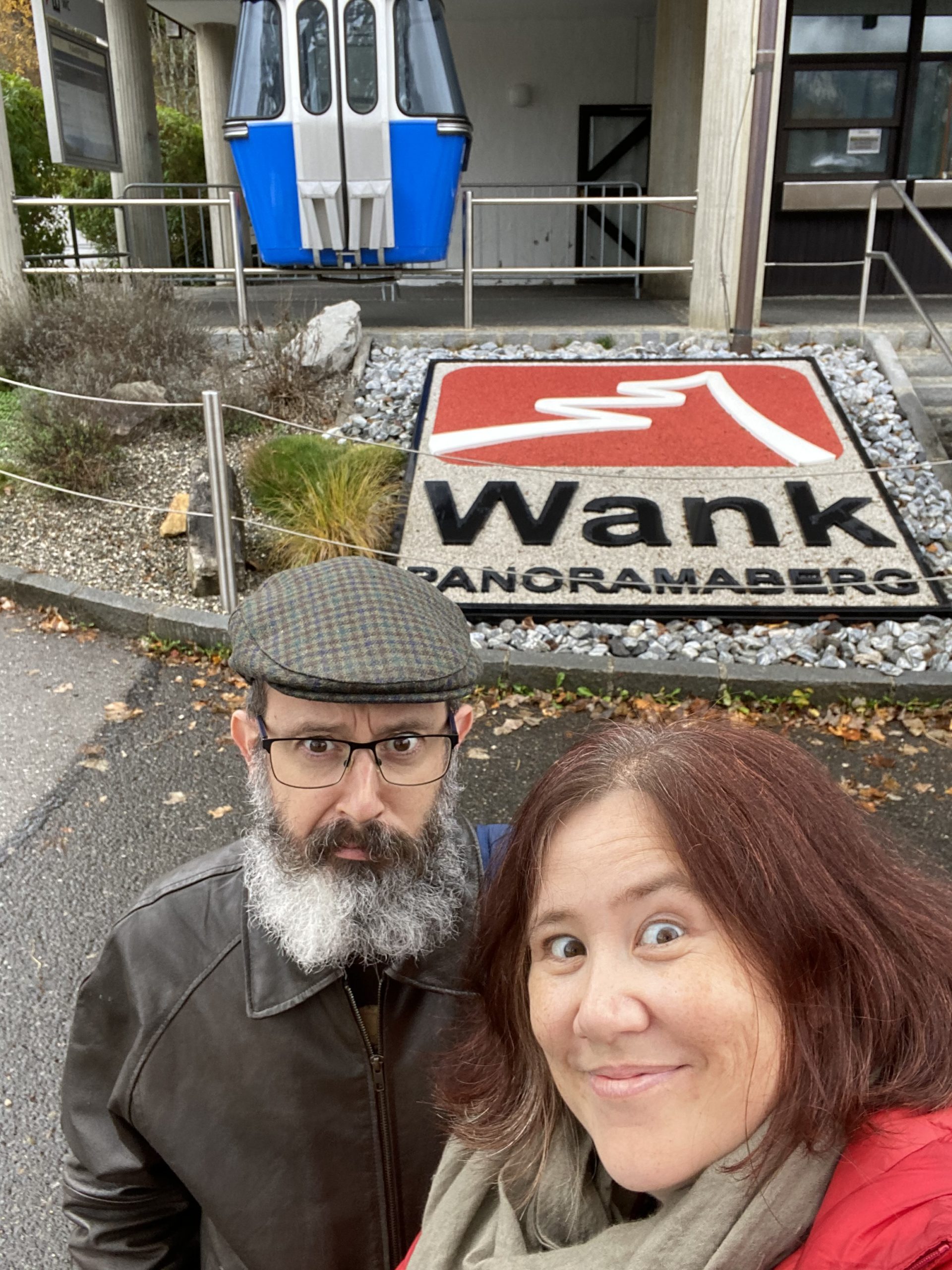 The cable car was small – it would seat four people at most – and the trip took about 15 minutes all the way to the top. We would get moments where we could see, but then as soon as we crossed a valley or crevasse we'd be plunged into clouds again.
The Wankbahn drops you off directly at the Sonnenalm restaurant. We were hungry for lunch, so we went straight in to refuel. We both went for "Bergsteiger" (mountain climber) schnitzels and beer. I had a laugh at all the "I ❤️ WANK" merchandise they had for sale. 😂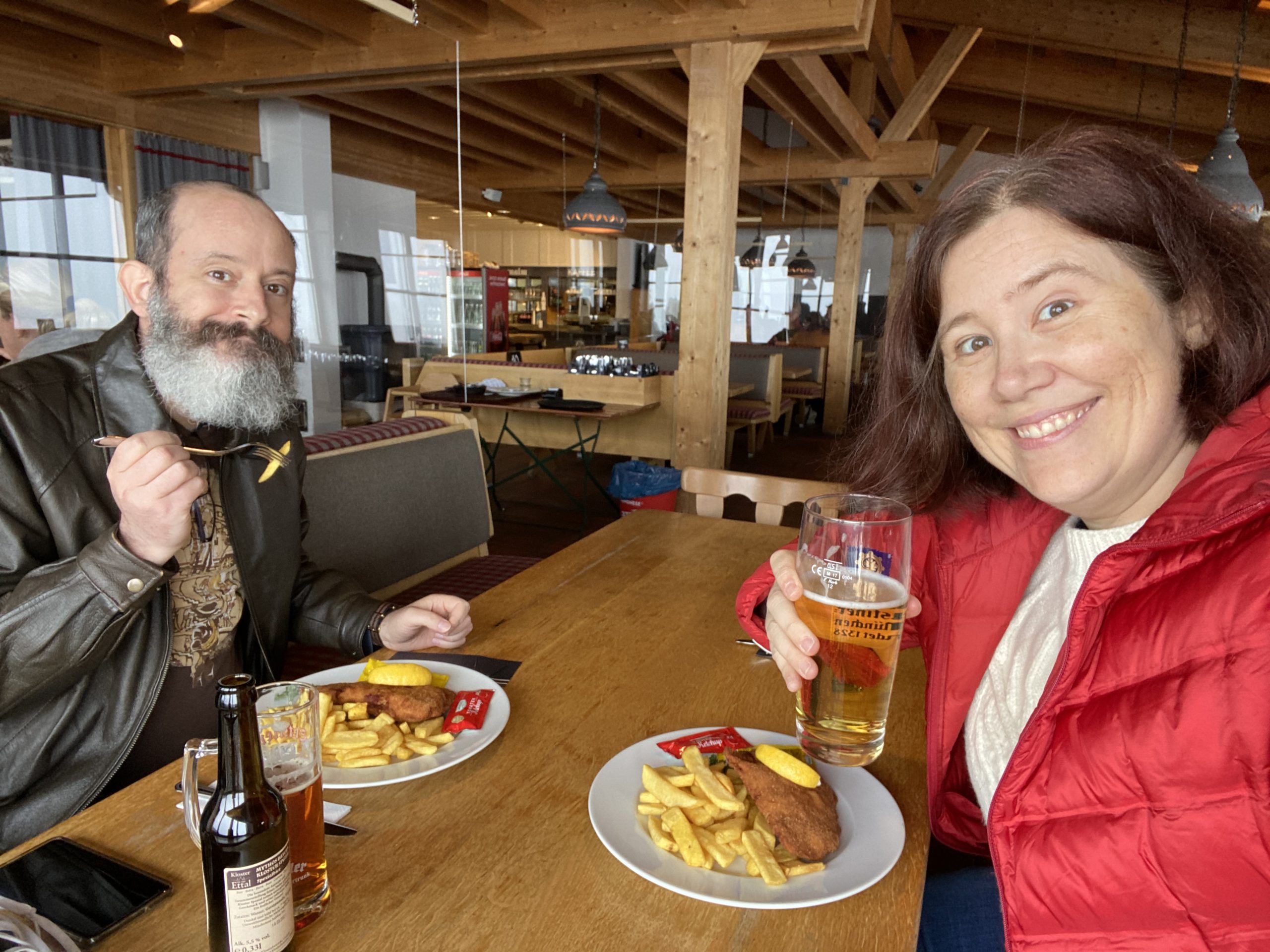 To be honest, there wasn't much else to do on the top of Wank Mountain. Normally it's a lovely place to hike and wander, but visibility was really poor and there didn't seem to be much chance of it improving. It was just gray and damp and cold. We did spot some patches of snow on the ground, which was mildly exciting. (Nothing at all like what was coming the next day!) We hiked a little ways up to the Wankhaus, a guesthouse for hikers, but it was closed. We snapped a quick photo, marvelled at the non-view, and decided we might as well head back down. Bye-bye, Wank!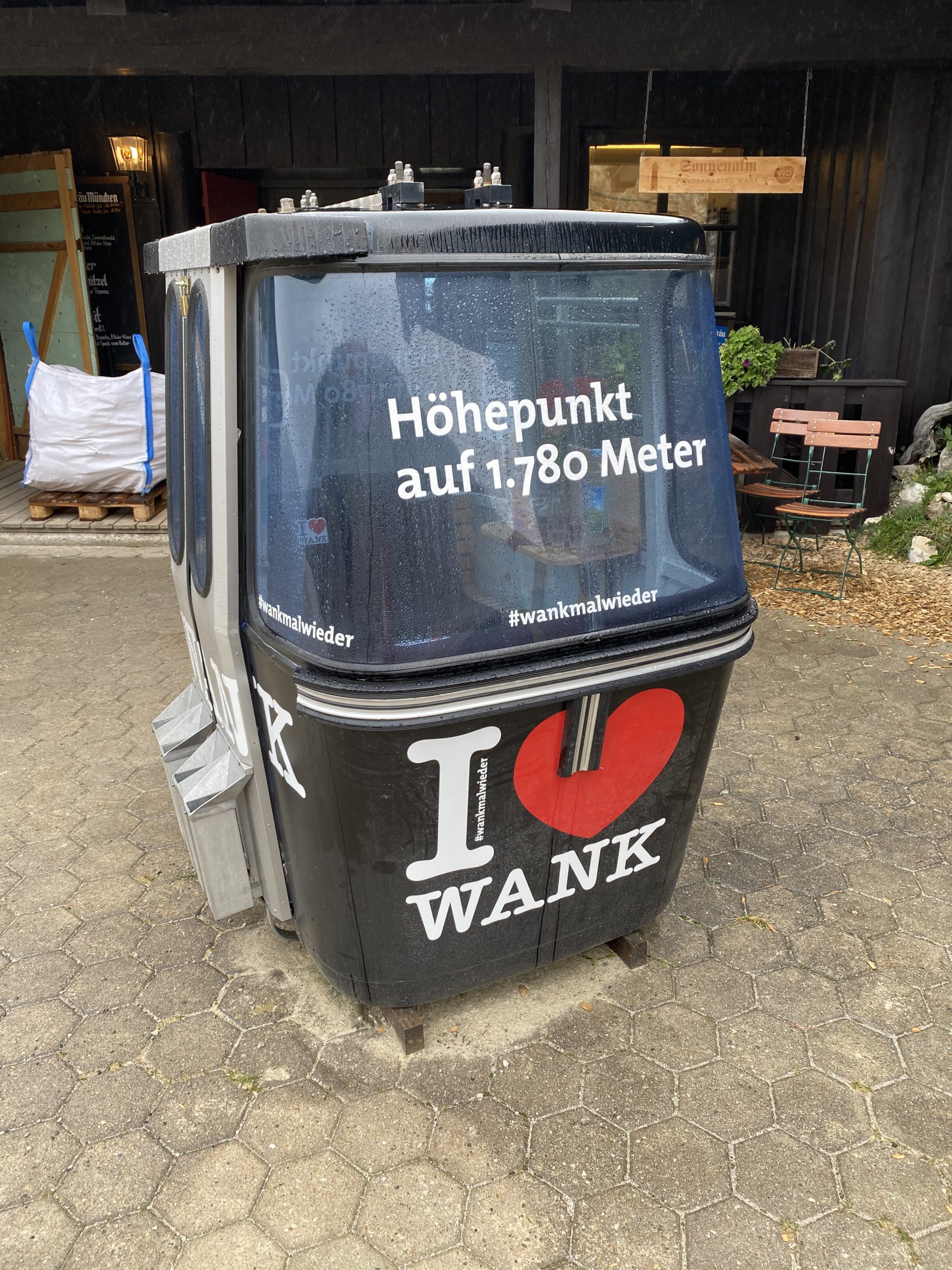 The ride back down the mountain was just as harrowing as the way up. The clouds in the distance were starting to break up though, and we got tantalising glimpses of far off peaks…
Back at the bottom, we hiked back to the railway station on foot to reclaim our luggage and wait for the bus to our hotel. Garmisch-Partenkirchen is ridiculously pretty. It looks like a mock Disney European village at Epcot Center, except it's real and people actually live here. I'm like, can you actually believe this??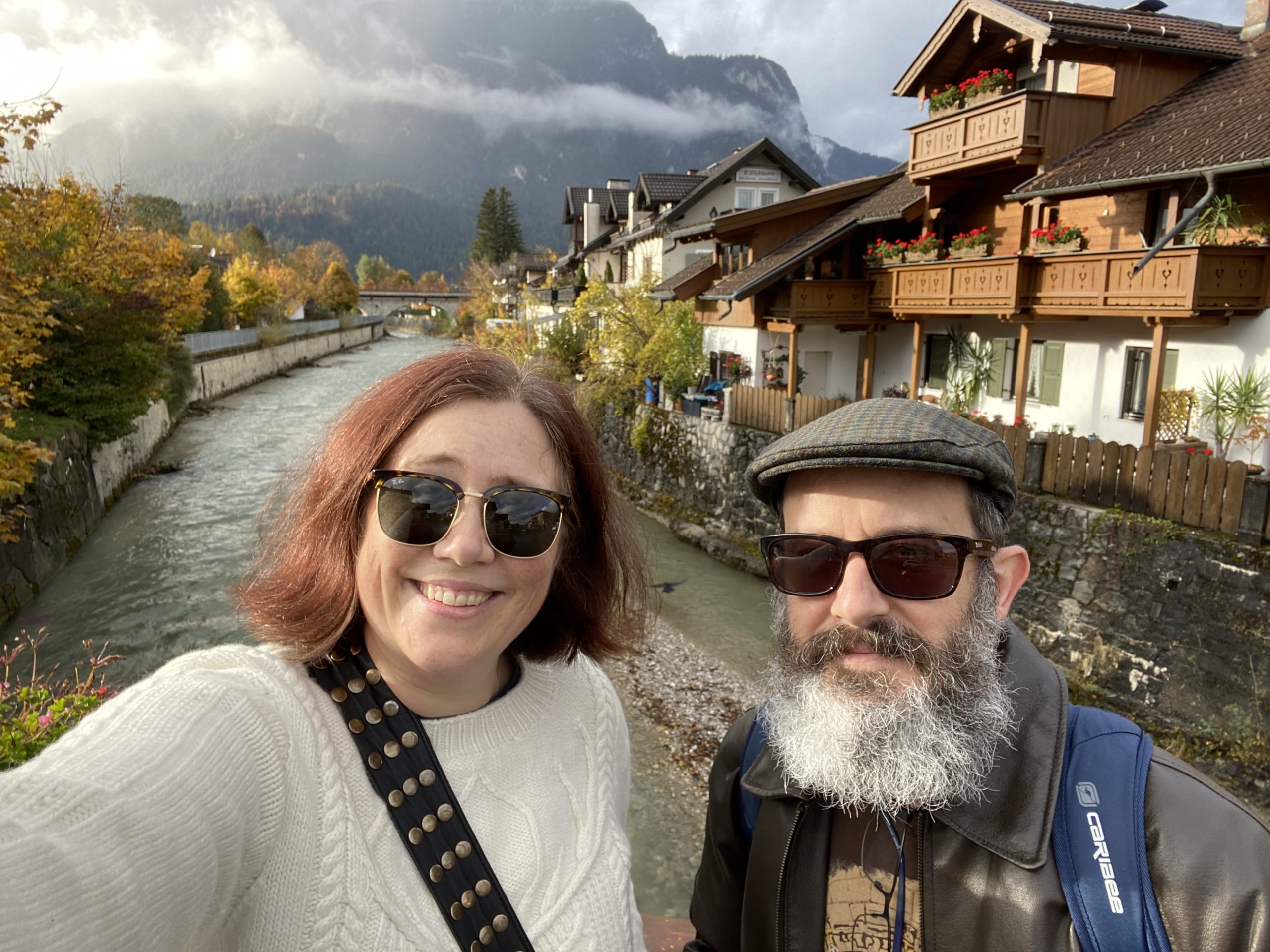 The Snook realised there was an ice cream shop nearby, so we headed over for a coffee and a treat… and I noticed they had Spaghettieis (ice cream extruded to look like spaghetti with strawberry "sauce" and coconut "parmesan"). Folks, I haven't had this since I was a 16-year-old studying in Germany in 1994. I ordered it and I ate the entire thing with a smile on my face. JOY ON A PLATE.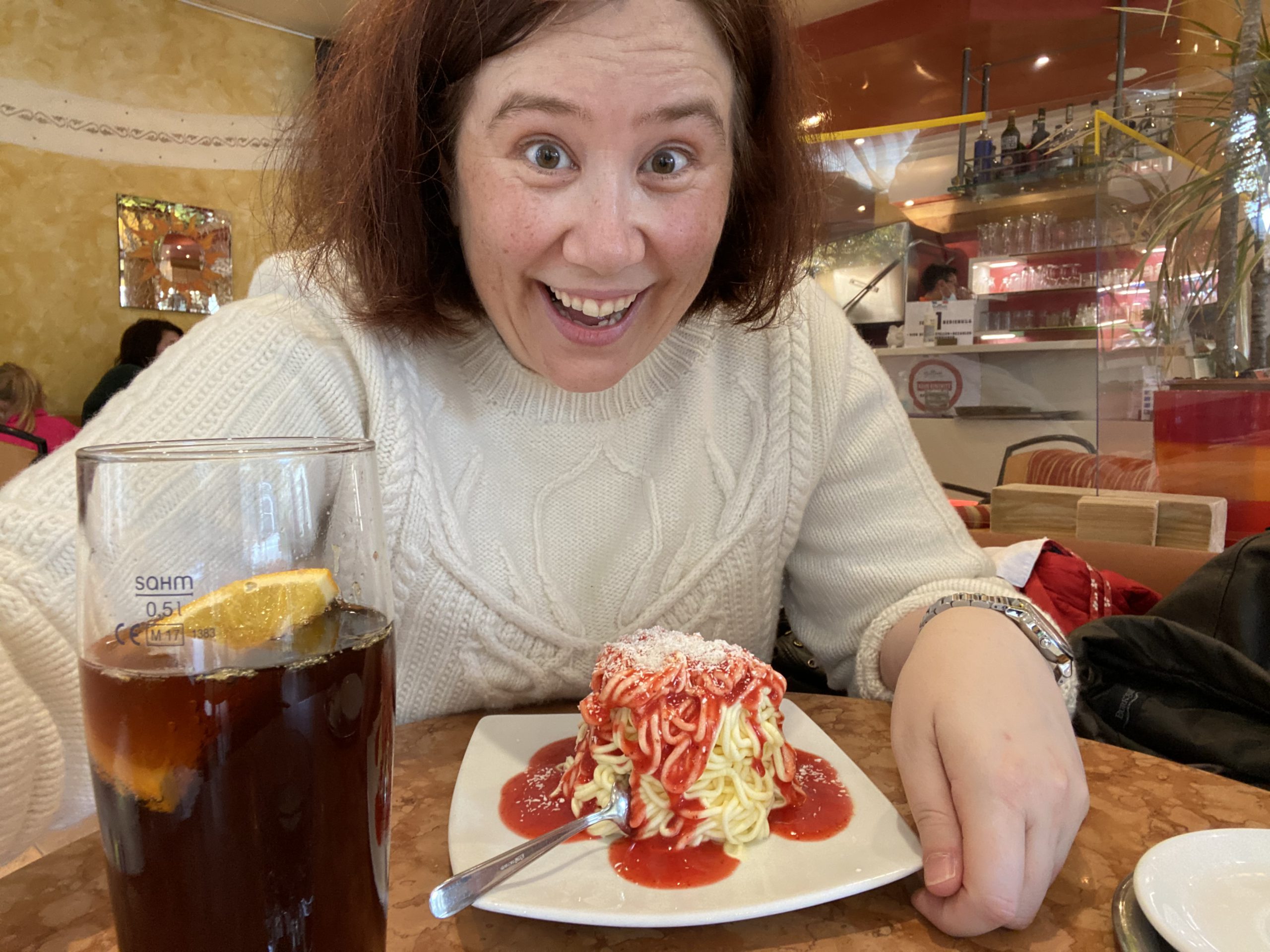 Then we caught the Eibsee Bus over to the Eibsee Hotel on the shores of, you guessed it, the Eibsee. "Due to its location below the Zugspitze and the clear, green-tinted water, the lake is considered one of the most beautiful lakes in the Bavarian Alps." Yes, 100%, can concur. Our room had a balcony with a lake view. We sat and watched as the sun went down. It was very, very peaceful.
After an early dinner in the hotel restaurant, we decided FOR THE SAKE OF SCIENCE to check out the fancy European sauna in the hotel spa. "You're meant to go naked," Rodd said as I put on my swimsuit. I wasn't sure if he was tricking me, so I messaged my German friend Sally to confirm. (FKK, you'll recall, is an acronym used in Germany that refers to nudism.) Sally confirmed. 😳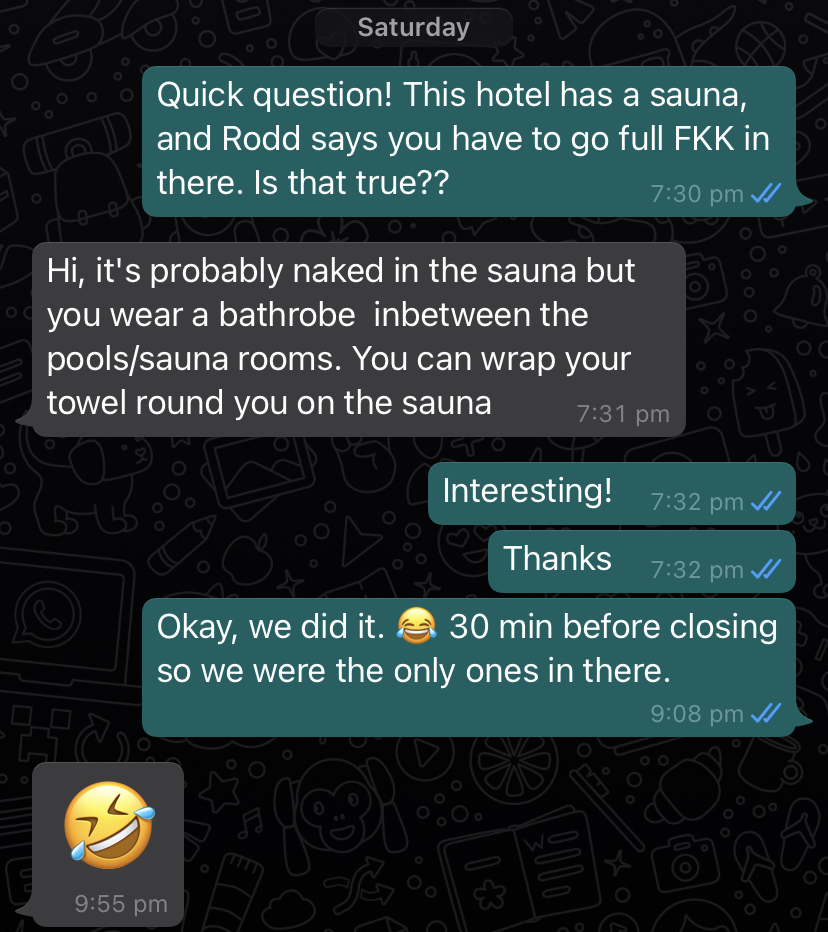 As you can see above, we went for it. We waited to disrobe until we were in the spa changing room, and then we wrapped towels around ourselves as we went in. They had two different saunas, and we went first to the "pine sauna" (65°C/149°F). Thankfully, no one else was in there! It was hot but not steamy like I expected, so we cautiously threw off our towels and sat there sweating for about ten minutes. Then we wrapped up again and headed to check out the "Kelo lake sauna (95°C/203°F)". I have no idea what "Kelo lake" refers to, but that was HOT. We managed about two minutes in there (again, alone) before heading for the door. We quickly changed back into our swimsuits and then went for a quick dip in the empty hotel pool to cool off.
And that was it for day one! Stay tuned for our adventure on Germany's highest mountain, the Zugspitze…