Look, it's not all sausages, pretzels, and beer 24-7 here, people.* We are making an effort to eat vegetables too! So far we've had two veggie deliveries from Etepetete, which are all organic and locally sourced. Given that it's autumn here, it's been a lot of root vegetables (pumpkins, carrots, parsnips, turnips) as well as potatoes, onions, kohlrabi, celeriac, and beans.
I also signed up to an internal Sustainability group at work, and recently they announced they were going to do a virtual vegan cooking class. I had a look at the recipe and realised it lined up nicely with veg we had on hand, so I figured I'd give it a go. I only realised after I'd signed up and bought the rest of the ingredients that both the recipe and the live session were entirely in German, which added a fun level of difficulty! Thankfully the end result ended up really tasty, so I thought I'd share if you'd like to have a go yourself.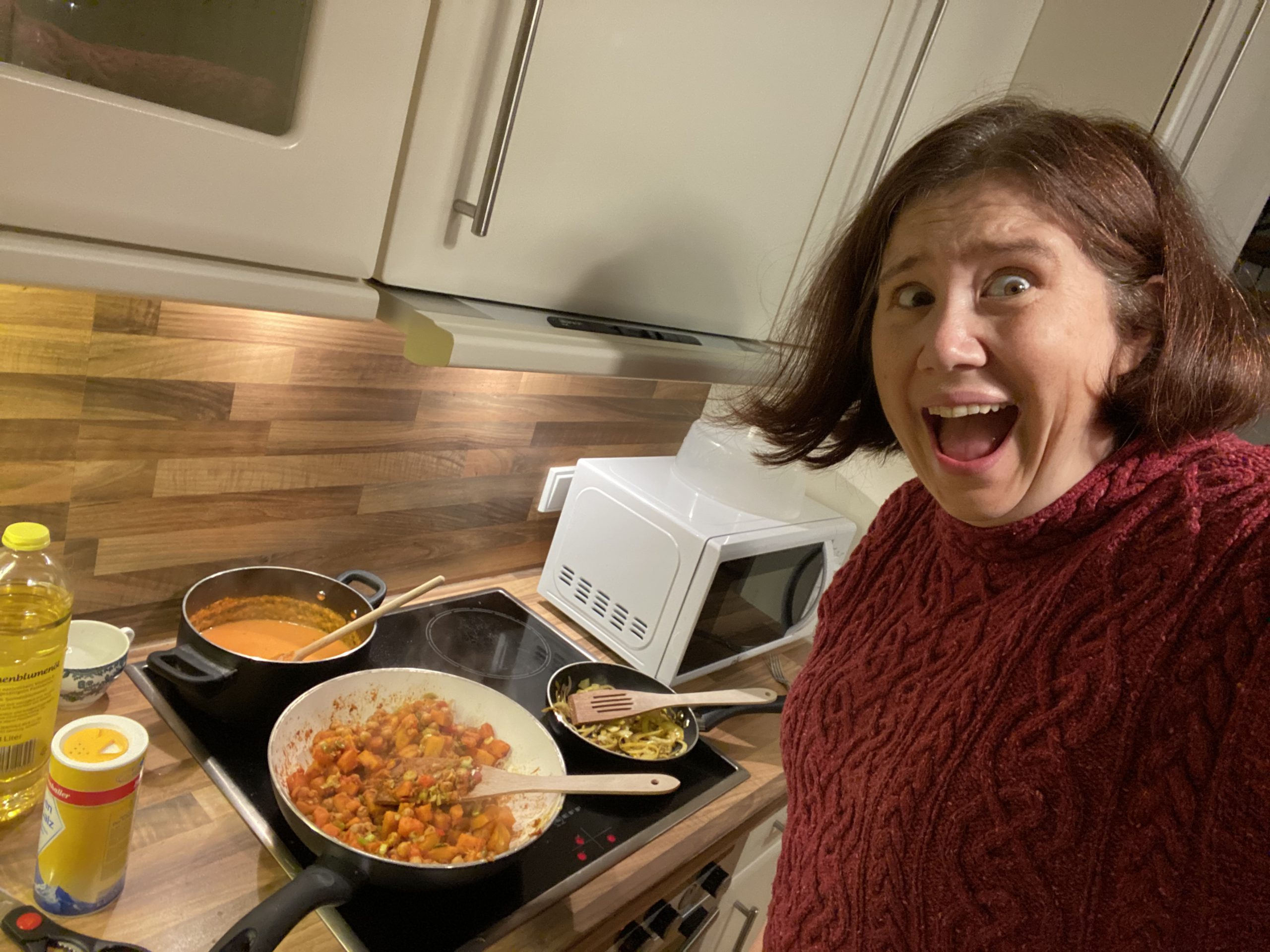 Ingredients for 2 people:
3T of coconut oil
2 onions
1 capsicum (aka red bell pepper, Americans)
1 can of diced tomatoes
0.3 L almond milk
100g quinoa
30g cashew nuts
1 lime
1 small Hokkaido pumpkin or other winter squash
1 sweet potato
1 clove of garlic
1 cm ginger
1 small can of chickpeas (150 g) or let 50g of dried soak overnight
1 small bunch of green onions
1 red chili
Pinch of turmeric
1 small bunch of coriander (aka cilantro)
Preparation:
There are four components to this dish, and the first is the capsicum sauce.
Cut 1 onion and the capsicum into cubes. Sweat everything together in a saucepan with the coconut oil and lightly sear. Then add half of the canned tomatoes and simmer everything together. When most of the liquid has evaporated, add in the almond milk, bring everything to the boil and puree in the saucepan using a hand blender. Then season everything with salt and pepper.
I was quite dubious about this, especially the almond milk. The Snook is also Not a Capsicum Fan. However, it worked quite well and really helped tie the whole dish together.
Next is the quinoa.
In a saucepan mix 1 part quinoa and 2 parts water along with some salt and simmer on the stove over low heat. When the quinoa is soft, add the cashew nuts. Right before you eat, add in some lime zest as well as a squeeze of lime juice.
My packet said 20min to cook the quinoa, so that's what I did. I also chopped up the cashews a bit.
The main part of the dish is the pumpkin curry.
Cut the sweet potatoes and pumpkin into cubes, and slice up your ginger and garlic. Add the sweet potatoes to a wok with coconut oil and cook until they begin to take on some colour and soften a bit. Then add the pumpkin as well as salt, and continue to stir fry both. Once they're starting to soften, add the chickpeas as well as the rest of the can of tomatoes. Then add the sliced ​​ginger and garlic and continue to cook. Season everything with salt and pepper and keep warm in the wok. Towards the end, slice up your red chili as well as the green onions and mix those in.
I wasn't very clear on how long to cook all this, and my main worry was that the potato and pumpkin would be raw. So I basically just kept cooking it until they were cooked but not mush, which seemed like a good spot to stop.
The last component is the roasted onion garnish.
Slice up the last onion and fry in a pan with a pinch of turmeric and coconut oil until crispy.
To plate it up, start with a large spoonful of the capsicum sauce. Add a small scoop of the quinoa as well as a larger portion of the curry. Top with the fried onions as well as chopped coriander.
We ended up adding a fair amount of salt at the end, but other than that, this was excellent! The Snook liked it even despite the hated capsicum.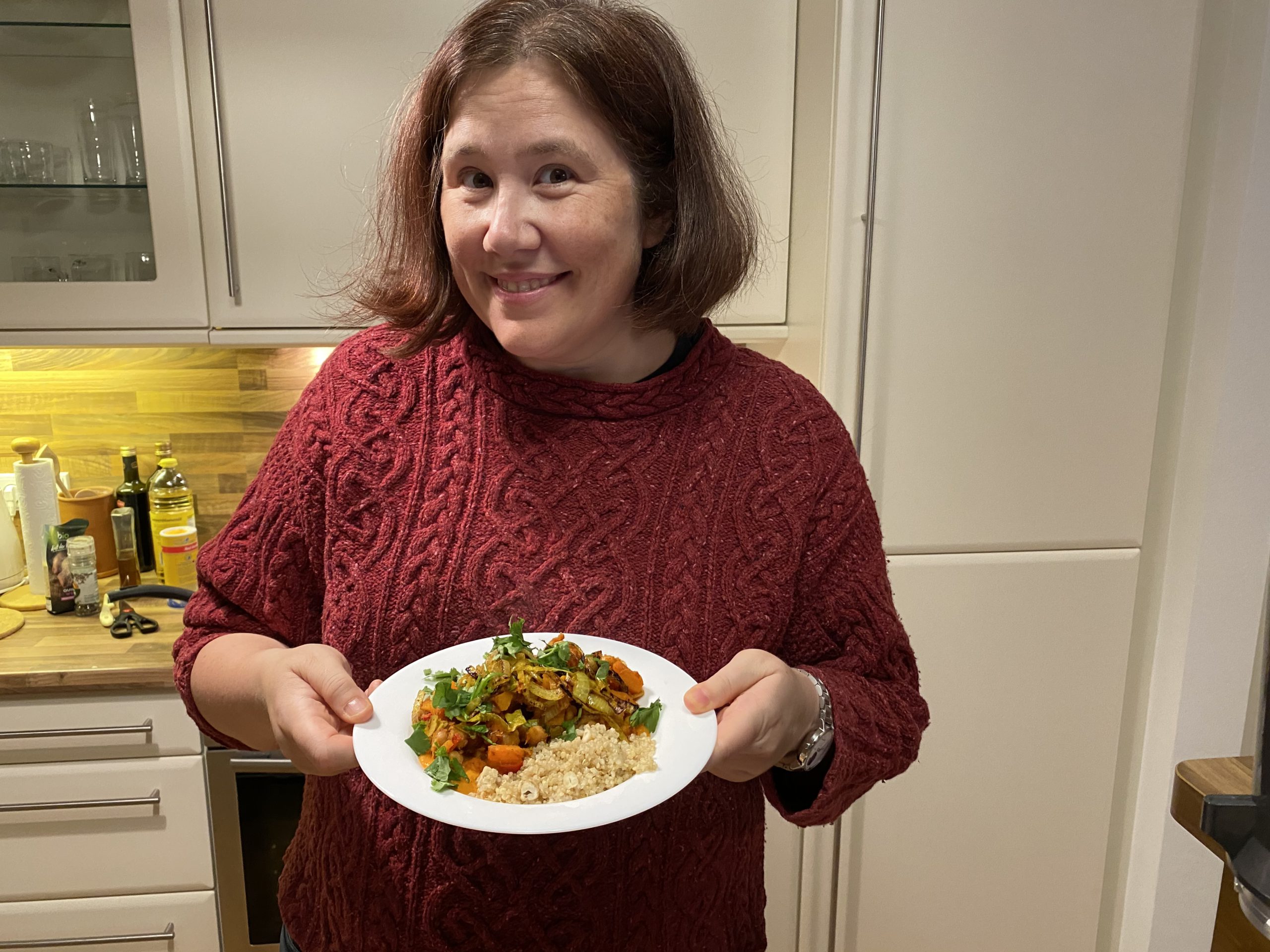 * I was amused recently to see SALAMI PRETZELS at the grocery store  though. I am not sure under what circumstances one would ever eat these, but I'm sure I'll try them at some point.