With tightened Covid restrictions and the arrival of our shipment from Australia, we haven't been doing as much sightseeing. The sun came out last weekend though, so I dragged the Snook out for a bike ride to Munich's Olympiapark.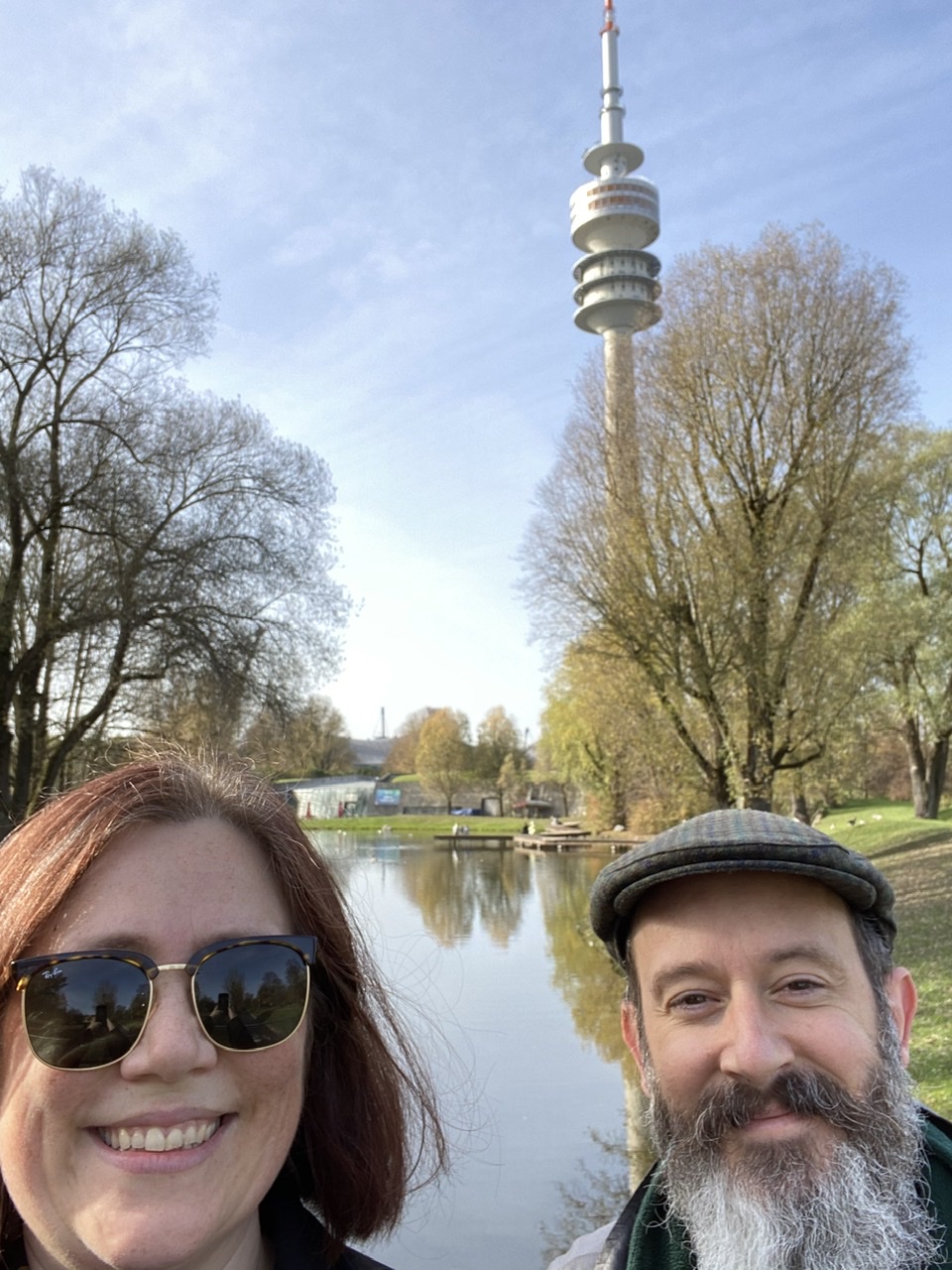 Olympiapark was the site of the 1972 Olympics, the one with the terrorist massacre. As with many ex-Olympic sites, it's now a big park that hosts sporting and cultural events. It's about 6km (3.7mi) from our house, and it took us about 30 minutes to ride there. (Did I mention that Munich's cycling infrastructure is excellent? I'll write a full post about it one of these days…)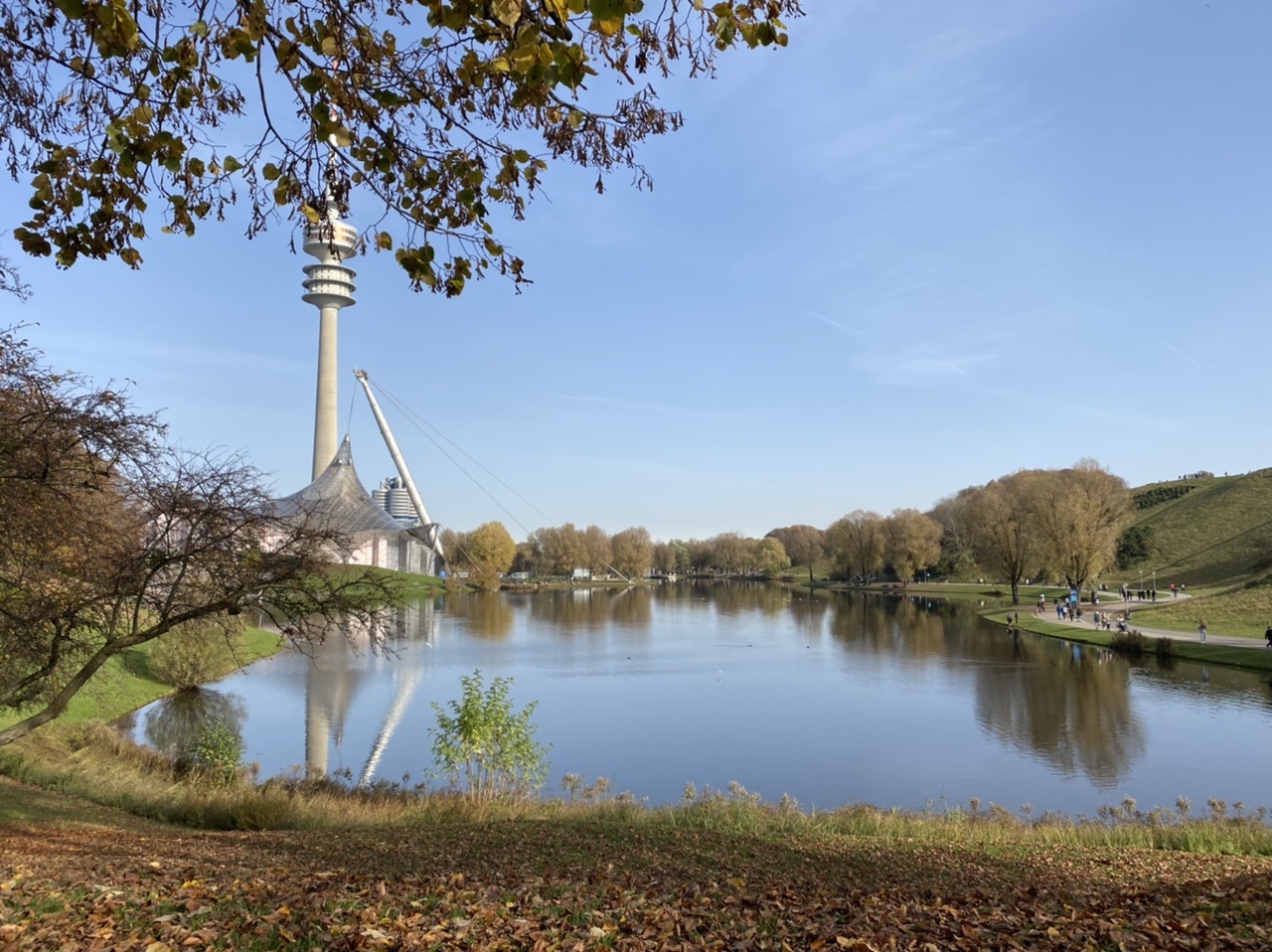 The park was full of folks making the most of the sunshine. We pootled around the lakes and the various sporting stadiums, finding a bench to stop and have a picnic lunch. The tower has an observation deck, "rock and roll museum," and a rotating restaurant, but sadly it's all closed due to Covid right now.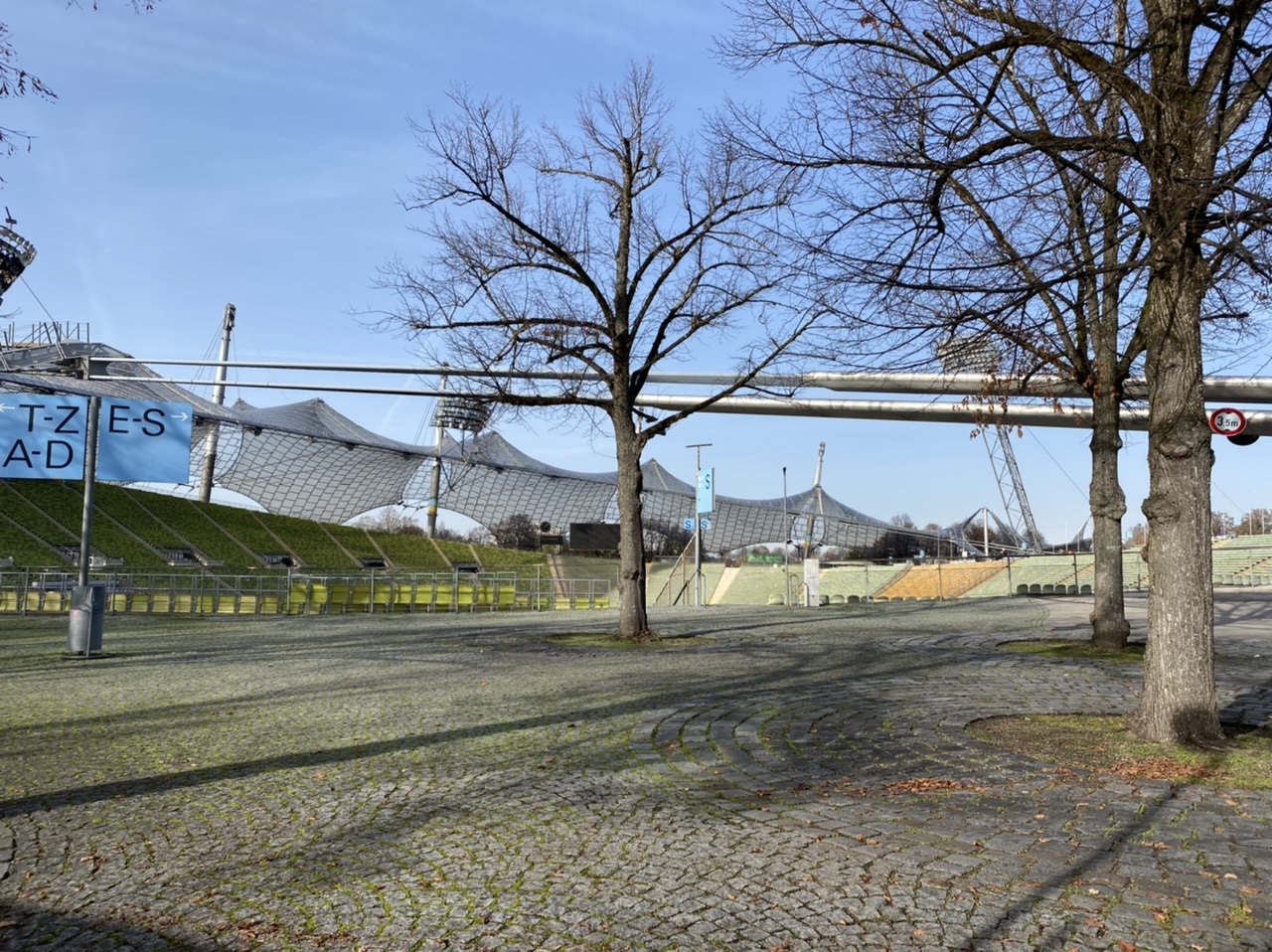 The Olympiastadion is right there and we were able to peek through gates. (The actual sporting ground is lower than where we were standing.) It used to be the home ground for FC Bayern München, but nowadays it's mainly used for concerts and such.
Along one side of the park is an absolutely enormous hill, and I could see a crowd of people silhouetted at the top. It turns out this is the Olympiaberg (Olympic Mountain), constructed out of the rubble from World War 2. It's one of the highest points in Munich and it offers an amazing view, so we figured it was worth the climb.

There's an observation area at the top of the hill, and it was so crowded that we thought it best to put on our masks. Here you can see a better view of the stadium from up high.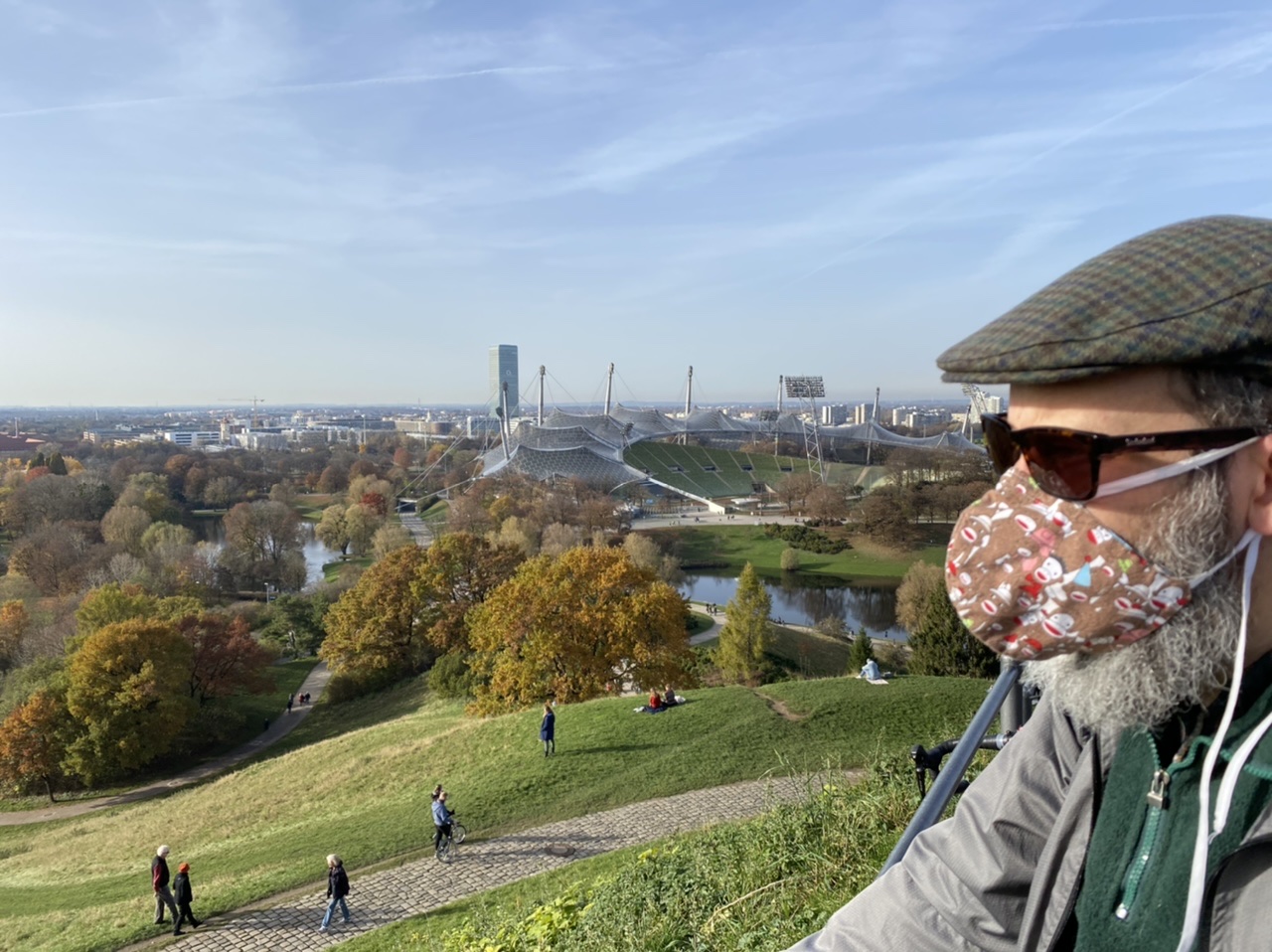 To the northeast of Olympiapark is BMW Headquarters, the funny tower in the middle of the photo below. Right next to it is BMW Welt (BMW World), which is apparently the most visited tourist attraction in Munich. I'm not really a "car person," but I suppose we'll have to check it out one of these days…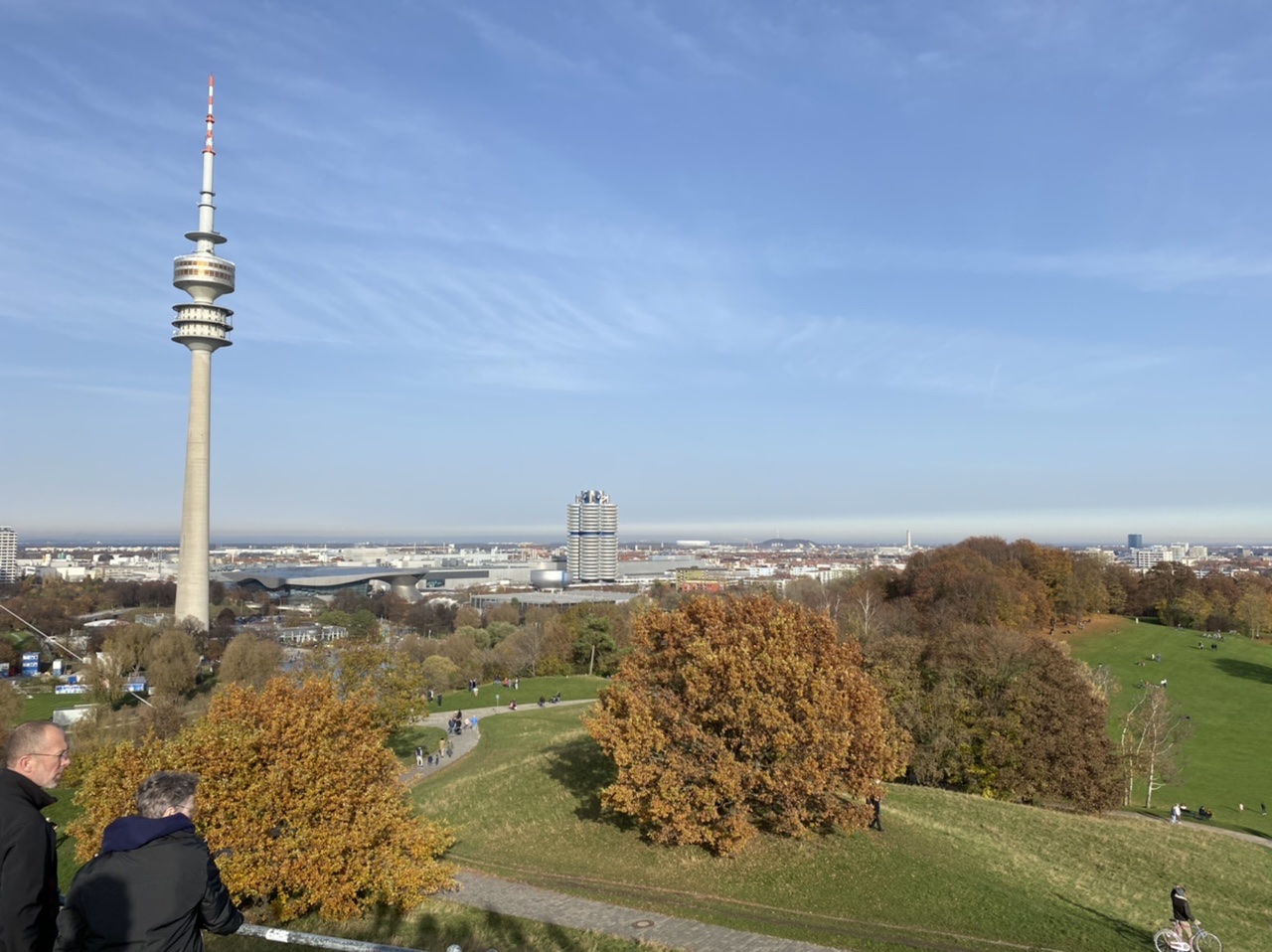 Turning to the east, you can really see how Munich's height restrictions have affected the way the city has built up. There's a rule that buildings in the city center cannot be so high as to obscure the famous Frauenkirche, which means the skyscrapers are really only on the edges of the city.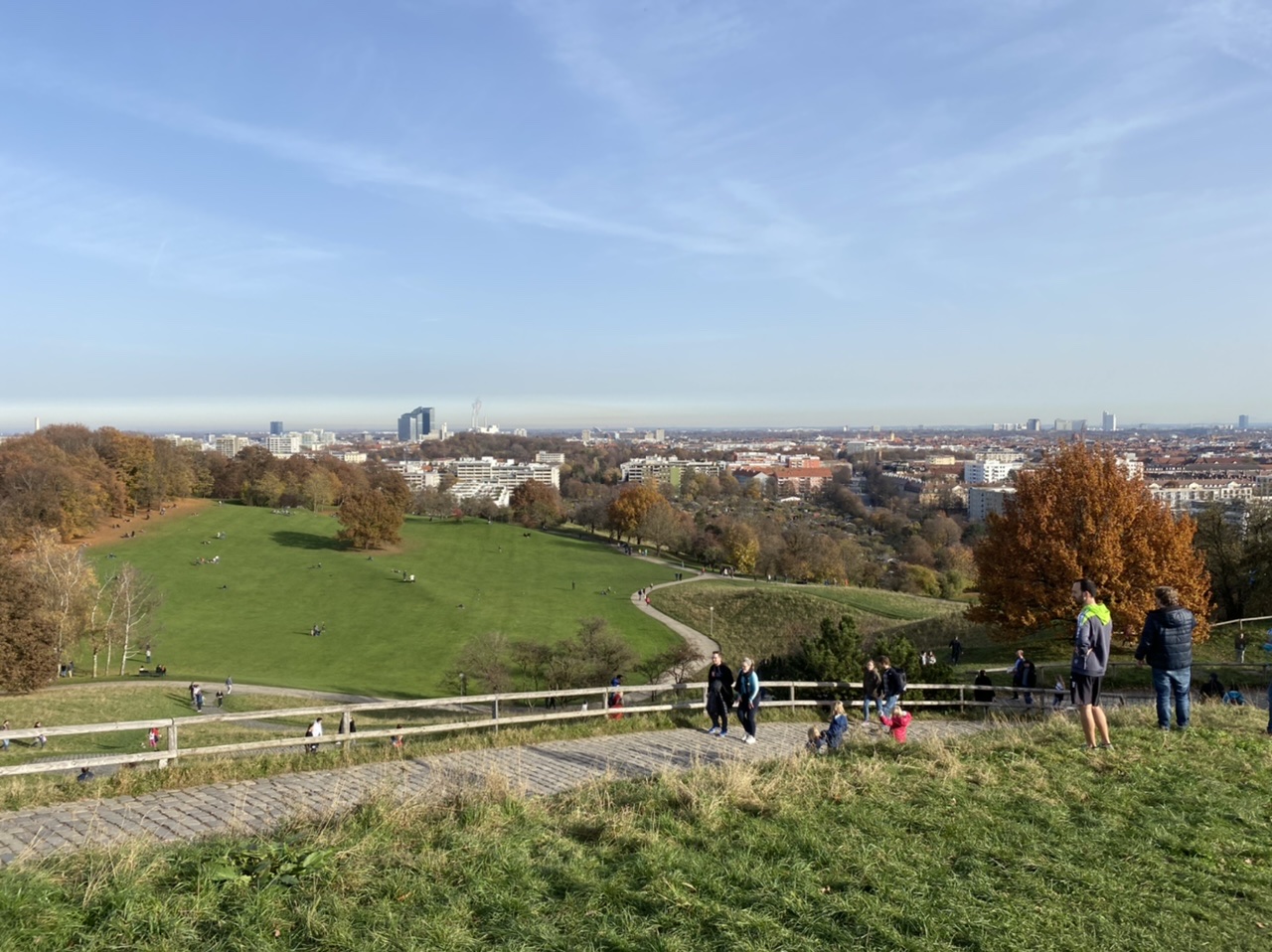 Looking to the south, away from the park, you can see most of Munich spread out before you. That Ferris Wheel in the distance is the one in Maxvorstadt, where we stayed during our first week in Germany. I've zoomed way in here so that you can faintly make out the silhouette of the Alps on the horizon. Isn't that amazing?