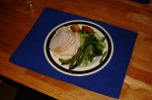 Happy Thanksgiving!
After the food orgy of last year, the Snook and I decided to have a low-key Thanksgiving, just the two of us. We roasted a turkey breast and had pumpkin, mash*, asparagus, broccoli, and green beans. It was pretty darn good. I also baked a pumpkin cheesecake – substituting Splenda for the sugar – that turned out well. (I wasn't thrilled with the low-carb pie crust though.) We washed it down with a lovely Australian chardonnay. It wasn't Mom's cooking but it'll do. 🙂
Things I'm Thankful For This Year:
My brother came through his surgery fine. Thanks for your positive thoughts!
I've been employed for nearly a year now, and though I don't love my job, I like the people I work with and at least it's a paycheck.
The Snook and I are finally settled in a place that should suit us for awhile. Our apartment is in a great location and has all the amenities we were looking for. We have a home.
My family continue to amaze me. My mom is raising a toddler, my Dad is coping with two new stepsons, my brother is only a year from getting his college degree, and my sister has created a new life for herself in California. (She's also impressing the hell out of me with her marathon training and fundraising.) On one hand it's awesome that we've all got such great things going on in our lives… and on the other it's weird that we all *have* such separate lives right now.
I'm healthier than I was this time last year. I feel better. I don't think so negatively about myself. In fact, occasionally I catch a glimpse of myself in one of the mirrors at the gym… and I think I look pretty good.
Whenever I feel homesick or sad at being so far away from my old life, I have this wonderful community of online friends that cheer me up. Thanks for being there!
My Snookums. He's the best.
[Note: We don't eat mashed potatoes, of course. Way too many carbs. Instead we steam the heck out of cauliflower and then whizz it up with our hand blender. Add a dollop of sour cream, a dash of salt and pepper, and you've got a much healthier mash alternative. It's gotten to the point now where I even prefer it to the old version!]