Oscar Contest 2006
It's that time, folks! The Fourth Annual Web-Goddess Oscar Contest has officially launched. I've added a few more awards categories this year (to hopefully lessen the odds of a tie) but otherwise it works exactly the same. Go here to enter.
But Kris, you ask, what do we win? Hold on to your hats. If you manage to reign supreme this year, you will win none other than your very own pair of gay sock monkey cowboys. (I know! You're like, "She didn't." But I totally did.) They're rainbow… They have cowboy hats and boots… And they share the love that dare not speak its name. They are my greatest sock creations of all time. What to see more?I'm calling them Ennis and Jack, but you are, of course, free to rename them.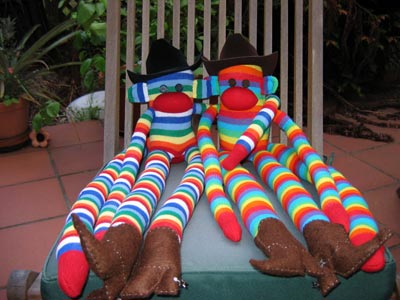 A close-up of their faces. As you can see, I left off the mouths. These are men of few words.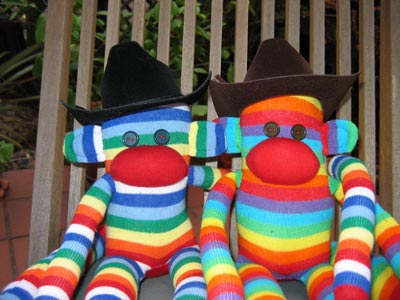 They're knockin' boots! Check out that embroidery work. I even put spurs on them!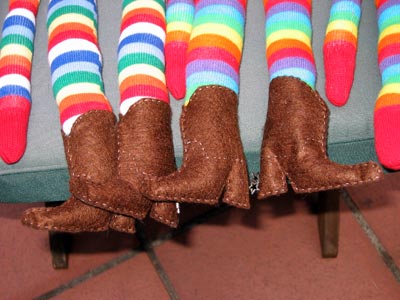 Like I said, go here to enter.
Frequently Asked Sock Monkey Questions:
Do you have these for sale?
No, unfortunately I don't. I've sold sock monkeys in the past but, to be honest, the amount most people are willing to pay doesn't nearly cover the effort involved. They're surprisingly labor-intensive! Tha's why I only give them away as prizes now. Of course, you're welcome to make me an offer I can't refuse…
Are these knitted?
Nope! While I can knit socks, these sock monkeys are actually made out of cheap knee socks purchased at K-Mart.
Where did you get the hats and boots?
I managed to find the hats at the last minute at Spotlight at Birkenhead Point, but it was the third or fourth store I tried. You should probably ring around. (I was soooo happy to get them. They really "make" the whole project.) For the boots, I first played around with some paper templates til I had a boot shape I liked. Then I cut them out of felt and hand-stitched them together. I also added small silver star charms for spurs and decorative stitching.
How can I make my own?
Easy! Just check out my tutorial.
Can I put these pictures on my website?
You're welcome to put my pictures on your site as long as you give me credit for them, and you save them to your own webserver. I pay for all my webhosting out-of-pocket so I can't afford to subsidise your bandwidth. So right-click and save the images to your own hard-drive, and then upload them to your own webspace. Thanks!