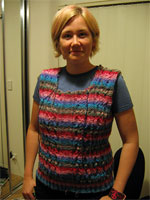 Cutting the Steeks
How do you turn a weird tube like this into an actual garment?
Have a big glass of wine.
Break out the sewing machine and carefully sew down the middle of the 1st and 3rd stitches of the 3-stitch steeks you put in for the neck and sleeve holes.
Stitch over those lines again. Seriously. And really go back and forth at the top and bottom a few times.
CUT THE SUCKERS.
Put it on and pray it fits, and that you haven't turned $150 worth of Silk Garden into a big pile of short pieces of yarn.
Have another glass of wine.
I started with the neckline first, and here's what I got when I opened it up. It's like magic! It worked perfectly. Emboldened, I moved onto the sleeves. Once I had those cut, I went back to my shoulder stitches (patiently waiting on scrap wool) and did a three-needle cast-off to create the shoulder seams. Then I tried the sucker on. It actually fits! HURRAH! I'm waiting to cut the front though; I figure there's no point in doing it until I'm ready to sew in the zipper. I decided to dive right in on the collar rather than start the sleeves. Unfortunately I'm having to improvise a bit here. The stupid Debbie Bliss pattern book doesn't even SHOW a picture of the collar, nor do they include any schematics so I know what it's supposed to look like. I also immediately ran into the problem that my neckline is a lot deeper than hers is. (She has an infuriating habit of assuming you get exactly the same row gauge she does, so she doesn't bother specifying what length things are supposed to be.) So instead of picking up 13 stitches along the side of the neck, I picked up 37. That meant I had to invent a bunch of cables along that side. I think it's going to look good though…