Rock the Vote
The NYT calls out the Republicans for running the dirtiest Presidential campaign in memory. Experts declare Obama won the 2nd debate. Both Joe Biden and Jimmy Carter send me emails (via Democrats Abroad) reminding me to send in my absentee ballot. And lo and behold, Indiana may be a swing state!
I rushed to the Post Office yesterday and spent TWELVE DAMN DOLLARS to send this thing via Express Post. It probably would've gotten to Indiana in time with normal Air Mail, but I wanted to make sure that this Hoosier gets to play her part in history. Thanks for the reminders, Joe and Jimmy!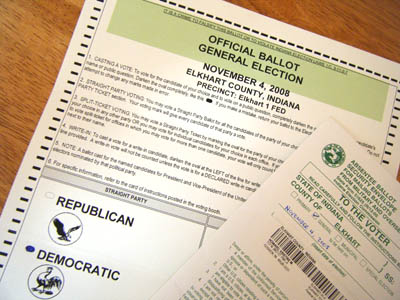 Interestingly, the Aussie clerk at the post office was astounded that I couldn't just go vote at the US Consulate on Election Day. "Why don't you do that? That's what we do!" I had no answer. It really would be a lot simpler than this craziness (which changes for every single state).
Why in the world is the Democratic symbol there a ROOSTER?