Food for the Future Fair
The Food for the Future Fair is in full swing, and the Knitters Guild stall is being mobbed by kids who want to knit. Here are the unsuspecting knitters right before the onslaught: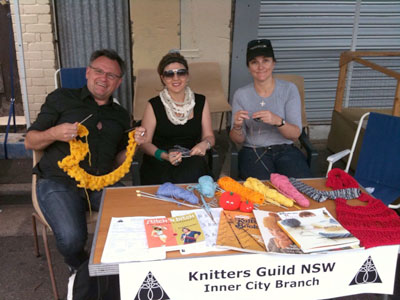 And here's what it looked like after the kids found us. Eeek!
The Snook and I got to watch Lord Mayor Clover Moore open the new food co-op (while wearing a 350.org T-shirt); I sampled some macaroons from Sweetness the Patisserie, and I finally got to meet fellow Chippendale blogger Steven Noble. Pretty fun! Now I'm off to run some errands, but I'll be back at the knitting stall from 2pm-4pm.