More on Sleep Cycle Alarm Clock
That was good timing! I posted my review yesterday and then found out that the 2.0 update dropped on the same day! The new version includes historical graphs of your sleep patterns. Here's my data from last night:
Went to bed / woke up: 11:13 PM / 7:00 AM
Total time: 7h 46m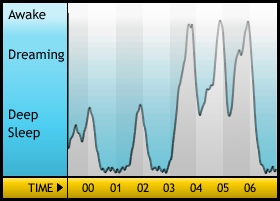 This wasn't a good night's sleep. I was more aware of the iPhone than I've been the previous few nights, and every time I turned over I thought of how it was being recorded for the graph. Then as the sun started to come up, the damn cats went berzerk. I didn't sleep very soundly for those few hours. I finally got back into deep sleep an hour before the alarm… which meant there was no optimum time to wake me and I got up at 7am feeling groggy and annoyed.
Okay, so the jury's still out on whether this is all make-believe. I'm trying to find scientific research backing the ability of actigraphy to accurately detect sleep stages, and I haven't got proof yet. I think I need to get the Snook to hook his iPhone up too so we can compare graphs in the morning. I'm really curious whether he's affecting my phone's data…