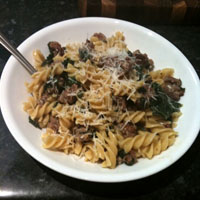 Pasta with Sausage and Kale
We picked up our second Food Connect box last night, and it was a doozy! We got two big heads of broccoli, two cucumbers, kale, mushrooms, mesclun salad mix, potatoes, apples, bananas, lemons, and oranges. The kale caught my attention immediately, as I can't remember ever cooking or eating it before. To the Internets! I found this yummy-looking recipe for fettucine with kale and sausage. (I didn't have fettucine so I subbed in some curly pasta from the pantry.) It was quick and tasty! Highly recommended.
The next challenge will be those mushrooms. I am not historically a big fan of the mushies, but I'm willing to try. What should I do with them? I think my biggest problem with them is slimy texture, so recipes that avoid that would be preferred. Any tried-and-true suggestions?