Worldwide Festival of Races 2010
Today was the much anticipated Sydney get-together for the Worldwide Festival of Races. We had six runners turn out for our event in Centennial Park: Kunaal, me, Andrew, JayDub, Eoin, and Jo. It was a glorious spring day and we had a great time running together.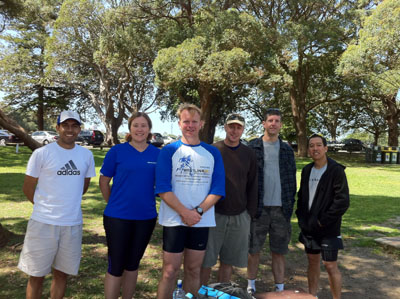 That's the post-race photo though. We all started turning up at the Park prior to 10am to make camp and get ready for our events. At 10:10, the Snook fired the starter's pistol (an iPhone app, of course) and we hit the track. Kunaal and JayDub ran with me for the first few km's, and JayDub ended up pacing me for the whole first 5K. We finished the first lap in under 35 minutes and stopped back at camp for a quick drink of water.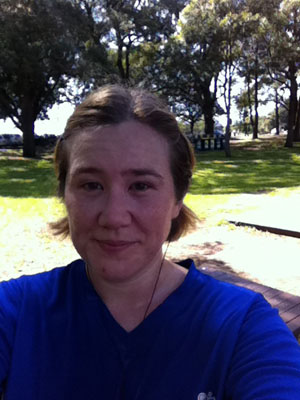 That's me, mid-race. I told JayDub to go on ahead, as I knew I'd be slowing down in the second half. The park was packed with picknickers, cyclists, pony riders, and other runners. I headed out for my second lap hoping to keep my pace as consistent as possible. While climbing the only big hill, I started to get some sharp pains high up on my right thigh. It feels like I've got a small strain or tear there. I took a few walk breaks on the hill and tried not to push it too hard. Once I got back down to the flat track, the pain eased up a bit. At the 8.5km mark, I realised that I was still holding steady at 7:00/km and that I had some gas left in the tank. So I started to push. My last kilometer ended up being my fastest of the whole race! [RunKeeper details] I finished my 10K at 69:22 and spent a few wild minutes thinking I'd set a PR for the distance. (Turns out I missed last year's 69:09 by only a few seconds.) Eoin and Kunaal had already finished their 10K and 5K, so I joined them and the Snook while we waited for the half-marathoners to finish.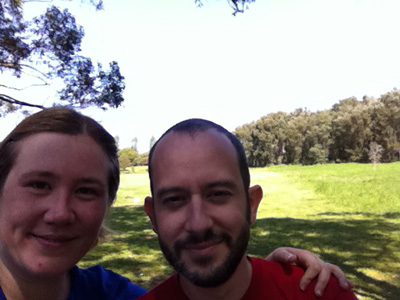 The Snook really is the best support staff a girl could have!
Andrew and JayDub both finished their half-marathons in just under two hours, which was fantastic. Once they got back to camp, the celebrations began! JayDub had somehow managed to find the only bottle shop in Sydney that imported Sam Adams beer. Here's the four of us toasting to our patron saint and Bostonian Steve Runner.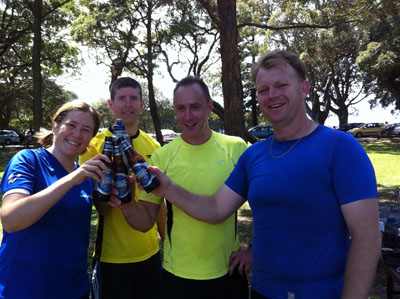 We sat together for a couple hours enjoying the sunshine and each other's company. Jo and his wife turned up, having missed us for the start. (Jo ran his 10K and spotted some of our group on the course.)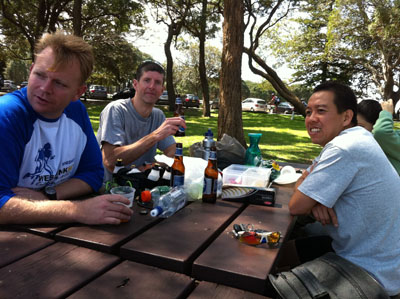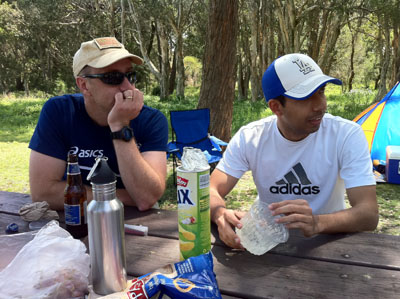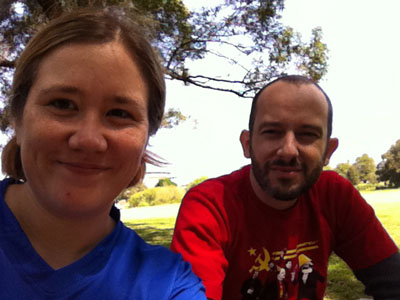 Such a great day! Thanks to JayDub for coming up with the idea, and to everyone else for participating. Next year will be even bigger and better, I'm sure. 🙂