Knitters Guild
Saturday was my penultimate Knitters Guild meeting as Convenor of the Inner City group. I'm really looking forward to "retirement." I've had a lot of fun working with Rosemary and Geraldine, and I'm proud of what the three of us have accomplished. But at the same time, it's like hosting a party every single month. Eventually you want to just go to the party and have a good time like everyone else! So we'll definitely be celebrating after next month's AGM.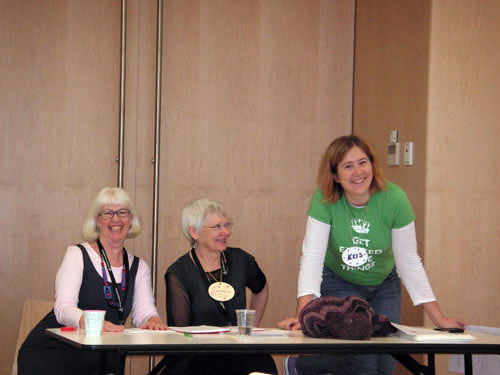 Our October meeting featured a steeking workshop taught by Mary-Helen and Sandra. Earlier in the week I'd stuffed up by spending an exorbitant amount of money on colour copies of the course material, but in the end it turns out that was a Good Thing because the projector in our meeting room was broken. So that worked out nicely. I took several photos during the meeting which are now up on our website. (If anybody has others to contribute, please send them through!)
After the meeting, I hung around to help with our monthly "Learn to Knit" workshop. We taught 7 women of varying ages how to knit. I haven't been knitting much myself lately, so it was nice to pick up the needles again. At least I can teach others to get enjoyment from it!