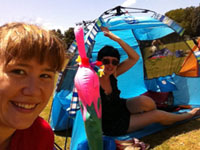 Opera in the Domain 2011
This was the fifth year in a row for our unofficial knitting meetup at Sydney's Opera in the Domain. We had about twenty people in our group in the end, all gathered together under the stars listening to Bizet's Carmen. I'd never seen that opera before, but the music was instantly familiar from hundreds of movies and commercials. I thought Carmen and Escamillo were great, but I just couldn't buy Don Jose as a romantic lead. (I whispered to Rodd that the actor reminded me of this.) There were sound problems throughout the night, especially with Don Jose's microphone. I have no idea how the people at the back of the Domain were able to hear anything! But the dancing was great, and I was bopping along in my seat to a lot of music. Too bad the story has such unlikeable characters!
Anyway, the day actually started long before that. I was the first one from the group to get to the Domain at about 12:40pm, and I could see that the field was going to fill up faster than usual. Reecie arrived not long after and we quickly set to work defining our area with blankets and shade tents. Within half an hour we were already having to defend our spot from invaders! Luckily reinforcements arrived soon and we mostly managed to fight off encroachers. (The nerve of some people! Turning up right before the show and thinking they could plop down right in front of us.) We picnicked and drank wine and knitted and got interviewed by some local news cameramen. It was a lot of fun! Read on for photos.Reecie had an extremely cool little pop-up sun tent. She also specially ordered an inflatable pink flamingo for our camp. HOW AWESOME IS THAT?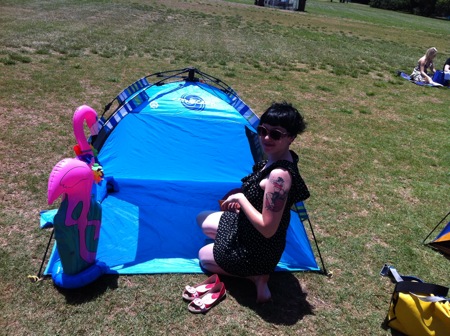 Me and Reecie, trying to stay in the shade as much as we could. We faithfully reapplied sunscreen every two hours.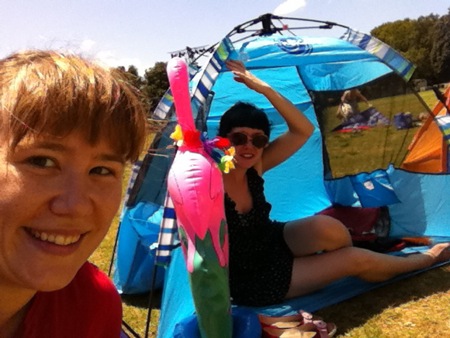 The cavalry have arrived! There's Sally huddled under a tent, while Issy and Derek guard the eastern frontier.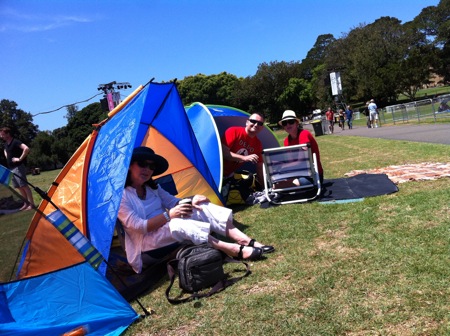 Tia was the mum of the group for the day, making sure we didn't get sunburnt and handing round all the yummy food she'd made.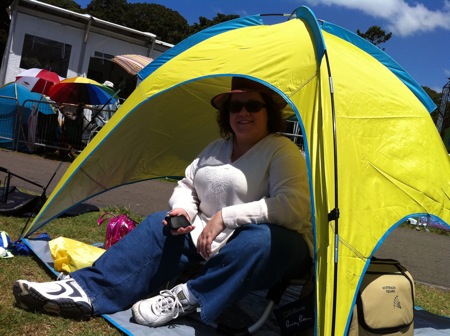 These cameramen came around from Channel 7 news. They interviewed Sally first, then did a shot of several of us toasting the camera. Then they went back to interview Issy and Derek.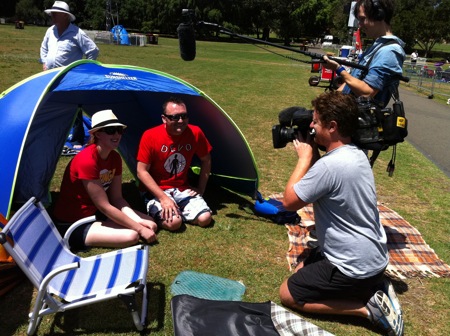 None of our interviews actually made it onto the news footage, but they did show us all saying "Cheers!" (Thanks to Daniel for the photo.)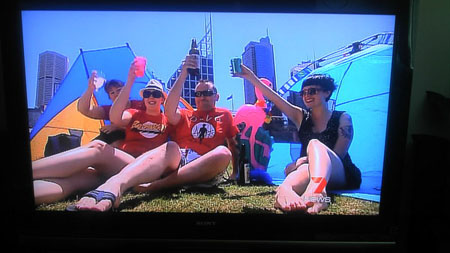 Self-portrait looking towards the opera stage.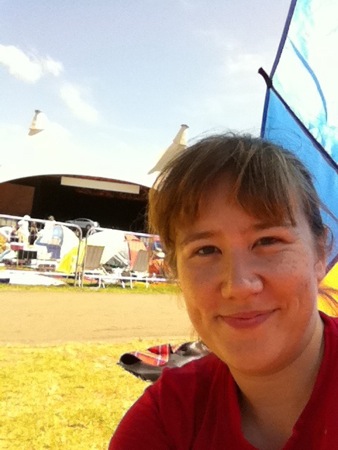 It's the Bazinga Twins! Me and Issy wore the same shirt (on purpose).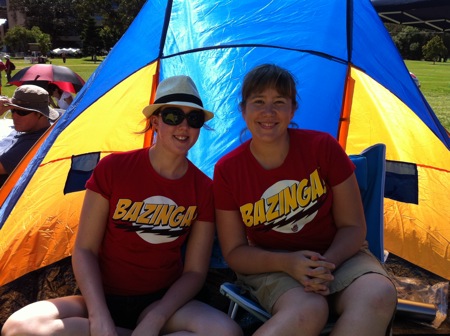 Here's me and a new friend – Amanda (aka Ptinutz on Ravelry). She came in the afternoon and her boyfriend came later. It was great to meet her!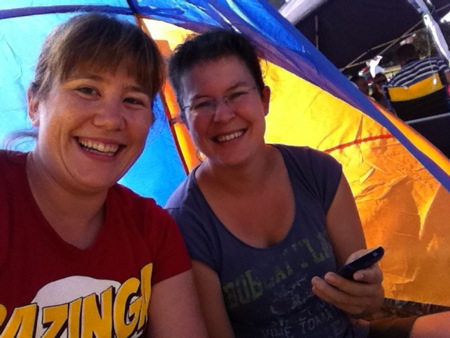 By 6pm it was really starting to fill up and they asked us all to take down our sun shades. Here's a shot of the crowd. It was really getting difficult to keep people from shoving into our area!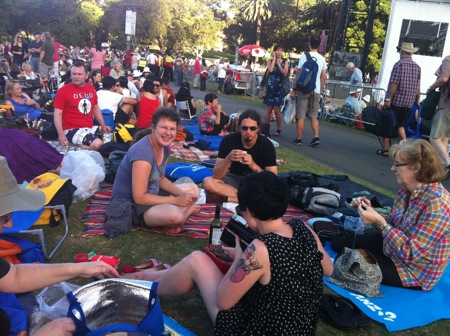 As usual, Mazda was going nuts with the corporate branding. They handed out fortune cookies that contained lousy ads instead of real fortunes!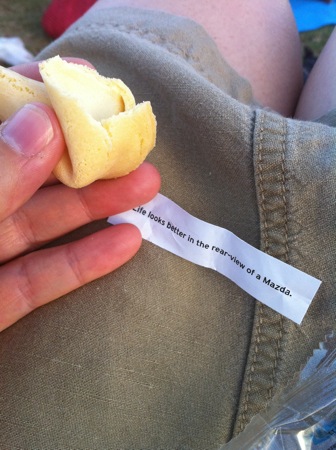 Just before the opera started, here's Reecie and Lucas having a little rest.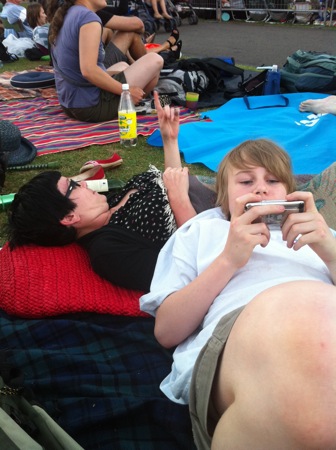 And that's it for the photos! Snookums turned up just before the show with my dinner (Oporto and beer – he is awesome). When the show finished, we packed quickly and joined the crowds streaming to the city. Luckily it didn't take us too long to catch a bus home.
Thanks to everyone who came along!