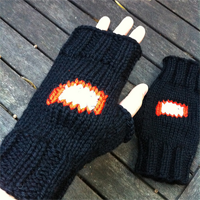 DailyMile Mitts
DailyMile is a community site for runners and other athletes. I've been posting my workouts there for the past eight months, and I've been blown away by the camaraderie and support I've received. A few months ago, a DMer from NZ named Lisa was visiting Sydney so a bunch of us had a meetup for her. Not long after she went home, the Christchurch earthquake happened. She and her family are fine, thankfully, but as you can imagine her community isn't in great shape. She's also had some injuries that have derailed her running. Last week one of the Sydney DMers proposed sending her a care package, and this was my contribution.
The pattern is a free one called 75-Yard Mmmalabrigo Fingerless Mitts. I used a very chunky black Japanese wool ("Nireana") I received in a swap a few years ago. (It's slightly thicker than what the pattern called for, so I upped the needle sizes to 5mm and 5.5mm.) The mitts were incredibly quick to knit in this thick wool. I lengthened the cuff a bit as suggested. They're a little big for me, but then again I have tiny hands. I duplicate-stitched the DailyMile logo on the back with some doubled 8-ply in orange and white. (Ravelry details)
Lisa received the care package yesterday and she was just blown away. She posted a photo today of her wearing everything, including my mitts and a red Snuggie. (Not sure who sent her the Snuggie, but that's BRILLIANT.) I'm so glad she liked everything! It was fun being part of the surprise.