Jamie's 30 Minute Meals #23: Smoked Salmon
This is our 23rd cooking/blogging experiment from Jamie's 30 Minute Meals. For this one we chose "Smoked Salmon, Potato Salad, Beets & Cottage Cheese, Rye Bread & Homemade Butter." We picked it because the Snook happened to buy us a beautiful rye from Brasserie Bread at the Rocks Markets on Friday, and because we had this episode recorded. I was on cooking duty for this one, and I lucked out because this one had the least actual cooking of any meal in the book so far! It's mostly assembly, which meant that I finished in the blisteringly fast time of 26:05. (It's so quick that Jamie even does an extra dish on the show utilising raw beets, which I didn't bother with since it's not in the book.) Fastest meal ever!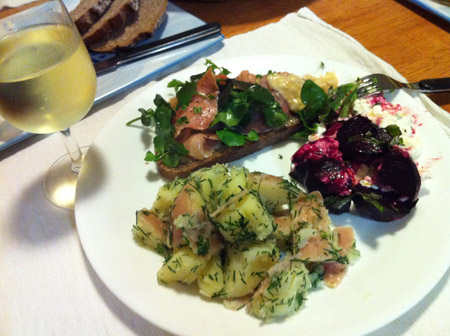 Substitutions: Jamie used a bag of prewashed watercress, but we could only find it in a giant bunch. So we spent a few minutes ahead of time picking off the leaves and washing them. Jamie also used "cooked vac-packed" beetroots, which neither of us have ever seen in Australia. So I pre-cooked the beets by peeling them and then microwaving them for ten minutes. Oh, and we couldn't find Greek basil, so we used regular. Other than that, everything was as written in the recipe.
Quick verdict: Yummy! This is such an unusual recipe in the book; the flavour profile is much more "northern European" and out of Jamie's usual wheelhouse (English/Italian/Asian). It made for a really nice change. There was so little cooking that there's not much to critique. The potatoes were excellent, though I'm not sure the dish warrants the name "salad." Making my own butter was fun, and once again it made me appreciate our awesome food processor. The beets were great, and the trick of microwaving them first worked brilliantly. The only "flaw" in this meal is that we both felt it worked much better as a lunch than a dinner. With that in mind, we both rated it a 9/10. The flavours are great and the presentation is impressive, but it's not the type of thing you crave after a long day at work – unless maybe you're Nordic?
Read on for a photo essay of the preparation.Pre-start prep: We got out all the necessary ingredients, tools, and cooking vessels. The kitchen was clean (well, as clean as it gets) and everything wiped down and ready to go. The kettle was boiled and the food processor equipped with the "beater" attachment. I had a single saucepan for cooking the potatoes.
First up are the ingredients for the potato salad: red-skinned potatoes, lemon, thyme, and dill.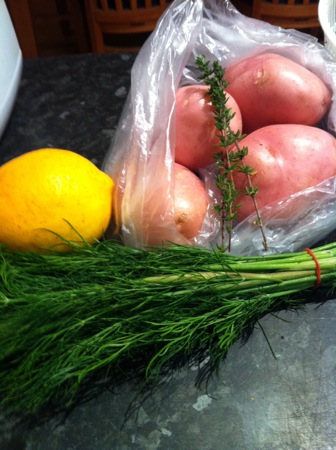 Next up are the components for the salmon: pre-washed watercress, smoked salmon, lemon, creamed horseradish, and a punnet of cress.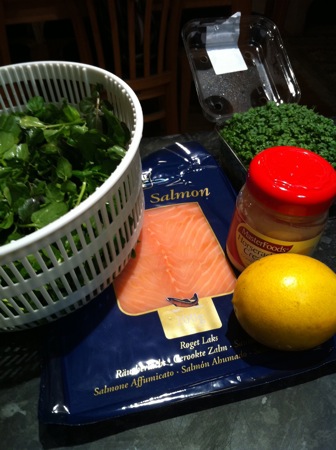 All you need for the butter is cream! You can also see the whipping attachment on our food processor.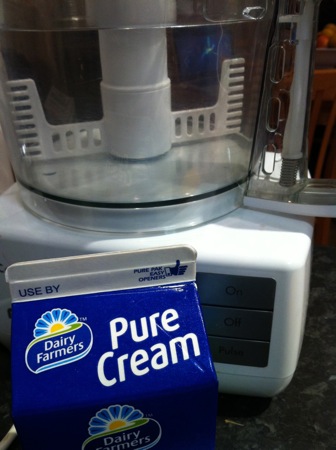 Here are the bits for the beets: pre-cooked beetroots, balsamic vinegar, basil, cottage cheese, thyme, and lemon.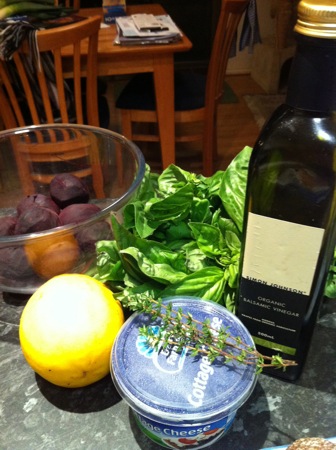 And lastly, our beautiful rye bread.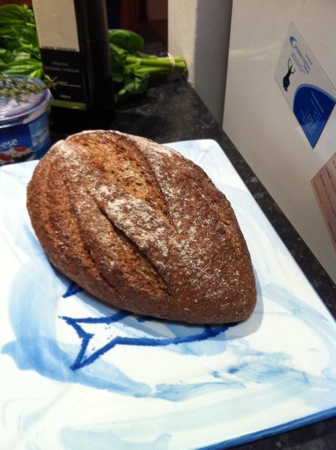 The sole saucepan is ready to go on the stove!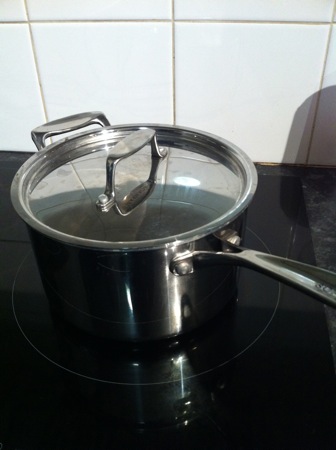 And I'm off! The first job was to wash the potatoes and cut them up into chunks for the salad.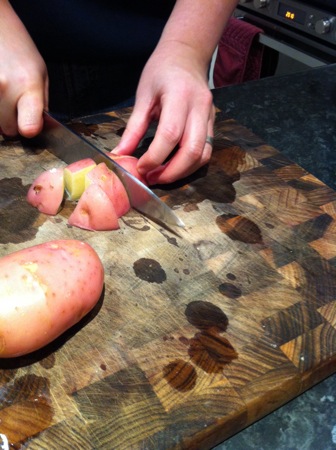 I put the potatoes into the saucepan along with a few strips of lemon zest.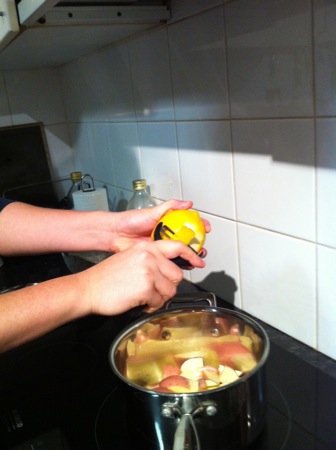 I also added a few sprigs of thyme, then covered everything with boiling water. I put on a lid and left the potatoes to cook for 10 minutes.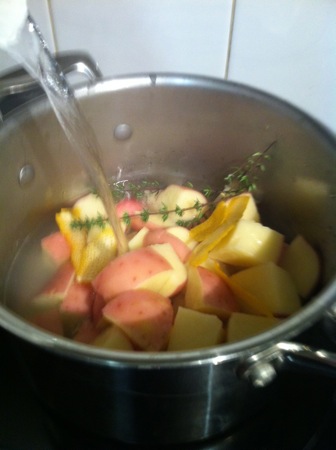 Next I prepared the salmon platter. The first step was to mound up the watercress.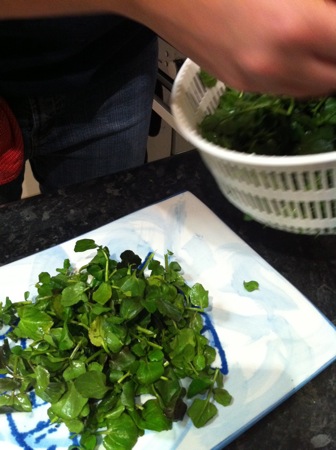 I then laid the salmon slices over the cress "in rustic waves" as directed.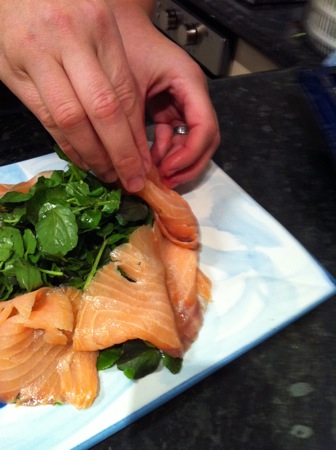 In one corner of the platter, I smeared a few spoonfuls of creamed horseradish.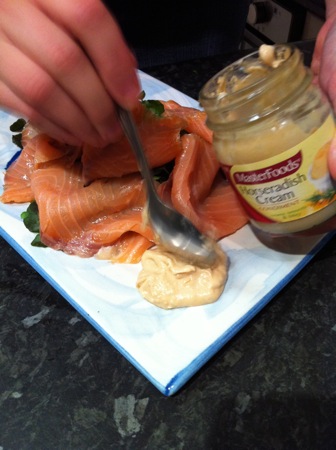 The whole platter was seasoned with salt and pepper…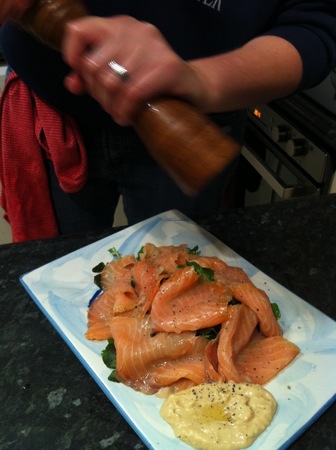 …as well as some lemon juice, lemon wedges, and extra virgin olive oil.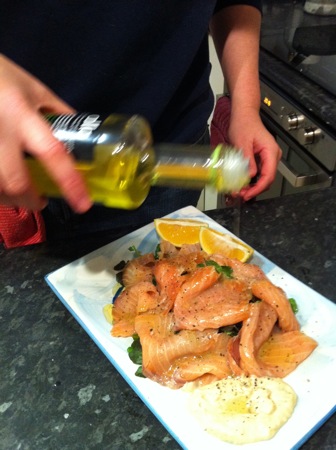 Here's the finished salmon platter! (I also snipped over some cress before serving.)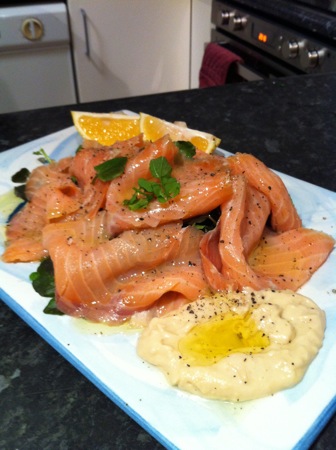 Now for the butter. I poured the cream into the food processor, put on the lid, and left it to over-whip.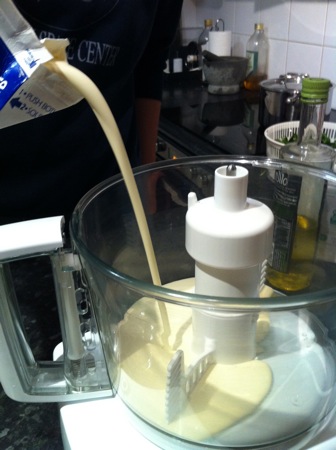 Next I cut up the pre-cooked beets into random chunks into a serving bowl.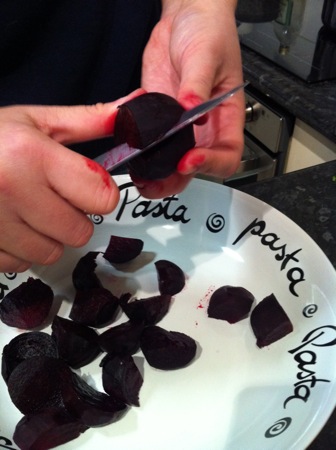 At one point, I stopped the food processor to scrape down the sides with a spatula. It was clearly over-whipped cream at this point. Halfway to butter!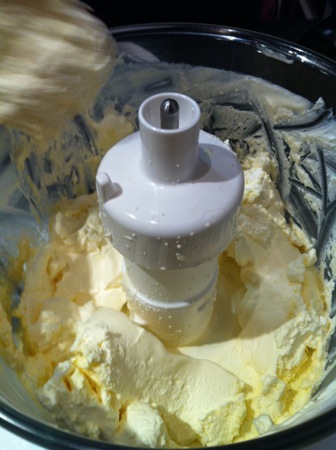 I next chopped up some basil…
…and added it to the beets, along with balsamic vinegar, extra virgin olive oil, salt, and pepper.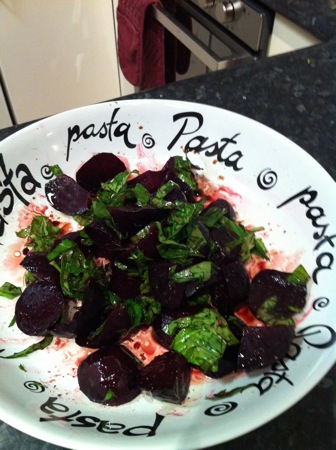 Back to the butter. The Snook and I had never made it this way, so we weren't really sure what was going to happen. After getting so thick, the cream then seemed to go really thin and liquidy. We were worried we'd done something wrong and maybe melted it or something? But we left it going, and a few minutes later were rewarded when suddenly the sound changed as the butter all began to clump together and separate from the whey!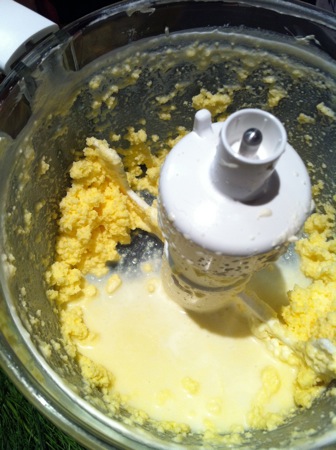 I dumped the butter into a strainer to separate it from the whey. I used my hands to scrunch it to drain off as much liquid as I could.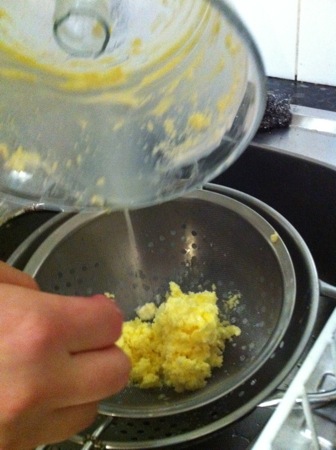 I put my homemade butter on some greaseproof paper and sprinkled it with salt. Then I scrunched it up in a bundle as Jamie had done.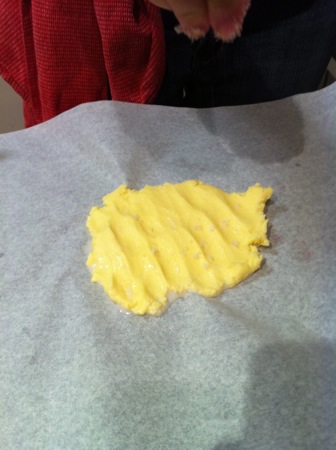 I made butter!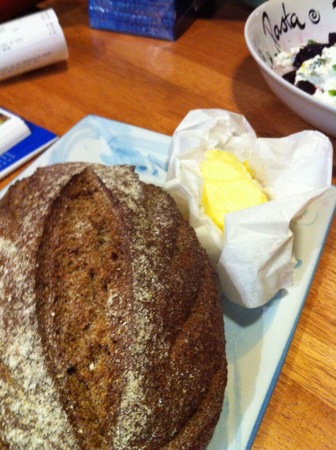 The potatoes were cooked, so I dumped them into a colander to drain and steam. I also picked out the thyme stalks and the lemon zest.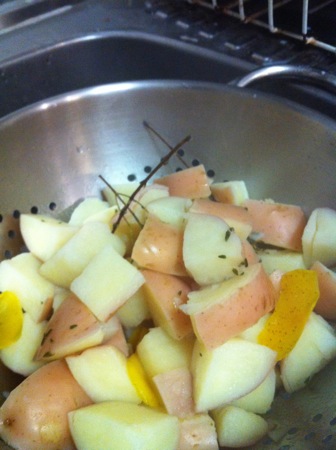 Back to the beets. I dumped the cottage cheese into a bowl and added extra virgin olive oil.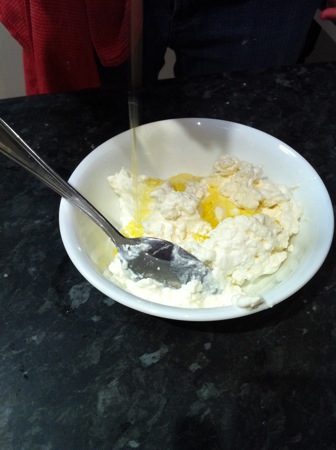 I also grated in some lemon zest…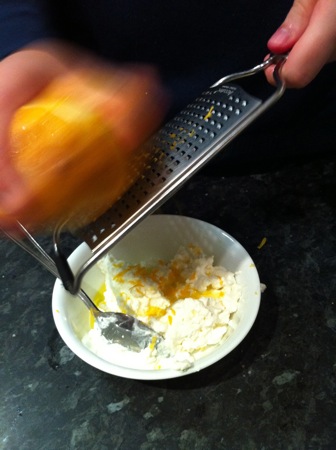 …before finishing with salt, pepper, and thyme leaves.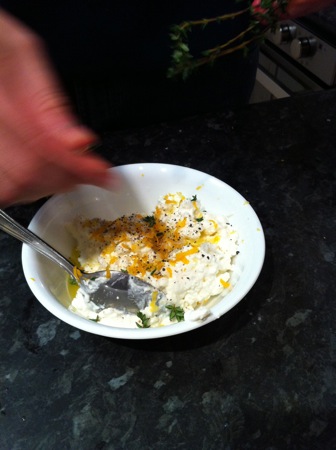 To finish the beets, I dolloped the cheese around the bowl and garnished with more basil, oil, and pepper.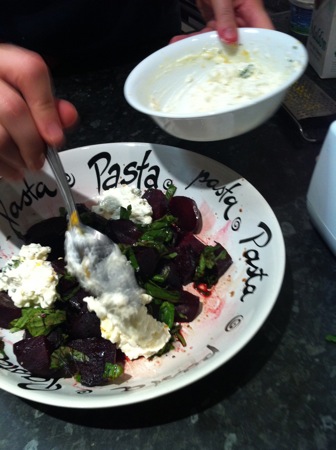 To make the potato salad, I chopped a big handful of dill…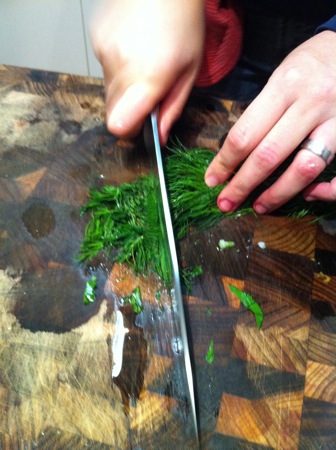 …before adding it to the cooked potatoes along with some of my homemade butter. I also squeezed in lemon juice and seasoned with olive oil, salt, and pepper.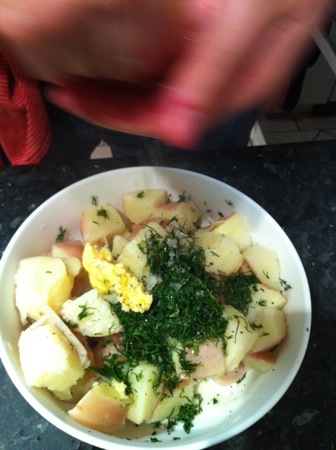 Here's the finished potato salad!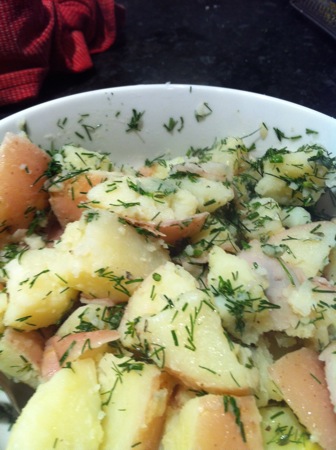 And here's the complete meal of Smoked Salmon, Potato Salad, Beets & Cottage Cheese, and Rye Bread & Homemade Butter.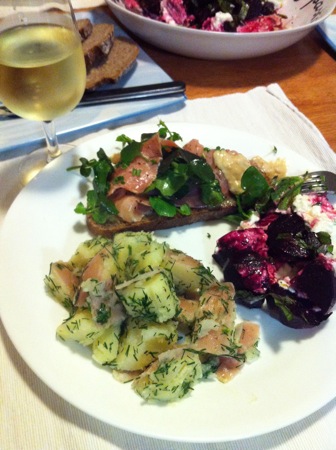 Tasting notes: Like I said, this meal has a flavour profile that was pretty different and unusual. No garlic, no chilli, no fennel seeds, no coriander! It was certainly tasty though. I've only had smoked salmon a few times in my life, but it's basically "fish ham," and who doesn't love nice ham? It paired nicely with the bread, butter, and horseradish. The cress was pretty boring considering how much work it was to pick off; perhaps English cress tastes different from ours? I think you could sub in some other salad leaves without any effect. The potatoes were great with the dill, though I still wouldn't call it a salad. (I guess Boiled Dill Potatoes doesn't sound very sexy though.) The beets were well worth staining my fingers purple. They're just so pretty! And making butter is a fun party trick. I don't think I'd bother if I didn't have a fancy machine to whip it though. At least I can add that one to my repertoire of Pioneer Woman Skills. (I do know to make it without a whizbang food processor; we did it in Girl Scouts once.) Overall, this is a very quick and easy meal to throw together, and the unusual flavour combinations make it feel more sophisticated than the usual fare. It would make an excellent lunch to share with guests. Rated 9/10 by both of us!
Stay tuned for another recipe from Jamie's 30 Minute Meals!