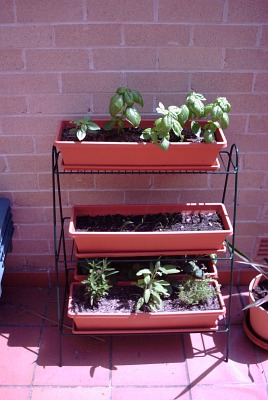 As most of our backyard is actually "courtyard", we rely on a lot of pots and planter boxes. This new stair-step stand is one we picked up after Christmas at our local gardening shop. On the top are our five basil plants (grown from seed), then come my green onions (again from seed), and then on the bottom are several herb seedlings we recently transplanted – thyme, sage, and tarragon. There's actually another box behind the herbs with our strawberry plant. (We're trying to protect it from the sun.)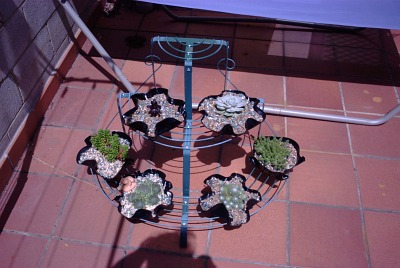 My succulent garden has had some additions. The two on the higher shelf are new this week. The other four have been thriving since September. The pots are, of course, hand-crafted record bowls.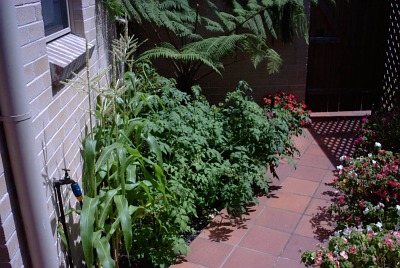 This is our main veggie patch and as you can see it's going insane. Compare it to the way it looked two months ago. We've got about a half dozen stalks of corn growing there on the left and most of the rest are cherry tomato plants. (Note to self: You really don't need that many tomatoes next year.) Our corn tasselled about two weeks ago and we've now got two baby ears of corn starting to grow!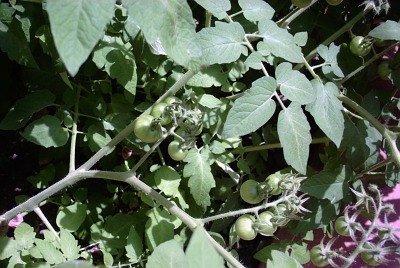 Check out our baby tomatoes! We're gonna have hundreds of them. Does anybody know how to can?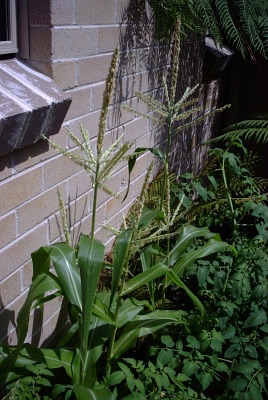 I'm so proud of the corn. It's crazy to look out the kitchen window and see it right there next to the house. I can't wait to eat it!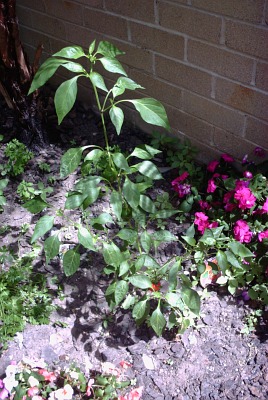 Our little jalapeno is already fruiting like mad. The first two chilis were rather bulbous though and for a while we wondered whether it might be a capsicum. Snookums did some research though and apparently that's normal. He also discovered that the peppers turn red on the plant (but most canned ones you get are picked earlier because people like 'em green). We haven't eaten one yet but that red one near the bottom looks just about ready…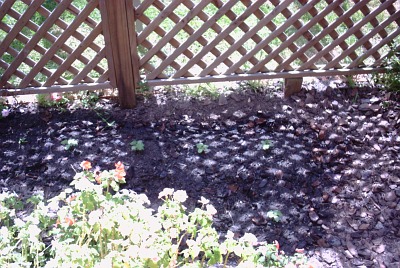 These five little babies are cucumber plants that I've raised from seed. They're pickling cucumbers and I hope to have a nice crop of dill by the time they're ready!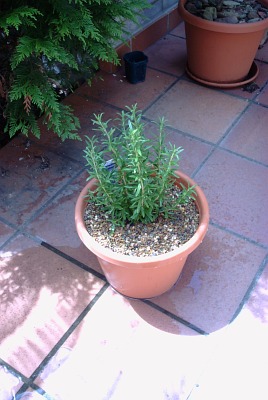 Snookums insisted that we get a rosemary bush so we'll have fresh herbs to dress our lamb roasts. It smells divine!
That's just the tip of the iceberg, really. We've also got our lemon tree (which has a couple more lemons nearly ripe), an azalea bush, dill and bush tomato seedlings, coriander, and parsley. Sounds like quite a feast come Autumn, huh?