Wednesday, August 30, 2006
| | |
| --- | --- |
| | [2] |
Last night's Idol: I'm not votin' but my picks keep on getting through! I was thrilled to see Jessica and Reigan make the Top 12. As for the boys, I really enjoyed Ricky's performance, and if we have to have a smooth RnB type, I say we go with him. I couldn't even watch Chris, such was the awkwardness of the white boy dancing. How great was Bobby? His voice is amazing and that song has me mesmerized. He just looked so full of joy to be performing. (I had to laugh when Kyle referred to him as "Sideshow Bobby" though. I don't get how Holden can call Damien "bog ugly" and yet not call out the Wonderful Freakiness that is Bobby Flynn.) James failed to capitalize on my good will (attained by passing him in the street) and rather bored me with his intense constipation face. Joseph may have cute dimples but I was totally bored by his performance and fast-forwarded through most of it. And "Mutto"? I liked the song, but he didn't really build it anywhere. I also felt his posturing and hamming for the camera - crouching melodramatically, singing in Kyle's face - were a little distracting. Oh, and he has cross eyes. So I'm mentally voting for Ricky and Bobby.

Tuesday, August 29, 2006
| | |
| --- | --- |
| | [2] |
RunningBlog: When last we met, I was preparing for the City 2 Surf and lamenting the weight I'd put back on. A lot has changed since then: I've been seeing an acupuncturist; I've given up Diet Coke completely (cold turkey!); and I'm back to running regularly. The Snook and I are even training for another race in a few weeks. My stomach problems have mostly cleared up, but while my acupuncturist is happy to take the credit my doctor is still puzzled as to the cause. Hence, I'm having the damn gastroscopy next Tuesday. (Not looking forward to it.) In terms of concrete numbers, I'm happy to report that I'm back down in the land of the sevens. HURRAH! I'm still 1.5kg above my goal weight, but I know I can get there. Overall it wasn't the greatest winter, but Spring is just around the corner (three more sleeps!) and I'm sooooo looking forward to it.

| | |
| --- | --- |
| | [11] |
Please pick a random number. (It tells you why afterwards.)


Note to Snookums: Oh yes, we will be making Alton Brown's box fan beef jerky this summer!

Monday, August 28, 2006
| | |
| --- | --- |
| | [1] |
Okay, verdict on Idol so far? I'm very happy that Damien (my Irish hobbit boyfriend) and Dean (my non-threatening emo boyfriend) got through. I really want Chris to make it through on the Wildcard show though. (I think he will.) The other guys were mostly snoozers, though I was disappointed that Brendon (who seemed so cool in the auditions) turned into such a Guy Sebastian wannabe. Go back to the cool, Brendon!

Anyway, the girls. Why do I find the guys so much more interesting? I adore tiny little Jessica, but even I was saying to the Snook: "This was my sister's favorite song in second grade." Not exactly what the kids today are listening to! That Atlanta chick kind of weirded me out, and I kept trying to peg which Scandinavian country she's from. (Answer: She's not, but she *is* in Bjorn Again. Who knew?) I really want to like Klancie but, well, her chin bothers me. I can't explain it. And I wish she'd quit crying! Lastly, I have a complete girl-crush on Reigan, mostly because I've always dreamed of having masses of naturally curly hair.

So who's floatin' your boat? (I can't WAIT to see Bobby "Love Child of Willem Defoe and the Snook's Hair in 1996" Flynn perform tomorrow night...)

| | |
| --- | --- |
| | [2] |
This is, indeed, the awesomest picture I have ever seen. (Link courtesy of John.)


MetaFilter Jobs has launched... and the closest position is 9,000+ miles away from me. Oh well!

| | |
| --- | --- |
| | [2] |
How do you picture the calendar in your head? Mine is definitely monthly, but the months run from right to left, January through December.

Saturday, August 26, 2006
| | |
| --- | --- |
| | [4] |
It was a very full afternoon.
The original plan was to head into the city to David Jones to get fitted for some new bras. (More on that in a minute.) Snookums decided to accompany me so we headed off down George Street. Just as we were coming up to Central, my jaw dropped. "Dude!" I said under my breath. "What?" said the Snook. "That guy we just passed is from Idol!" I had to ring Amy to confirm. It was indeed James Steele, Tassie drummer, dad, and member of the final twenty-four. Excellent! My first sighting of the year. Anyhoo, next stop was Capitol Square so the Snook could price some laptops. I wanted to go to "Capsule Paradise," having been recently told by a customer that they had awesome Hello Kitty gear. And they did! It's at the back past all the purikura booths (which I still find rather bewildering). It's basically a wall of those prize machines you see outside Kmart in the States, but with awesomely inexplicable Japanese toys. I got a Hello Kitty "Zodiac" charm for my phone (she's wearing a cow suit, which I think indicates "Taurus") while the Snook got a crazy robot with guns coming out of its head. Very fun.

Eventually we made it to DJ's and I managed to get someone in the lingerie department to fit me. As soon as she saw my current bra, she was like, "Yeah, you need to go down a size. You're a 14 now, not a 16." Woohoo! So after dealing with the embarrassment of having a total stranger see me topless, I got to try on about ten different bras and ended up buying four. The next time you see me, I will be much more statuesque. To cap off the outing, we decided to try Ichi Ban Boshi for the first time. The Snook was hoping to get some of the famed tonkotsu ramen but alas, it was long gone. I had the popular Tokyo ramen, while the Snook went for the spicy tantanmen. We also shared some gyoza, and I have to say they were some of the best I've ever had. Very crispy on one side with juicy, perfectly cooked pork inside with just the right amount of ginger. Thirty minutes later, we sloshed out of there with our bellies full of soup. It was a tiring excursion...

| | |
| --- | --- |
| | [1] |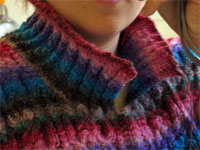 Ring Around the Collar
And just like that, we have a collar! As previously mentioned, I had to do some serious modifications of the pattern as this point. The depth of my neck shaping meant I ended up with a lot more stitches than the pattern called for, so I had to add in a bunch of extra cables and twists. I also wanted to cast it off with the red, so I ended up knitting it about a centimeter longer than I might have otherwise. But I like it! I think the zipper's going to go all the way to the top of the collar so I can zip it up into a funnel-neck. It's gonna be a warm jacket!


Cross stitch sampler dedicated to the Internet. That is BRILLIANT. See, I just need to figure out a way to use the cool stuff stuff people are doing with this craft on the Internet to reinvigorate the interest in it in Sydney. (Link courtesy of Moire.)

Friday, August 25, 2006
Click here for SCIENCE.


RunningBlog: I just found two great running-related links: "Eat and Run" (about carb-loading before a race) and Secrets of Endurance: Eating to Go" (about eating during a race to avoid the dreaded "bonk"). As the Snook and I start to increase our milage, this will become more of an issue. We didn't do too badly with the City 2 Surf in terms of hydration, but we didn't bother to eat anything during the run. Next year I think a hit of energy goo on Heartbreak Hill is in order.

| | |
| --- | --- |
| | [1] |
Funny Cats - classic compilation of frolicking cats. HILARIOUS. I love the shot of the cat licking the baby, and the end shot of the one pouncing at the camera. Cats are funny! (Link courtesy of Snookums.)

| | |
| --- | --- |
| | [9] |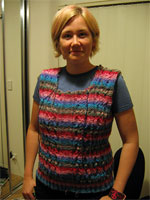 Cutting the Steeks
How do you turn a weird tube like this into an actual garment?
Have a big glass of wine.
Break out the sewing machine and carefully sew down the middle of the 1st and 3rd stitches of the 3-stitch steeks you put in for the neck and sleeve holes.
Stitch over those lines again. Seriously. And really go back and forth at the top and bottom a few times.
CUT THE SUCKERS.
Put it on and pray it fits, and that you haven't turned $150 worth of Silk Garden into a big pile of short pieces of yarn.
Have another glass of wine.
I started with the neckline first, and here's what I got when I opened it up. It's like magic! It worked perfectly. Emboldened, I moved onto the sleeves. Once I had those cut, I went back to my shoulder stitches (patiently waiting on scrap wool) and did a three-needle cast-off to create the shoulder seams. Then I tried the sucker on. It actually fits! HURRAH! I'm waiting to cut the front though; I figure there's no point in doing it until I'm ready to sew in the zipper. I decided to dive right in on the collar rather than start the sleeves. Unfortunately I'm having to improvise a bit here. The stupid Debbie Bliss pattern book doesn't even SHOW a picture of the collar, nor do they include any schematics so I know what it's supposed to look like. I also immediately ran into the problem that my neckline is a lot deeper than hers is. (She has an infuriating habit of assuming you get exactly the same row gauge she does, so she doesn't bother specifying what length things are supposed to be.) So instead of picking up 13 stitches along the side of the neck, I picked up 37. That meant I had to invent a bunch of cables along that side. I think it's going to look good though...


I'm very disappointed in the Big Brain, I have to say. It's dinky! You can't even walk inside! I don't think a couple of crinkly lines hacked into a Hebel block should qualify as a Big Thing. Now the Big Gumboot... That's AWESOME.

| | |
| --- | --- |
| | [4] |
Pluto is no longer a planet. Isn't that really weird? That they can just decide to rescind a fact we all learned as kids? I guess teachers will have to come up with some new mnemonics.



On a related mind-blowing note: "How many oceans are there?" Every American kid would say "four," right? Well, get this: Australian kids say FIVE! Or at least, that's what Snookums learned in school. He says they don't count the Arctic Ocean; they count the North and South Atlantic separately and add in the "Southern Ocean" around Antarctica.



Thursday, August 24, 2006

Silent Menace
I was playing with Dr. Amy Jones the other day when I noticed that her collar was looking pretty ratty. It's the same ol' Friskies collar they gave us when we took her home as a kitten, and it's not the most stylish feline accessory anymore. It also looks like it's thinned the fur around her neck a bit too. So we decided to take it off her, and now... We have a SILENT STALKER in the house. She just appears and disappears without any warning. We'd gotten so used to her having a bell that it's really kind of creepy now to turn around and suddenly have a cat staring at you. She, of course, loves it. And to her credit, Snookums thinks she's lessened the intensity of her pounce attacks (because she knows she's got the element of surprise on her side). It's kind of fun, actually. It makes her seem more mysterious and predatorial... in a cute little cuddly-wuddly kind of way.


"Psycho Killer Raccoons Terrorize Olympia." Now THAT is a headline, people! You know, I really don't miss raccoons. Squirrels, yes. Raccoons, no.

Wednesday, August 23, 2006
| | |
| --- | --- |
| | [2] |
Mmm, bacon wallet. (Note to self: Possible Snookums Christmas present!)


Ranch Dressing: Why Do Americans Love It So Much? Great article, though it leaves out one important milestone in the growth of Ranch Dressing Popularity: The fateful day Kelly McMahon asked the Chili's waitress for a cup of ranch to dip her tortilla chips in.

| | |
| --- | --- |
| | [2] |
I was reading AskMetaFilter yesterday when I came across this comment, which mentioned that the commenter had been stalked at work for years. He pointed to a webpage he'd made about the alleged stalker. Whoa! My attention was snared by the intrigue and scandal of drama amongst the weirdy-beardy anti-censorship geek crowd. It's fascinating. From there I followed a link to the alleged stalker's site, where I was surprised to see him asking where all the traffic was coming from. So I told him. I have to say though, part of me was wary of saying anything for fear I'd start being harassed too! (Hence my careful insistence on the use of the word "alleged" in this post.)

| | |
| --- | --- |
| | [4] |
Sock Wars. Ohhhh, I just may have to do this! It's the game of Assassin with a twist: instead of shooting your target with a water pistol, you have to knit them a pair of socks. How cool is that? Anybody else (Miss Fee? M-H?) want to join in? (Link courtesy of crumpet.)

Monday, August 21, 2006
| | |
| --- | --- |
| | [12] |
Snookums is puzzled by the Wikipedia article on "pizza", specifically this bit:
"In Indiana, they recently introduced the 'ranch style' variety which has had fantastic success with its inhabitants, especially amongst the South. The ranch is dipped or drizzled on pepperoni pizza."
Who in the what now? I can easily believe that there are people who put ranch dressing on everything. (Hello, Kelly McMahon!) But this makes it sound like some sort of official thing that's happening everywhere. Is this for real? Spill it, Hoosiers.

| | |
| --- | --- |
| | [1] |
Paging Mr. Kyder, Mr. Al Kyder... HA! Yeah, pretty juvenile humor I'll admit, but there is a point to it. I was astounded when we flew to Melbourne last month and I never had my ID checked once. I assumed somebody would at least check my driver's license at the gate to make sure I was the ticketed passenger, but they never did.


While I think it's a shame that Latvian knitters are being asked to refrain from using traditional design motifs, I can see where swastika mittens might be interpreted wrong.

| | |
| --- | --- |
| | [2] |
I hate Mondays.
Customer: "I'd like to exchange these knitting needles. They're too big."
Me: "I'm sorry; we can't exchange needles if you've used them."
Customer: "I haven't used them."
Me: "Then how do you know they're too big?"
Customer: "Well, I knitted a tension swatch."
Me: "Yeah. I can't exchange them once you've used them."

Sometimes it's like I'm speaking a foreign language.

Sunday, August 20, 2006

Knitting, knitting, knitting... This damn cabled jacket keeps trying to thwart me with miscrossed cables and extra rows, but I will not be denied. I just keep froggin' 'er back and bangin' my head against the brick wall. This project has brought out a stubborn perfectionist streak that I didn't think i had anymore. It's become my Everest, and I'll finish it or perish in the attempt. I'm literally at the last five rows of the body though, so what else can go wrong? (The house will probably burn down tomorrow.)

Saturday, August 19, 2006

RunningBlog: Today was the first day in ages I actually felt like running. The Snook and I did a nice long jog down Harris Street to Pyrmont, then around the Fish Markets and into Glebe via Pyrmont Bridge Road. We've also signed up for our next event: the Sunday Telegraph 9K Bridge Run in one month. We were tossing up the idea of the Half Marathon, but they have cutoff points and the idea that we'd have to meet some sort of speed minimum scared us off. Next year...

| | |
| --- | --- |
| | [1] |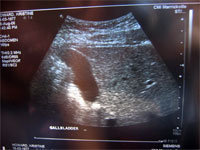 It's a boy!
No, actually it's my gallbladder. I've had such a crazy week. Monday, you'll recall, was my first acupuncture session. It didn't really have any immediately noticeable effect, I thought. Then Tuesday I had one of my worst days of stomach pain in the past two months. It grew and grew all day til Leanne finally sent me home (in the hailstorm) because I looked like I was going to barf. I went straight to my doctor and told him that the current plan of "bland diet" plus Nexium wasn't working. He agreed. At this point, if it was actually a stomach issue I should've been getting better, and I'm not. So he took me off the Nexium and started the next round of tests. I got blood drawn to check for liver function and thyroid issues, and he recommended an ultrasound to check out the other organs that could be causing the gastritis. (Hence, the picture of my

baby

gallbladder.) I was in such pain I considered canceling the next acupuncture session; it obviously wasn't doing me any good. But then something amazing happened Wednesday: I woke up feeling great. It wasn't just that I wasn't feeling any strong pain; it was that I actually had energy and felt happy all day long. You don't realize how precious those days are until you have two months without one. And Wednesday was nearly as good! I really don't know what to attribute it to. I haven't changed my diet radically, and by all rights I should feel worse after stopping the Nexium. But I don't. I even had an APPLE on Thursday (which I'd been shunning out of fear of the acidity) and I was fine. So I went into my second acupuncture session feeling skeptical but also more than a little hopeful. After telling her everything that had happened, I got back on the table for another round of five needles. Two in my elbows and one in the center of my belly, again, but also two more either side of my navel. (Looking down, my belly button appeared to have antennae. Take me to your leader.) Friday was the ultrasound and I'll admit I was feeling some fear. What if he finds a tumor? In the end everything checked out okay, with one minor exception: there's a dark spot on my right kidney, and the technician thought it might be the formation of a stone. OH, GREAT. (My pregnant sister just had one and sent me a long, excruciatingly detailed e-mail about the pain she had in passing it.) He recommends I have a CT scan to verify. So I'm a little torn here, actually. On one hand, I have a scheduled gastroscopy in three weeks to investigate the possibility of an ulcer. This is a seriously unpleasant procedure though, and my doctor'd been hoping something else would turn up so I could cancel. A kidney stone though? Would seriously suck. Maybe my magic acupuncture shaman can blast it with some chi or something...

| | |
| --- | --- |
| | [1] |
I know there are only a few shows left, but if you are in Sydney you simply MUST go see Hedwig and the Angry Inch at at newtown. I went last night with the Snook, Amy, Andrew, and Morgan. It was AWESOME. I'd seen the movie a couple times and really liked it, and I didn't think there was any way a small local production could live up to it. I was so wrong. Iota was absolutely incredible as Hedwig. Funny, sexy, tragic... and with legs to die for. I was so thrilled to hear my favorite song performed live. The whole time, though, I kept wondering when the actor playing Tommy was going to make his appearance. Needless to say, the climax of the stage show is a lot different to the one in the movie (and a lot more powerful). Even the Snook enjoyed it, and he hates musicals. I don't think anyone can help being blown away by the Iota's incredible energy and talent, sustained pretty much alone on stage for an hour and a half. GO SEE IT if you can!

Friday, August 18, 2006
| | |
| --- | --- |
| | [7] |
Dude, if I still drank cola*, I'd totally want some Lordi Cola.



* I'm nine days free of the Diet Coke monkey! And I think I've finally broken the back of my addiction. I had some wicked headaches last week but that's all over now. I don't even have any cravings! So don't bother shipping me any Lordi Cola, Jussi. :)



Wednesday, August 16, 2006
| | |
| --- | --- |
| | [2] |
Okay, so supposedly you can watch footage of me and the Snook crossing the finish line at the City 2 Surf, but I can't spot us anywhere in that crowd. Snookums was wearing a light blue shirt and I had a white sleeveless one with navy around the top, and we're both wearing black shorts and red caps. I think they may have messed up the time on the videos and they're showing the footage from our adjusted time as opposed to our real one.

Update: I found us! They did screw up the times. You can see us on this guy's video. We're visible on camera 1 and camera 2. We cross the line about ten seconds after it starts playing, just to the right (as you're looking at it) of the central pillar. Snookums is also carrying a vest, if that helps you spot him. From camera 2 you can just see us raising our arms before we get to the line. You can also clearly see Snookums bopping through with all the energy in the world, whereas I pretty clearly collapse into a walk as soon as I'm over. :)

Update Again: Looks like they've fixed it! You can see us on our proper link now. (Although I noted that they did not publish my comment on the official City 2 Surf Blog where I called them out for the bug!)



Make your own zombie words here.

Tuesday, August 15, 2006

Check out this chart of cat tail positions and what they mean. Of course, this would be more helpful if our cat had more than half a tail.

| | |
| --- | --- |
| | [1] |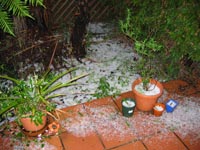 What in the hail?
Dude, Sydney got hit by a mother of a hailstorm today. What's more, I managed to be out in it! At first I couldn't figure out why my footsteps were crunching as I waded through the alley behind the shop on my way home. Once I hit George Street, I could see the white pebbles starting to dot the sidewalk. Luckily I had my umbrella and I managed to get on a bus without serious injury. By the time we hit Town Hall, the roof of the bus was getting pummeled and the streets were starting to turn white. Driving to Central was actually really fun, watching the Sydneysiders huddled in doorways gawking at the hail. Weather as entertainment! Our bus driver was incredulous. "It looks like somewhere else!" he kept repeating. When we stopped at Central, he jumped out to grab a handful as if to convince himself it was real. Me, I sat huddled in my street grinning at their wonder. Most of these people have never seen snow, and this is as close as it gets in Sydney. It was actually piling up in drifts created by the cars splashing down the street. I found that if I squinted just right, I could pretend I was on the school bus coming home on a wretched Indiana February day. And suddenly I was so homesick it hurt. Strange what can bring it on, you know?

When I got home I went out into the backyard to take a few pictures. The flowerbeds got quite a dumping, as did the picnic table. Tracey's already got two nice shots up on Flickr, and other Sydneysiders are posting theirs as well. I especially like this one from Morgan. Ooh, and Mary-Helen's posted some too.

| | |
| --- | --- |
| | [4] |
Stop the presses. We are actually getting knitting yarn made from corn! How insane is that? Well, really we're just getting samples to see if we want to carry it, but I'm already in favor. CORN YARN. That blows my mind.

| | |
| --- | --- |
| | [1] |
I'm supposed to give an interview this arvo at 3:00 with Nova 96.9's Bianca Dye. I don't know if it'll air live though; the website says her show doesn't start til 4. Will keep you posted...

Update: Just did the interview, which they've taped for the show. Will probably be a short one, just 60 seconds or so. She told me that her show was really "quick" and "punchy," and it was suggested that I pretend I was addressing a bunch of 21-year-olds. So if I sound brain dead, that's why.

| | |
| --- | --- |
| | [6] |
RunningBlog: The City 2 Surf Results are in! Our times got bumped down 8 minutes and 44 seconds (to account for the staggered start), which put the Snook at 108:24 and me at 108:25. Of course, according to my stopwatch it took us nearly four minutes to get up to the starting line from the back of our pack, so I still maintain we really did it in 105. The great news is, we also met our goal of finishing in the top half! Of the 53,669 who finished (Where did 10,000 people go? Seriously.), the Snook placed 24,571st and I placed 24,578th. (Because of the bunching.) Go us!

Monday, August 14, 2006
| | |
| --- | --- |
| | [8] |
Kris's Tour of Alternative Medicine: Part Two - Acupuncture
This morning I was checking out the website of the health clinic in the building where I work when I noticed that their acupuncturist claims to help with "gastritis." That's how I wound up lying on a table eight hours later with five needles stuck in me. I had a nice long chat with the acupunturist - Sam - and explained how I'd had some mild success with hypnotherapy last year. (I made sure to emphasize that I'm still not sure if it was the placebo effect though.) Then I gave her every single symptom and pain description I could think of. That's the best part of non-traditional medicine; everything you say is Very Important. You're craving bread? She writes it down. It's Very Important. Cold at night? Very Important. Chapped lips? Very Important. It's all so Very Flattering. Then I climbed onto the table so she could take my "pulses" and look at my tongue. She said we'd start simple: just a few needles in the important spots. I ended up with one on each elbow, one on each shin, and on in the middle of my belly. (I knew that one would get maximum sympathy from the Snook. We think bellies are sacred. I worship his; he worships mine.) They didn't hurt though, and I don't think they went in very far. They didn't even bleed when she took them out. But basically she just put them in, adjusted them, and left me to lie there and relax for fifteen minutes. Then out they came and I was done for the day. I'm supposed to see her twice a week for two weeks, then once a week for a month. And what sort of results should I expect? A "total recovery" from my symptoms. Hey, anything that keeps me away from an H.pylori diagnosis is fine by me! So what's the verdict? I think it's too soon to tell whether my "chi" has been unblocked. My stomach had been playing up when I went in to see her and it's definitely better now, but as Snookums pointed out, that may have been fixed by simply lying down for fifteen minutes. I'm trying to keep an open mind though. I don't want to buy into any snake oil, but I'm also willing to believe there's a lot about the body we don't understand yet. Anybody else tried it?


Moomins! Did I mention that Jussi recently sent me a postcard from MoominWorld with an actual Moomin stamp and a Moomin postmark? Thanks, Jussi!

| | |
| --- | --- |
| | [3] |
Celebrity Sighting: I just spotted Jane Slicer-Smith buying DPNs in our shop! Okay, so that means nothing to 99% of you, but it sure impressed Michelle and Bridget when I correctly identified her. Of course, it helps that she always has dozens of pictures of herself all over her craft show stalls (and her website).

| | |
| --- | --- |
| | [8] |
Of interest to some: This is my fifth day of being Diet Coke-free! I've switched over to sparkling mineral water, which seems to help with my craving for something fizzy without all the added sugar and crap. I also feel like I'm getting some improvement with my stomach situation. Yay!

Sunday, August 13, 2006

RunningBlog: City 2 Surf pictures on Flickr...

| | |
| --- | --- |
| | [6] |
RunningBlog: City 2 Surf Recap
Did you know that Sydney's City 2 Surf is the largest timed fun run in the world? AND WE KICKED ITS ASS. Okay, so we didn't even come close to Dickson's or Anna's times, but we did manage to jog most of the distance and finish relatively strongly. We started the day off by walking over to the start (about 20 minutes from our place), figuring it would be a good warm-up. Once we got there, we were just astounded by the number of people. They'd actually closed registration a day or two before as more than 63,000 people had signed up. We fought our way through to collect our red baseball caps and then nervously joined the other 19,000 runners in the HSBC start. (That's the "middle" group, behind the serious contenders but ahead of the walkers in monkey suits.) We heard the pistol as the elite group took off, and a few minutes later it was our turn. I'd thought to bring a stop watch so I started it once we actually got up to the starting line. (It took a while; 19,000 people don't get moving very quickly!) And then we were off...

The initial bit heading down William Street was so fun. Everybody was cheering and I felt like I could run forever. I kept turning my head to look at the sea of red surging down the street behind me. I've never seen that many people running in my life. Of course, the immediate problem was picking your way through the crowd. Just as you'd start get get up some steam, you'd run smack into ten soccer moms walking abreast in the middle of the road. (I honestly bet we probably ran an extra kilometer from all the sideways dodging we had to do.) It was also tricky to stay together since the red caps made it hard to spot one another. At any rate, we seemed to be making really good time and we decided to skip the first drinks station. (We'd done a good job of hydrating beforehand; all the more remarkable considering that this guy and this guy got Snookums drunk the night before.) I remember coming into Double Bay and just starting to realize how hard this was going to be and how much I was going to hurt... when I heard pumping rock music in the distance. We turned the corner to see a full-on 80's hair band wailing through "Paradise City" on the roof of the Golden Sheaf Hotel. It was AWESOME, like a scene out of a movie. Have you ever seen 10,000 people try to jog and head bang at the same time? I have.

The rest of the course is a blur, really. I remember passing a few jazz bands of old guys tootling away on their horns and clapping with delight. I remember enterprising little kids who'd set up lemonade stands along the route, as well as the more philanthropic kid with a bowl of ice cubes he was handing out. I remember people spraying their garden hoses over the appreciative crowds. (Did I mention how GORGEOUS it was today? Sometimes I can't believe I live somewhere so pretty.) I remember turning a corner and seeing the crowd surging up up up... So this was Heartbreak Hill. Two kilometers pretty much straight up. We walked the steep bits and tried to run on the flat bits, along with pretty much everybody else. The church at the top had erected a big sign congratulating us on making it the top, and I could've wept. An onlooker yelled out "AUSSIE AUSSIE AUSSIE" and I screamed "OI OI OI!" "I'm surprised anyone has the breath!" said the woman struggling next to me. "I'm a new Australian, and that was my first official OI chant!" I grinned. We could tell we were making good time, even with my walk breaks (which became more frequent in the second half). Our stopwatch was running about twelve minutes behind official race time. As we passed the 8K mark at the top of the hill, I said to Rodd, "There! Now this is the farthest you've ever run." And when we passed the 10K, it was his turn to say it to me. I could see the ocean and feel the cool breeze as we neared Bondi. My stomach had been cramping the whole time and I started to get a stitch, but Snookums kept me moving. We were nearly there. The only accident came as we were heading down in to Bondi. I turned to tell Snookums I needed to take a breather, and a girl who'd been running right behind me swerved and tripped over my foot. She went down to the pavement and I apologized profusely as I hauled her up. It could've been worse; the St. Johns Ambulance people looked to be busy with folks who'd overexerted themselves.

We'd asked a lot of people before the race about their previous times, trying to gauge how long it would take us. The serious runners were all under 90 minutes, while the walkers were over two hours. Our previous 8K took us about 50 minutes so theoretically 14K should be doable in under 100, but with our lack of training (thanks to my stomach) and Heartbreak Hill, we decided to aim for two hours. Two hours, we figured, would be miraculous. Well, guess what? As we struggled around the final turn, I raised my head to the official clock. It read 1:56:00. "Look at the time!" I yelled. Screw the stitch; screw my stomach; screw my aching feet and jelly legs. I just started pounding one foot in front of the other. We crossed the line at 117 minutes, and I was trying so hard to keep moving and breathing (and not break down in tears) that I forgot to check the stopwatch. Whatever. Our time will get adjusted down anyway due to the delayed start, and we knew we were about 12 minutes off the official clock. So we're calling it 105 minutes. Which is AMAZING. I still can't believe it. The next hour was a haze of wandering through crowds and waiting in line to get a bus back to the city, from whence we walked back home to Chippendale. My face was gritty from the salt of dried sweat. After a shower, we headed out to the cafe for massive cheeseburgers. Then it was home for a long nap, followed by an hourlong massage (for me) and many hours of World of Warcraft (for the Snook). It's gonna take us a few days to recover.

So man, 14K is HARD. That's nearly nine miles. It's the longest we've ever run (or walked, for that matter) in our lives. And you know the craziest part? As soon as we finished, the Snook started talking about an upcoming HALF-MARATHON. I think we've created a monster here...

Friday, August 11, 2006
| | |
| --- | --- |
| | [2] |
RunningBlog: Less than 48 hours til the City 2 Surf... And you know what? You can justify a lot of eating with the phrase "carb loading"! (We're so dead.)

| | |
| --- | --- |
| | [1] |
Save the 3801!
I was stopped on my way to work this morning by a very cute guy in blue coveralls handing out brochures in front of Town Hall. (Normally I try to avoid the chuggers, but like I said, he was cute.) I read the brochure as I waited for the lights to change. "What?! They're shutting down the 3801?!" The 3801 is the awesome old steam train we took on our trip to Hogsmeade, and I was really hoping to do it again for the next Harry Potter book. This is an outrage! I am drafting letters to my local representative, the Minister for Transport, and everybody else I can think of. SAVE THE 3801! I MUST HAVE ANOTHER OPPORTUNITY TO DRESS UP LIKE A WIZARD!


Roger Ebert's wife has posted an update about his medical condition. Sounds like he's slowly getting better!

| | |
| --- | --- |
| | [2] |
This whole Liquids on a Plane thing is RIDICULOUS. (Though that poster is genius.) Are you telling me that the next time I fly to the US, I have to go 14 hours without a water bottle or a tube of Chapstick? Not to mention the fact that I'll have to wear my glasses (since contact lens solution is verboten). I'd step off the plane looking like a dried-out, chapped-lips ZOMBIE. Looks like we're stuck in Oz for a while!

Thursday, August 10, 2006
| | |
| --- | --- |
| | [1] |
Oh GOOD GRIEF. David Jones is paying Mischa Barton, like, a hundred grand to sit at a couple fashion shows this weekend, and good ol' Marissa is impressing the journos already. She says she can't wait to see "the river." The "river" being Sydney Harbour. If my eyes rolled back any further in my head, we'd have a serious contact lens-related emergency here.

| | |
| --- | --- |
| | [2] |
How do you show appreciation to the one you love? I think that's a great question, and some of the answers people gave are really touching. I especially liked this description of the "five languages" of love. While a bouquet of flowers or a love note would make me swoon, the Snook is of a very different sort. I think I've finally got him pegged though: tonight I brought him a PBJ sandwich and a cup of tea while he was playing World of Warcraft. I am the Best Wifey Ever right now... :)

| | |
| --- | --- |
| | [3] |
*GASP!* How the heck did I miss that Hedwig and the Angry Inch is opening TOMORROW in Newtown?! I'd love to go next weekend. Any Sydneysiders up for some glam rock and German transsexuals?

| | |
| --- | --- |
| | [3] |
Yay, a Knitty Surprise! Universal Toe-Up Sock Formula. It looks a lot like the Double Trouble pattern I show my sock students, but I like that she explains using a provisional cast-on.

Wednesday, August 9, 2006
| | |
| --- | --- |
| | [4] |
I'm happy to report that the first Knit and Quit Class went really well tonight. Spectacularly well, in fact! We had 24 people, most of whom were total beginners, being taught by four teachers. I had been worried that people might think the concept was lame or just go along for the free stuff, but it really felt like everybody was sincerely interested in both knitting and quitting. There was a lot of chatter back and forth at the tables from people discussing how long they'd smoked, successful tips for giving it up, and where they'd heard about the class. I was showing off a mohair wrap to my group when one of them asked how much it cost. I said it was about a hundred dollars to knit. She was a little awestruck at first, but then she said, "You know what? That's ten packs of cigarettes. I'm already spending that much every week or two!" And that's what I was hoping they'd go away thinking. Quitting a pack a day habit saves $3500 a year in this country, and you can knit a lot of damn nice things for that amount of money. When the room finally cleared at the end of the night, I was happy to see that a lot of them had taken the free materials provided by Quitline. Everyone seemed genuinely proud of what they'd learned in just one night and excited to continue on next week!



Special thanks to my fellow instructors Leanne, Mel, and Jane. You guys made it easy and fun!




Note to self: See if anybody at the Guild meeting Saturday wants to go to the Young Blood: Designers Market with me Saturday afternoon. It sounds neat! (Link via Tracey's new shopping blog, which I am loving.)

| | |
| --- | --- |
| | [9] |
Last night was Census Night at last! I was very excited to fill out our form online. Unfortunately the idiot in charge of our area apparently wrote the number on our form incorrectly, which meant that when I logged in I could only see the Personal form, not the Household one. So we had to do the whole thing on paper. (Ugh, how 20th century!) It was pretty boring in the end. Snookums halfheartedly suggested we list ourselves as "Jedi," but we ended up answering everything honestly. I was mostly disappointed at the lack of questions that invited complaints. If the fact that I take the bus means that more money gets diverted to public transport, it should also allow me to gripe that 431 drivers are humongous bastards who always drive their empty buses right past crowds of commuters waiting at Broadway, and they should get the sack.


RunningBlog: It's been a while, hasn't it? Mostly because I don't really have anything good to report. As you may have noticed from my "training" history down there on the right, I haven't been doing much running lately. My stomach still hurts. Yeah, it's been nearly two months now. The antibiotics have seemingly cleared up the e.coli infection, but I'm still not 100% well. I'm trying to give the Nexium more time to work but it's depressing not being able to have spicy food, alcohol, or caffeine. (Okay, yeah, I'm cheating on the caffeine a little bit. But I did cut back.) My doctor is quite frankly puzzled by my lack of improvement, and if things don't get better soon, we move onto the next phase: investigating a possible ulcer. Unfortunately the only way to get an initial diagnosis is to have an endoscopy, where they stick a camera stuck down my throat. (I wonder if they'll give me the pictures? Talk about naval gazing!) Then if it is the dreaded H. pylori, I go on another antibiotics regiment that is "90% successful." Yay!

So what's the upshot of all this? I've gained three kilos, which sucks. And we're committed to running the City 2 Surf this weekend, though I'm not sure if "speed" will be a priority. We're just hoping to finish sometime 'round about two hours. So all in all, a rather depressing DietBlog. I'm just looking forward to Spring and sunshine and being well.

| | |
| --- | --- |
| | [2] |
History of Corn School. Neat! I liked seeing the pictures from a hundred years ago. I wonder if they had the mouse game back then?

| | |
| --- | --- |
| | [2] |
Rockin' Sock Monkeys. I have to say, that Mr. T monkey gives my gay sock monkey cowboys a serious run for their money. (Link courtesy of crumpet.)

Tuesday, August 8, 2006
| | |
| --- | --- |
| | [4] |
Because it's Tuesday and I wondered...


You know what's fun? Waking up to find FIFTEEN THOUSAND junk messages in your Inbox. Some bastard spammer is spoofing various names from RoaldDahlFans.com as his From: address, and I'm getting all the bounces, out-of-office replies, and confirmation messages. Some days I hate the Internets.

Monday, August 7, 2006
| | |
| --- | --- |
| | [5] |
It's time for today's Retail Tale of Horror! A lady rang up this morning asking if I could put aside two balls of Heirloom wool for her. Sure, what colour is it? "Nigger." Excuse me? "Nigger." I incredulously told her that the Heirloom wool doesn't have names, only numbers, and that I wasn't sure which colour she was talking about. I directed her to the website to have a look and she dutifully rang me back five minutes later. "It's colour 717," she said. "The very dark brown." Of course it is, madam. Where do these people come from?!


It's like I'm running my own MediaWatch over here. Anyway, I just heard that a little interview I did with the ABC last week was broadcast as part of the PM program on Radio National this past Friday. (Nice of them to let us know!) They've got a transcript up along with downloadable audio. What the heck is that song they use in my intro? "Knittin's friendly and knittin's fun..." How random.

Sunday, August 6, 2006
| | |
| --- | --- |
| | [3] |
I always knew I'd fall for a boy who wore glasses... Too bad it came as rather a surprise to the Snook! (They're just for extended computer usage. I think he looks super nerdy-hot in them though.)


Just gave another radio interview about the Knit and Quit class, this time on 2UE with Glen Wheeler. I think this one was my best yet! Snookums is working on the audio as we speak. For some reason, every one of these interviewers has been obsessed with the idea that I myself used knitting to overcome smoking. And each time I'm like, "Uhhh, nope." Other than a dalliance with Swisher Sweets in college (cheers, Lizzie), my smoking experience is pretty much limited to the six months in London before I started dating the Snook. But I guess giving up a minor affectation for smoochies isn't as dramatic as purling one's way out of a lifelong addiction...

Update: Here it is! (1.3MB MP3) Huh. I say "exactly" a lot. And see if you can spot my shoutout to the Courthouse Stitch and Bitch group!

| | |
| --- | --- |
| | [1] |
Thanks to John for pointing me to the Scala Youth Choir. Their version of Teenage Dirt Bag is surprisingly rockin'.

Friday, August 4, 2006
| | |
| --- | --- |
| | [3] |
The Snook thinks our next cat should be a cheetah. I think this may be a bad idea, given that he can't even fend off an attack from Dr. Amy Jones.

Update: Now he thinks they may actually be fishing cats.


For the Snook: Beer made from melted polar ice caps.

| | |
| --- | --- |
| | [3] |
I just watched Picnic at Hanging Rock for the first time. Now I'm going to go to bed and have nightmares about scary black cliff faces to the sounds of Zamfir's panflute for the next seven hours...

Thursday, August 3, 2006
| | |
| --- | --- |
| | [3] |
Oh dear God. This is going to be all over the Internet in five minutes, but this Snakes on a Plane promotion is BRILLIANT. You enter your friend's name and details, and it generates a clip of Samuel L. Jackson exhorting your friend to go see the movie. The best part is, you can actually send it via phone if you're in the US! (The rest of us have to use e-mail.) Too bad it's past the curfew or my sister'd be answering a call from Samuel L. as we speak.

| | |
| --- | --- |
| | [1] |
Hello, Brisbane!
You wouldn't think a person could rattle on for three full minutes in a radio interview about the "Knit and Quit" classes her shop is running WITHOUT ACTUALLY MENTIONING THE NAME OF THE SHOP. But oh yes, it can be done (1.9MB MP3). That's me on Brisbane Radio 4BC this morning. In my defense, it was really early and I assumed they'd have mentioned the shop in my intro. But they didn't. Instead I managed to namecheck both Patons and the WoolBaa and bring up the stupid bikini anecdote AGAIN. Sometimes I'm too stupid to exist. So much for my fifteen minutes of fame!


Crochet Eyeballs (PDF). Now I just need to learn to crochet before Halloween! (Link courtesy of Julie.)

Wednesday, August 2, 2006
| | |
| --- | --- |
| | [2] |
My bacon knowledge is formidable.

| | |
| --- | --- |
| | [10] |
Politics
As a soon-to-be-minted Australian citizen, I've been taking a greater interest in politics. I think it may be time to join a political party. This morning I checked out the websites of the three main options I'm considering: Labor, the Greens, and the Democrats. I have to say, the big picture of Kim Beazley "tearing up" Industrial Relations laws put me right off Labor. It's just so clichéd and ridiculous. Yeah, I know they're the only party with even half a chance of knocking out the Liberals, but somehow they just don't appeal to me. (Sorry, Peter.) It took me too long to find their platform details on their website and when I did, they were incredibly long and boring. The Democrats were better (and definitely have the best website), but I found their list of party objectives really vague and hippy-dippy. That leaves the Greens, who up til now I'd pictured as simply raving Greenpeace types. But hang on! Their little "Policy Snapshot" booket is surprisingly readable! It has actual plans in it! I like that. And I agreed with nearly all their positions. (I can't understand this whole fear of GM foods. Bring on the synthetic meat, I say!) So it looks like I might be a Green. Anybody want to try to sway me either way?


Mysterious Home Zoo. Okay, those are oddly creepy. And I can't figure out what the one with the flippers is supposed to be. A frog?

Tuesday, August 1, 2006
| | |
| --- | --- |
| | [5] |
Oh DEAR GOD. The Today Show is filming a live piece on the Knit and Quit here in the shop tomorrow morning. I need some knitters to fill out the background. Anybody available??

Later: NEVERMIND. The bastards cancelled on us. Something about not having a satellite truck available. It's been postponed for the time being. Of course, I've just wasted an hour of my life trying to get people around for it and probably alienated half the knitting groups in Sydney with my desperate pleas. Why am I doing publicity? I'm the STAR, dammit! I should just have to turn up!



That's sarcasm. But not really.



| | |
| --- | --- |
| | [5] |
I think we may have found this year's Halloween centerpiece: Behold the Meat Cake. That is BEAUTIFUL.


Eep! I think this may officially be my fifteen minutes of fame. I'll be chatting with Peter and Ross of Brisbane's Radio 4BC Breakfast Show tomorrow morning at 6:50am. You can apparently listen live via the website if you're so inclined, though I'm sure the Snook will be recording the stream. It appears that all of Australia has been captivated by the "Knit and Quit" concept. We don't even have a shop in Brisbane!

Eighteen hours later: Okay, here I sit and they haven't called. I must have been bumped. I got up early for this!

Eighteen-and-a-half hours later: The guy just called. He slept in! We're going to do it again tomorrow. Argh. This media crap is starting to piss me off.

archives
You can search through the archives by post keyword using the form on the left, or you can browse by month using the links at the bottom.
"Moblog" refers to posts and images posted directly from my mobile phone.

"PW Blog" refers to posts recovered from my very first weblog, which dealt with news related to my college dorm.