Friday, September 30, 2005
| | |
| --- | --- |
| | [8] |
Meme of 7
Well, Kristen tagged me and I'm kinda bored, so here we go. (Incidentally, who decided that passing along a meme was called "tagging"? That person annoys me.)

7 Things that Scare Me:
1. Small animals
2. Large animals
3. Unseen fish swimming around my legs in a lake
4. The possibility of financial disaster
5. Horror movies
6. The vampires that I always imagine are lurking around every corner when I have to get up in the middle of the night to wee
7. Tubgirl and goatse. I've managed to exist on the Internet for, like, ten years without seeing either of them and I'm really, really happy about that, but in a way I feel like I'm Pandora and eventually the curiosity is just going to get the better of me and I'll finally look... and I'm going to regret it. (If you don't know what I'm talking about, please don't Google those things. They're really disgusting - yet oddly legendary - pictures on the Internet, and everyone I know who's seen them wishes they hadn't.)

7 Things that I Like Most:
1. The Snook. I was never the type to have a Best Friend Forever! growing up, and I kinda just figured that I wasn't ever going to meet anyone who really "got" me and that I got along with so amazingly. And then I did.
2. Thick slices of sourdough, fresh tomatoes, fresh basil, loads of salt and pepper, a drizzle of olive oil... Heaven.
3. The feel of Dr. Amy Jones as she snuggles into my side in bed.
4. Sydney on a sunny day - this really is my favorite city in the world
5. Getting compliments on my knitting skillz - I'm such a Hermione Granger
6. Registering a loss at Weight Watchers
7. Getting my back scratched. I loooove the scratchies. [more...]


I received a card in the mailbox earlier this week letting me know that I had a package, so today I walked over to Strawberry Hills to pick it up. It turned out to be the skein of sock wool I won in the Give a Little Hurricane Katrina relief raffle. Unable to contain my curiosity, I pulled off the paper and literally let out a gasp: IT WAS GORGEOUS. The wool is called Vesper Sock Yarn from Knitterly Things, and it's 100% merino. The colour is "Algae" and I absolutely love it. I'll need a special pattern for this one... (Many thanks to Rebecca for sending it to me!)

| | |
| --- | --- |
| | [2] |
I was listening to MuggleCast on the bus today and just sorta zoning out when one of the commenters mentioned that Emerson, the guy who runs MuggleNet, goes to Notre Dame! They were speculating whether he'd be having dinner in North or South Dining Hall as they were recording the show. It was so weird to be sitting on a bus to Bondi on a beautiful sunny Sydney day and suddenly be thrown into flashbacks of NDH: Circus Lunch, Grab 'n' Go, the Mexican room, Candlelight Buffets, that patch of invisible ice near Farley where I skidded nearly every single day of winter...

| | |
| --- | --- |
| | [2] |
Oh my God; I almost wish we had a dog just so I could dress her up as Princess Leia for Halloween. I wonder if the small version would fit our cat...? (Link courtesy of my sister, who already dresses her dog up as Superman.)

| | |
| --- | --- |
| | [5] |
Thanks to Rob, I now have kickass (almost to the point of scariness) desktop wallpaper in the form of Miss Helen's Blythe dolls, Fenella and Mippy.

| | |
| --- | --- |
| | [8] |
Wanted: the Arrested Development theme as a midi ringtone for my phone. (You know, just like Lindsay had in the season three opener.) I can find places selling it in the U.S. but none that will work in Australia. I've found previews of it but they're in mp3 format. Anybody have any ideas?

Wednesday, September 28, 2005

Confession: I've never read anything by David Sedaris before. He falls into the nebulous group of "cool people I read about on the Internet and that all the intellectuals in the U.S. seem to fawn over and I think vaguely may have something to do with NPR but I've never managed to come in contact with." But today I stumbled across a link to this hilarious tale of a flight gone very, very wrong and I laughed myself silly. Maybe it's just because the Snook and I do crosswords together. (Link courtesy of on.the.verge.)

| | |
| --- | --- |
| | [4] |
Wow, some Japanese zoologists have procured the first recording of a live giant squid. I didn't realize the damn things actually ATE WHALES. That's scary.

| | |
| --- | --- |
| | [1] |
Candy Corn Soda??? I wonder if it's possible to ship a couple cans of this stuff to Australia...

Tuesday, September 27, 2005
| | |
| --- | --- |
| | [2] |
Anybody up for a game of Frozen Walrus Carcass? Heehee. I was amused by this BBC article about words from other languages with no English equivalent. As always, the German ones are especially good. (I hope tonight's WW meeting goes well, otherwise I'll be all about the Kummerspeck this week!)

Sunday, September 25, 2005
| | |
| --- | --- |
| | [6] |
At LAST it has been said!
Finally someone on Australian Idol heard my anguished pleas. Kate did a pretty good job with her Queen song tonight but all I could see were those gigantic shoulders lookin' at me. "Cover up those tuck shop arms," Kyle finally said, and I CHEERED over here in my living room. I don't mean to be harsh - I'm a big girl myself, after all - but it needed to be said. I wish I could swear spaghetti-strap tops and puff sleeves too, but sometimes you just have to live in reality. That said, I have been noticing a ton of 3/4-sleeve wrap tops in the shops right now that would look really great on Kate (and me). I should fly to Melbourne and be her style consultant for the rest of the series. She'd totally win.

(Note that it only took me one day of reading the What Not to Wear book for me to consider myself a style maven.)

That said, how crap was Laura tonight? As soon as she announced her song the Snook and I were like, "Whaa--? Silverchair are a Supergroup?" And then she BUTCHERED IT. I hate it when the judges are mean, but man, those "that was the lamest performance that ever lamed its way to Lameville" comments were spot on. Please, please let her be gone and justice return to the world. Now if you'll excuse me, I have to go rip Lee's kickass punk version of "Roxanne" to my iPod so I can ROCK OUT to it all week...

| | |
| --- | --- |
| | [3] |
We've just "flipped the switch" to the new server for the Tapestry Craft website. It shouldn't look any different to you folks, but it's nice to have a little more breathing room (disk-space-wise). I also had to do a bit of programming to modify our software to display knitting wools the way we wanted. Oh, and the first batch of tapestries are now online! Big thanks to the Snook for listening to my ranty phone calls during the day and helping me out. (He's the best.)

Friday, September 23, 2005

Dude, this is the weirdest conceptual art project I've ever heard of: a gigantic knitted pink rabbit lying on a hill in Italy for the next twenty years. They don't give any dimensions, but judging from the pictures the thing has to be, like, a hundred feet long. Oh, and it's also a rotting corpse with a wound and organs hanging out. Don't neglect to read the press information; it's a hoot. "Happy you leave like the larva that gets its wings from an innocent carcass at the roadside. Such is the happiness which made this rabbit. i love the rabbit the rabbit loves me." I'm going to have nightmares about the rabbit. (Link courtesy of miftik.)

| | |
| --- | --- |
| | [1] |
Just over a month to go, and I found a ton of new Halloween Recipes from Martha Stewart Living. (I'm almost loathe to post the link for fear of ruining the surprises in store for my party guests!)

| | |
| --- | --- |
| | [5] |
Ooh, Ebert is PISSED! The bastards at "Federated Department Stores" have officially decided to change the name of Marshall Field's to Macy's. Ebert is basically calling Chicagoans to arms. He's cut up his Field's charge card and he's demanding that the City Council pass legislation designating the brass nameplate on the State Street store as a landmark. "In every corner of America that has lost a little of its soul to heartless corporate bean counters, the decision will have an echo."

| | |
| --- | --- |
| | [2] |
Check it out: Office Space Movie Quiz. I scored 67 out of a 100 correct. Man, I didn't realize some people were that obsessive about it... (Link courtesy of Brigita.)

Thursday, September 22, 2005
| | |
| --- | --- |
| | [1] |
I was amused by this BBC article on the naming of hurricanes. With such an unusually active hurricane season this year, meteorologists are worried that we could run out of names for the first time ever. (If that happens, we'll name them after letters of the Greek alphabet.) The bit that made me laugh though, was this bit of historical trivia:
Individual names began to be attached in the 1950s, with US meteorologists using initially the phonetic alphabet and then female names... In the 1970s feminist groups succeeded in changing the nomenclature to alternating male and female names.
I guess I can see where I might take offense if terribly destructive storms were only named after women, but seriously ladies, weren't there more important things to worry about? I don't want to seem ungrateful here, but I personally would have prioritized, say, equal pay for equal work over the equal gender division of hurricane nomenclature.


Wednesday, September 21, 2005

| | |
| --- | --- |
| | [3] |
Game Show Host: Which Wright brother made the first maiden flight at Kitty Hawk?
Me: (with absolute certainty) Frank!
Snook: (eyeing me askance) Uh, Orville.
Game Show Host: That's right; it was Orville, not Wilbur.
Me: (complete double-take) What the--? Who the hell is Frank?

It's my sinusitis, I swear.

| | |
| --- | --- |
| | [6] |
Thanks to Deb for sending through this schweet picture of the Snook and me at Steve and Kate's Bollywood dinner last weekend...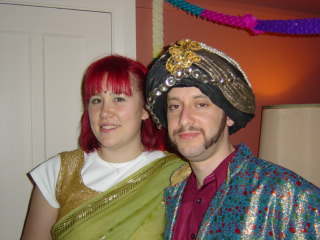 And don't worry, Mom. That facial hair lasted about 24 hours before he shaved it off. :)
Tuesday, September 20, 2005
| | |
| --- | --- |
| | [4] |
I have to face the fact that I have been in total denial about my nose for the past week. I have a full-blown sinus infection. I feel like somebody punched me in the face, and everytime I cough I feel like my eyeballs are going to pop out. Friday I'm off for some antibiotics...

Monday, September 19, 2005
| | |
| --- | --- |
| | [4] |
Hamlet Text Adventure. See, this is why I hate these games: I get stuck. I'm stuck on the damn balcony talking to the ghost and I can't get off. I even tried jumping off and eating the bat.

| | |
| --- | --- |
| | [4] |
This is the post wherein I MAKE KELLY MCMAHON'S YEAR: a complete video archive of SNL's Celebrity Jeopardy. Too bad I can't get Windows Media Player to work on my computer... (Link courtesy of geek fu.)

Sunday, September 18, 2005

In an incredibly unbelievable (but also strangely fateful, it would seem) twist, I won a skein of sock wool in the Give a Little Katrina Appeal. Should make some nice socks to donate to one of our Guild group's charities...

| | |
| --- | --- |
| | [2] |
Holy crap! Hiroyuki Sakei, the "Delacroix of Japanese cooking," is coming to SYDNEY?? I've already sent in my contest entry. (Link courtesy of Amy, who'd also kill to go...)


So I ran over a dead wombat...
No, really. That was the only traffic-related incident of the weekend, though, so I'm going to chalk this one up in the "Win" column. We got into the Blue Mountains pretty easily Friday and made our way to the Melaleuca Chalets. As soon as we stepped out of the car, we noticed that it was frickin' freezing. Mountains are cold, yo! At Reception we figured out that we were the first arrivals and picked up the key. "We've got the fire going in your chalet," the owner told us. SWEEEEEET. And there it was, perched up on a hill: the Rosewood Chalet, also known as the Cutest Accommodation Ever. It was this tiny wooden cabin with a wood stove, kitchenette, double bedroom, bathroom, and kids' room with bunks. Oh, and cable TV. We were in heaven. And get this - there were kangaroos all over the property. They'd just bounce right up around your cabin. How weird is that? A really big one hopped out near the resort's driveway and I nearly drove off the road. It's like staying in a zoo!

The rest of the gang arrived not long after us and we all got ready for Steve's wedding. This is when tragedy struck - I felt a telltale tingle in my lip. The stress of getting my license and planning for this trip gave me a goddamn cold sore! I spent the next eight hours frantically rubbing Zovirax on at every opportunity but it was all for naught. That's why I didn't take any pictures; I was a horrible scabrous leper the whole time! (Not really, but I'm still gonna airbrush any pictures the other guys send me.) Read on for the rest of the weekend... [more...]

Saturday, September 17, 2005
| | |
| --- | --- |
| | [2] |
Moblog: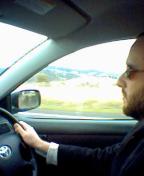 White-knuckled terror
In over five years, this is the first time I've ever been in a car the Snook was driving. Love means trust, folks!

Friday, September 16, 2005
| | |
| --- | --- |
| | [4] |
Moblog: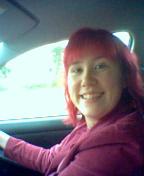 Easy Rider
Driving on the M4 towards Katoomba. No accidents yet!


Well, we got the rental car safely across the city and back to our place in the middle of rush hour traffic, so perhaps my driving skills aren't as rusty as I thought. The whole "turn signal on the right" thing is my biggest problem at this point. I keep flipping on my windshield wipers instead. The Snook says it's okay; everyone will just think I'm a Volvo driver.

Thursday, September 15, 2005
| | |
| --- | --- |
| | [13] |
FINALLY!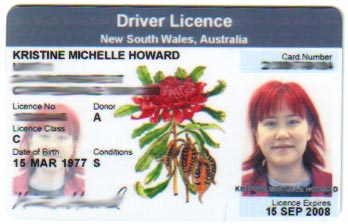 Check out what I finally got today! No thanks to the incompetent jackasses at the Indiana BMV, who officially win the award for most backward-ass government office in the history of the world... But, bygones. More importantly, what's up with my hair there? In my defense, it was 9:30 in the morning on my day off and I'm sick as a dog.

In case any of you non-Aussies are wondering, the big flower in the middle is a waratah.

Wednesday, September 14, 2005

Jelly Yarn. The mind boggles. (Link courtesy of not martha.)

| | |
| --- | --- |
| | [6] |
GO IRISH! Holy crap, #10? I might have to start listening to the games again.

| | |
| --- | --- |
| | [3] |
Did you know that it's Vasectomy Awareness Week and that you can watch an actual vasectomy online? I sure as hell didn't. I obviously can't watch it at work, but I'm kinda curious to see what the procedure entails... (Hear that scream in the distance? That's the Snook reading this in his office across town.)

Monday, September 12, 2005
| | |
| --- | --- |
| | [1] |
Man, when you TiVo and then liberally use the fast-forward button, Australian Idol is almost watchable! I have to admit, most of the performances this week were pretty boring. The Snook and I both liked Dan the best. I yelled out loud when Kate came onscreen: "Ahhh! BIG ARMS! NO SPAGHETTI STRAPS!" like the fashion robot I have become. I mean, seriously, though. She's a gorgeous girl but that tank made her look like a linebacker. The most unintentionally hilarious moment of the show was during Chris's intro video, when I mused "He looks like Weird Al Yankovic's slightly 'cuter' younger brother..." and the Snook added, "...Yeah, crossed with the TOE SUCKER from Six Feet Under!" I'm still laughing.

| | |
| --- | --- |
| | [2] |
Amy's going to LOVE this: Peeps Go to the Library. They're so cute! And vile. (Link courtesy of Pop Culture Junk Mail.)

| | |
| --- | --- |
| | [14] |
Does anybody else really, really want to see Brokeback Mountain? Because I am all about gay cowboy lurve...

| | |
| --- | --- |
| | [2] |
The Snook and I need to whip up last minute Bollywood costumes for the wedding this weekend. Anybody got any ideas? I'm asking over on AskMeFi too...

Sunday, September 11, 2005

Yesterday Amy and I headed out to Westfield Bondi Junction with the aim of picking out a new dress for me to wear to Steve and Kate's wedding this weekend. We were armed with a copy of the What Not to Wear book and I was confident that, with Trinni and Susannah and Amy's help, I couldn't go wrong. We marched into Myer repeating the lessons from the "Big Tits" and "Big Arms" sections: no high necks, no short sleeves, go for deep V's and 3/4-length sleeves. Lo and behold, the first dress I tried on was a plain black wrap dress, the kind that fashionistas are always telling you look great on everyone. And guess what? It looked fabulous on me. (That's what Amy said, anyway.) We tried on a bunch more but I kept coming back to that one. My only worry is that it's a bit more "grown-up" than I normally dress, but I guess the bright red hair will counteract any Mrs. Robinson effect, right? We finished it off with some sexy black sandals and a bling-y long silver necklace. Don't worry; I'll be posting a photo soon. (And if you're in Sydney, you'll probably see me wearing this everywhere as it's the most flattering thing I own.)



On a related note, I actually tried on one or two size 14 garments... and they fit! Not perfect, but I didn't rip them like the Hulk or anything. I'm getting closer to my goal!



| | |
| --- | --- |
| | [1] |
Today I had my second attempt at teaching a circular sock knitting class, and I'm happy to report this one was a huge improvement over the last. It helped that I changed the course description to make it more of an intermediate lesson, which meant I wasn't struggling with people who didn't know the difference between a knit and a purl. I also only had four people this time so I could give them a lot more individual attention. We managed to pretty much get through both mini-sock projects I had prepared - a traditional "leg down" turned-heel sock and a "toe-up" short-row heel sock - and I think everybody learned something new. Surprisingly, they all loved the short-row sock (which my original group just couldn't get their heads around). So I guess I've cracked the secret to teaching: get better students. :)

Saturday, September 10, 2005
| | |
| --- | --- |
| | [12] |
I'm involved in an interesting argument over at Witty Knitter. Basically, it all started when M-H opined that people donating money to disaster relief just to win prizes were "weird." I actually agree with her on that point, and I think most people would. You shouldn't give to charity just because you think you might get something back. Where we differ though, is that I don't see anything crass about a group reporting how much they've raised or about people who don't have cash donating gifts for those who do. (Assuming they're giving away things they already have and that wouldn't be of much use to disaster victims.) I think purely anonymous philanthropy is a nice concept but human nature gets in the way. I hate to think of the struggle my sister would have raising money for cancer research if she told corporations "Sorry, for idealogical reasons we're not going to name you or give you any positive press." So it's an argument that isn't really an argument. I just maintain that there's no point in speculating about the motives of a bunch of strangers on the Internet and writing them off as "weird" when what they're doing doesn't hurt anybody and, in fact, quite explicitly helps a lot of people. I dunno. I've just been irritated this week by all the holier-than-thou types insinuating that anyone who gives to charity is somehow defective or self-centered, and that we should all watch New Orleans regress into the Stone Age to score a political point against George Bush.

| | |
| --- | --- |
| | [1] |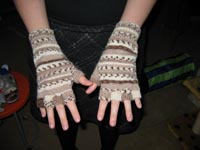 Bruce's Gloves
A few weeks ago I was teaching a private lesson after hours in the shop when a nice old guy knocked at the door. He asked if we repaired things for people, and I said we did, but that we were closed and he'd have to come back the next morning. Twelve hours later, there he stood. His name was Bruce and he had a much loved pair of fingerless gloves... but he'd lost one of them recently. He wanted a new pair to replace them. None of our usual contract knitters wanted to do it so I volunteered. This is what I ended up with. The wool is Sirdar's Town and Country sock wool, chosen because his originals were knitted in a variegated brown-and-white. They were a weird thickness of cotton though, so I had a hell of a time approximating the shape in a completely different guage wool. I also messed up the reverse shaping on the second glove and spent two nights repeatedly frogging it back to the thumb. I got there in the end though. I was worried he wouldn't like them but he was totally happy, which was a major relief. No more commission jobs for a while, I think. Knitting for other people is too stressful.

Friday, September 9, 2005
| | |
| --- | --- |
| | [2] |
The iTunes 5 Announcement From the Perspective of an Anthropomorphized Brushed Metal User Interface Theme. BWA HA HA! My favorite bit is when drunk Aqua calls him up at the end and calls him "bee-yotch." (I downloaded iTunes 5 this morning but I haven't installed it yet, so I can't really give a personal review of the new look yet.)


My sister sent me the funniest e-mail. You'll recall that she works for the Leukemia and Lymphoma society of California, and her fundraising work means that she often has to liase with "celebrities."
Subject: are you and wil wheaton cool again?
cause i know there was possibly some miscellaneous cyber tension between the two of you a while back...i forget why? anyway, i'm going to try and contact him about our event. ha! i don't want him to somehow find out your my damn sister and think i'm stalking him or something.
HA! I forgot all about that little kerfuffle.

Thursday, September 8, 2005

Oh man, Sis! You and Carbo should buy a Mac just so he can install the Cheesesteak of Suffering.

| | |
| --- | --- |
| | [2] |
And the Fall Knitty's out too! (No word on the contest winners yet.) I know it's daggy, but I'm LOVING the Hipster Fanny Pack.


Ooh, that new Australian YARN Magazine has finally launched! The first issue is just online but they even provide a PDF so you can print it out if you want. I like that look of that felted mitered bag...

Tuesday, September 6, 2005

DietBlog: At last, the 87-kilo glass floor has been shattered! After weeks of bouncing between 87 and 88, I've finally dropped to 86.6. We are closing in on fifteen kilos' loss, kids!

And to what do I attribute this progress? Merely the fact that I've literally been exercising my ass off lately. Last week I worked out six days in a row. SIX! That's more than I've done since high school. I've been mixing it up too - boxing, squash, yoga, running, walking. I wasn't sure I was going to get the loss in the end, since my daily weigh-ins have all been a little higher (and I drank a lot of beer on the weekend). I've also been ravenous with all this new energy expenditure. I think my metabolism has finally kicked into gear though, and hopefully it's gonna stay this way. Eighty-five, here I come!

| | |
| --- | --- |
| | [4] |
I think the next time we're in Indiana we're going to have to take a trip north to Snook's Butcher Shoppe...!

Monday, September 5, 2005

The BBC warns of the dangers of Australia's national footwear. I guess that's good news for the Crocs people!

Give a Little

| | |
| --- | --- |
| | [8] |
Weekend of Labor
Man, I nearly forgot the folks back home were having a holiday weekend. End of summer, huh? I celebrated the start of Spring this past week by putting away the heaters and the thick duvet... only to drag them back out in the middle of a single night as the temperature suddenly dropped. It rained all day and it's frickin' freezing here, Mr. Bigglesworth.

Anyhoo, the Snook had Friday off so we decided to check out the lunchtime "Kickboxing Cardio" class. This was our first official visit since our Beginner's Pass expired and I decided to celebrate the occasion by buying my own pair of gloves. Check out K-How's new mitts over there on DeskCam. Pretty sweet, huh? My hands are still gonna smell but at least now they'll smell like ME. The class was totally killer. The Snook and I ended up taking turns holding a big round pad while the other wailed on it with punches and kicks. I was heartened to see some very big girls in the group and I'm proud to say we both kept up with everybody else. I was having some hair-related difficulty though: Despite wearing a ball cap and pulling my hair into pigtails, my bright pink sweat still flew all over the place, discolouring my own sports bra and the T-shirts of some of my classmates. (It always runs a lot right after I get it redone.) I looked like I really had gone ten rounds in a fight. We felt energized and excited afterwards, but as you might imagine, we pulled up pretty damn sore on Saturday. The Snook was feeling it in his abs and calves, while I felt like my ass had been sprained. (Damn squats.)

After the class we headed to the George Street cinemas to catch Charlie and the Chocolate Factory, which has FINALLY opened in Australia. I felt sorta conflicted at first, like I was trying to reconcile my professional critique with my personal opinion, but in the end I decided they were the same. I absolutely loved... 95% of it. The sets, the Bucket family, the music, the acting, even Helena frickin' Bonham-Carter-Burton... They all rocked. I was blown away by the Oompa-Loompas, and I even liked the scenes in Loompaland. (I especially thought it was interesting that Burton went back to the original conception of the Oompa-Loompas as pygmies from the jungles of Africa and didn't feel required to make some sort of modern PC apology for it.) I LOVED that Burton put Prince Pondicherry back in. That chapter is entirely pointless but it was still always one of my favorite chapters of the book, and it definitely made me feel like he was being true to Dahl's original work. The look of Wonka's boat... That was 100% Joseph Schindelman's illustration. The Nut Room! Hair cream! Fudge mountain! It was all just too cool. The four kids were really great and I liked that they believably updated the characters without changing them too much (though I didn't quite get the bit about Mike Teevee "hacking" the contest). The songs were wonderful; I just bought "Veruca Salt" (my personal favorite) from the iTMS. As for the new additions to the story (and the re-written ending), I've decided to make my peace with it. Burton had to do something; the original has no dramatic arc whatsoever. Nobody learns or changes. So I even grudgingly like those bits (and I'm still giggling whenever I think of the "Puppet Hospital and Burns Unit... It's a recent addition" line). So what didn't I like? Willy goddamn Wonka. As much as it pains me to say it, Depp really missed the mark with that one. I just don't see why they had to make him creepy. Why did he talk like that? What was with the hair? What was with the crazy frock coats? The only explanation is the one everyone else jumped to - they were consciously mimicking Michael Jackson. Otherwise there's just no point. There's no explanation in the movie plot, and there's certainly none in the book. He just weirded me out every time he spoke. So there, that's the bit I didn't like. And now you know.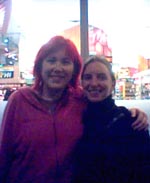 After the movie, the Snook and I joined his co-workers for beers before heading over to Wagamama for dinner with none other than Miss Alison Kriegel, fellow Domer and Purple Weasel. Kriegel's been living in Sydney all year but this is the first time we've gotten to catch up. And catch up we did, over many, many beers. It's so fun (and yet so weird) to meet somebody from my old life back home. It feels so far away sometimes.

And that's not even the whole weekend! Saturday we headed across town to check on Rob and Amy's cat Sparky while they were away and ended up spending the afternoon in Chatswood picking out a kegerator for the Snook. Plus I've spent every spare minute finishing a pair of gloves for a nice old man named Bruce who visits our shop. I need a vacation...

Thursday, September 1, 2005
| | |
| --- | --- |
| | [13] |
Wisdom Schmisdom...
I had a consultation with an oral surgeon this morning, and good ol' Dr. Wong's expert opinion is that I need to have all four wisdom teeth extracted. Fun! Apparently it's really close; I only need like 3mm more to be able to fit them in. Damn! So then we had the discussion about whether I'd have it done in the chair (with a local anesthetic, i.e. needles) or in the hospital (with a general anesthetic, i.e. unconscious). I was wavering. I'm not a big baby or anything, and I can take my fair share of pain... but somehow I'm not sure I like the idea of watching as they remove bits from my head. He gave me the difference in cost though, and that pretty much settled it. The chair will run me $200 total; the hospital would be more like $700. So I'm booked in. Now I just have to wait four months til my appointment. (I've been happy with our HCF coverage so far, but these long waits are getting a bit ridiculous. I guess it's only fair given that I'm not really in an emergency situation or anything.)

| | |
| --- | --- |
| | [1] |
I give up. I've spent three days ransacking my photo collection in search of a particular picture... and I can't find it. See, it was just about nine years ago that I arrived at Notre Dame and met a goofy blonde who was destined to become my Roomater. We quickly got bored with Orientation Weekend activities but Eileen had an idea: "Let's teepee Jon Ford!" Jon Ford was a guy from her high school that was also starting at ND, and his family had driven down some of Eileen's crap in their car. She'd been given his room key to go pick it up. Together with Erin Fair, we nabbed a couple industrial-size rolls of toilet paper from PW and headed over to Stanford. (Or was it Keenan?) We nonchalantly strolled into the dorm and oh-so-casually ascertained that neither he or his roommate were in their room. Then we went nuts. We completely swathed that room in toilet paper. (And as we'd all only just moved in, there wasn't a lot else in there.) Giggling like mad, I turned to snap a picture of Reen and Fair amidst the TP just before we left. Later that night, we came home from the dining hall to discover our first official dormroom voicemail message: "Eileen: YOU'RE DEAD." And thus was my introduction to Jon Ford*... who has recently joined Reen and I as a blogger. And that's why I was looking for the picture. I figured, what better way to welcome him to the "blogsphere" than to virtually teepee him with a momento of our first college prank?



* For some reason, Jon Ford was nearly always addressed by my acquaintance with his full name, much like "Dawson Leery." I have no idea why. Seriously, you guys, that photo has to be around here somewhere. Or maybe it's still in Mom's basement? This is gonna drive me nuts.



| | |
| --- | --- |
| | [4] |
Somebody called us late last night. I remember hearing the phone ring in my dream and then suddenly being aware that I wasn't dreaming, and that it was definitely ringing. So I leapt to my feet - scaring the crap out of the cat - and rushed to the office, banging into walls and knocking stuff off shelves (I didn't think to grab my glasses)... only to miss the call. They didn't leave a message. Middle of the night calls always make me think somebody has died. I rang my Mom right away but she said it wasn't her, and there are only so many members of my family who know how to dial internationally. DID YOU CALL ME? IDENTIFY YOURSELF.

| | |
| --- | --- |
| | [2] |
While I'm still definitely in the camp of Those Who Scoff at the Current Ridiculously Popular Knitting Trend for Stupid Boleros, Capelets, and Shrugs... I could almost see myself wearing this. Almost.

archives
You can search through the archives by post keyword using the form on the left, or you can browse by month using the links at the bottom.
"Moblog" refers to posts and images posted directly from my mobile phone.

"PW Blog" refers to posts recovered from my very first weblog, which dealt with news related to my college dorm.