Easter Weekend 2012
How was your four-day holiday weekend? Relaxing? Mine wasn't. The Snook and I were pretty much flat-out the whole time. The Great Kitchen Renovation is/was scheduled to start Tuesday, so our main goals were to clear out the old cupboards and set up a temporary kitchen in the dining room. This also involved cleaning out two offices and three closets so we'd have space and boxes to actually put everything. I gave away a lot of old appliances (popcorn popper, jaffle maker, bread machine) that we don't use anymore. (Incidentally, if anybody is interested in a LitterMaid, let me know.) The end result is an empty kitchen, ready to be demolished TODAY!
Official Kitchen "Before" Photos:
And here's our temporary kitchen setup in the dining room. We've got a dual-burner hotplate (courtesy of Ma Snook) and a combination microwave/convection oven.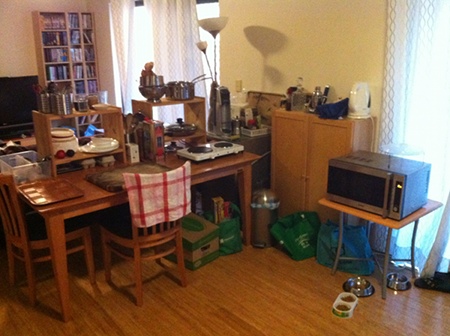 The biggest problem is really the lack of water. We'll have to wash all dishes in the laundry room or the bathroom, which is a massive annoyance. Theoretically the new cabinets should be in by the end of next week, but we won't be able to move food prep and dishwashing back into the kitchen until a week after that (when the stainless steel benchtop and sinks go in). So we've got at least three weeks in this setup. Fortunately we spent the last two weeks building up our freezer stocks, so we've got a couple dozen meals in there that can just be reheated. There are also plenty of restaurants in our area, so we can always go out if we get bored.
As if all that wasn't enough, we crammed a lot of other stuff into the weekend too. I spent half of Saturday manning the Knitters Guild display at the Easter Show, which was mostly boring (though I did get to visit my prize-winning socks). I managed to cut and do most of the sewing on a new dress for myself – my first ever sewn without any help! It's the Colette Parfait. I've run out of black thread, so I can't quite finish it just yet. It still needs buttons, pockets, and the zip. I'm really pleased with it though. Lastly, we managed to squeeze in a trip to the new IKEA over at Tempe. We'd heard that some chairs we were planning to buy might be on sale, but when we got there we discovered they were the wrong colour. Instead we wound up buying a mattress! They were 20% off, and we were planning to get one later this year. Good timing. The delivery guys were actually able to bring it over the same day, so we were able to sleep on it last night. It's awesome, but still slightly weird. I'm sure it'll take some getting used to. Everyone has told me that memory foam is going to be LIFE-CHANGING, so I'm pretty pleased at the bargain.
And now it's Tuesday, and I'm working from home so I can be here when the builders arrive this afternoon. Smash! Let's do this.