Shared today on Instagram: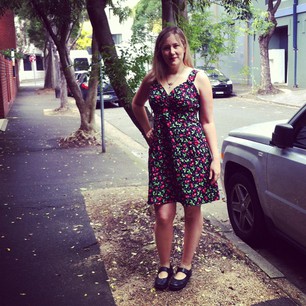 I finished my dress! Very, very pleased with it.
Powered by Webstagram
Edited to add: Yes, I finally graduated from shirts to a whole dress! This is the Colette Parfait. I didn't want to spend too much money in case it came out badly, so I went with a cheap cotton poplin from Lincraft. I didn't expect to get something so wearable out of it! In terms of sizing, I went with a 16 to make sure it would fit. Yowza, it was quite big around the bust. I ended up taking about an inch from under each arm tapered down to the waist, so I definitely think I'll make the 14 next time. I didn't do too badly with the zipper, especially considering I don't actually have an invisible zipper foot. (I used this tutorial.) I also got to use my sewing machine's automatic buttonhole function for the first time ever! This project was a big win. I learned heaps, and I got a wearable and CUTE dress out of it.
Hmmm… what should I make next?