Tova Top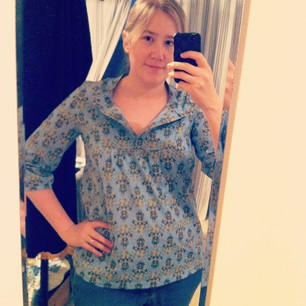 Another completed sewing project! Tova Top in vintage cotton. Not sure it's me…
Commenter Mel recently recommended I check out the Tova Top/Dress pattern. It's a downloadable PDF, so on a whim I bought it. As soon as I did I started to second guess it. It's really much more of Miss Fee's style than my own. But what the heck – I should branch out, right? Last weekend I convinced the Snook to go on a bike ride with me to the Sydney Fabric-a-brac for some fabric stash acquisition. I was looking for something interesting to make the Tova, and I settled on this blue vintage cotton. I got 1.7m for $7, which was just enough to make the shirt. The project was very quick to put together, starting Saturday night and finishing Sunday morning.
It was interesting to sew from a non-Colette pattern, since that's what I've been using so much lately. The markings were different and I kept forgetting/missing them. The instructions are relatively easy to follow though. I had been worried about setting in the sleeves, but I breezed through that. The hardest part was actually attaching the front inset pieces, which require you to pin and sew on three 90-degree sides of a square (with the bottom also involving gathers). Yeah, I swore a bit through that part. But overall in terms of technical skill, I feel like I'm coming along leaps and bounds. This is definitely the best constructed garment I've made yet.
That said, I knew when I tried it on halfway through that there were going to be sizing issues. I made the largest size – which is a 14 – but I think it's definitely intended for a more slender, boyish figure. It's quite tight around my hips, which made me glad I didn't go straight to the dress. (If I do that, I'll definitely be adding in some width there.) I could also use some more width across the shoulders. I feel like if I crossed my arms tightly, I could pop a seam! And along with that, maybe a bit more depth in the armhole.
So not a total win, but definitely a wearable muslin. It's totally in the "post-modern Laura Ingalls meets Japanese minimalism" vibe that I was going for. (Whether I can work that into my wardrobe is another question.) And I've got some good solid pointers for how to adjust the size on my next one. On to the next challenge!