The Story of Knitting Guild Camp
I figured it was time to end the steady drip-drip of Instagram photos and actually write some WORDS in the BLOG like I used to do way back when. So as you've probably gathered, something pretty special took place last month. It was the biennial Camp for the Knitters Guild of NSW, and as the Camp Convenor for the past two years, it nearly killed me. But it was also awesome.
First I have to give some thanks to a few people. I put my hand up for the role in October 2011 on the proviso that I could have a committee to help me. The two people who put their hands up and kindly volunteered to let me bully them for the next 20 months were Clare Hacker and Helen Giesaitis, and I couldn't have done it without them! Thank you both so much.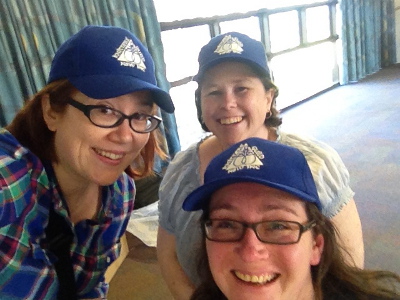 The other folks who really went above and beyond were the Executive Committee: Merrin (first as President and then Treasurer), Sally (first as Treasurer and then President), Mary-Helen, Kate, and Ailsa. I don't think the rest of the Guild appreciates how much work they do! There are a lot of other people to thank – the amazing teachers, the staff at The Tops, Donna and Zena for pouring champagne Friday night, Pru for arranging for GoGet to comp us a PeopleMover, everyone who gave someone a lift or tidied up the dining room or helped someone out – THANK YOU ALL SO MUCH.
And thus I now present to you: Knit Camp 2013 – a story in pictures.Camp was held at Stanwell Tops Conference Centre, about an hour south of Sydney. While most people drove themselves, we still had over 20 people arriving on the train who needed to be ferried 8km from the station. Thanks to some lovely volunteers and the handy PeopleMover donated by GoGet, we got them all in two trips!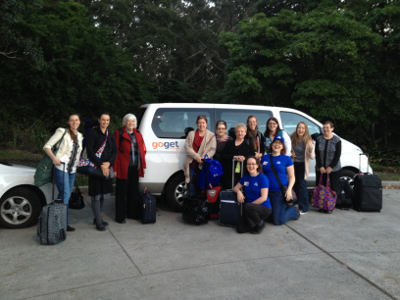 President Sally gave a lovely kickoff speech Friday night (including a welcome to country).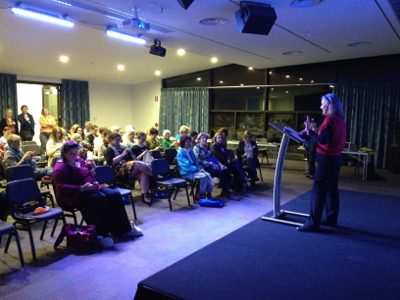 Then it was time for Helen's brainchild: the Techniques Turntable! Similar to speed dating, knitters were able to visit seven different tables each of which had a handout and a teacher showing a specific technique. Here are Lara and Kate showing off Continental Knitting to a crowd!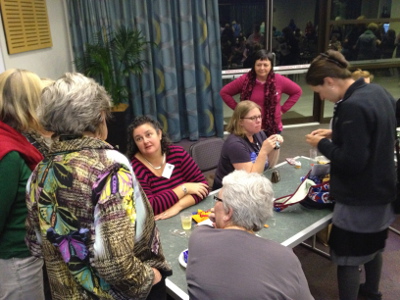 Camp continued Saturday with some great workshops, including this one on double knitting taught by Lynn.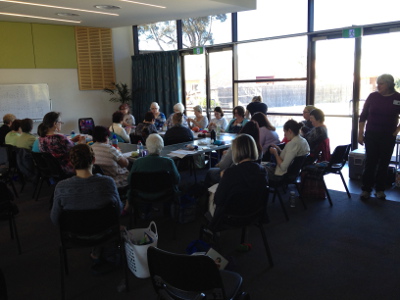 Of course, there will always be one naughty student Instagramming rather than knitting…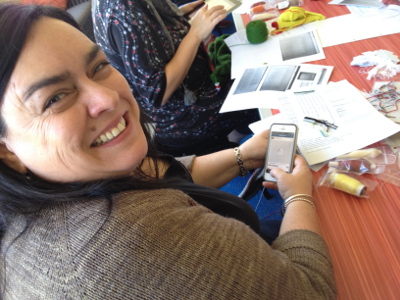 We had a separate building for social knitting and retail therapy, with four retailers on the Saturday and three on the Sunday. Here's Judith from the Wollombi Wool Store, where I slipped and fell on some Rowan myself…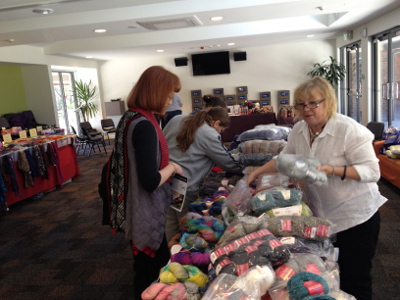 Unfortunately for me, I noticed a sore throat the minute I arrived at Camp. I think I'd been running on stress and adrenaline for the last few weeks, and as soon as I started to relax my immune system just collapsed. Here I am hiding for a brief rest on Saturday.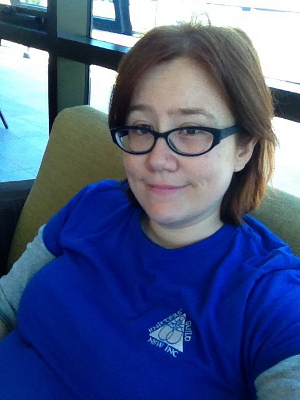 The weather was gorgeous. Some spinners actually set up outside!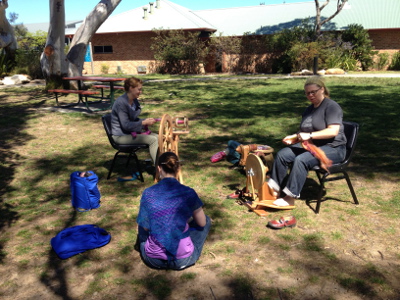 Did I mention the wandering masseuse? I got all the credit for this idea, but truth be told it had been suggested at several previous Camps. I ended up booking Ellen through Seated Massage, and I can't recommend them or her highly enough. She roamed throughout the day giving discreet neck and shoulder massages to weary knitters. Highlight of my Saturday, let me tell you.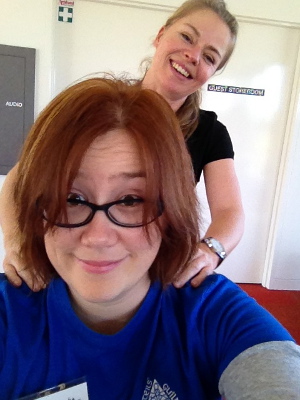 More people went outside to catch the setting sun. It was perfect weather, just cool enough to still wear our handknits.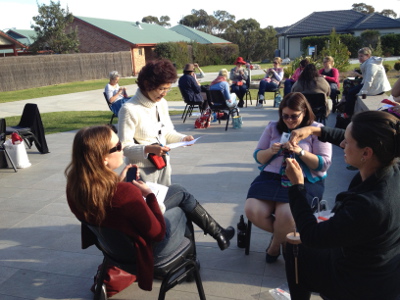 We concluded Saturday night with an amazing Camp-wide Show & Tell. Each person went up to show off an item that was special to them and tell the story behind it. And check out that Twitter wall in the background! (This was a high-tech Camp.)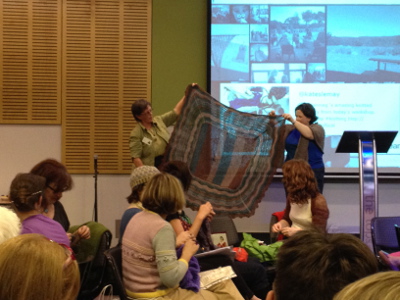 Yeah. I wasn't doing well at this point.
More retail therapy on the Sunday with the girls from The House of Wool…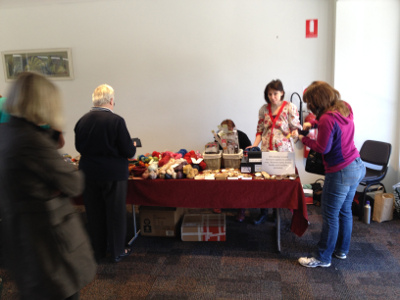 And here's Renae from SuzyHausfrau, giving an excellent talk on turning your knitting into a business. Our other non-traditional workshop offering was Photographing Your Knitting, taught by a professional photographer.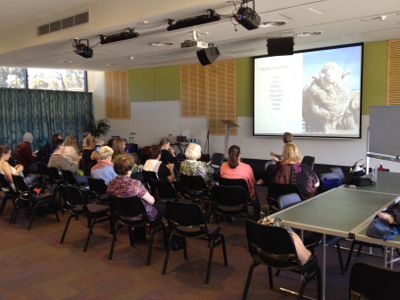 And then it was a blur of final speeches and teary hugs and packing up and cleaning up and suddenly it was all over. And I was only joking a little bit when I collapsed there at the end.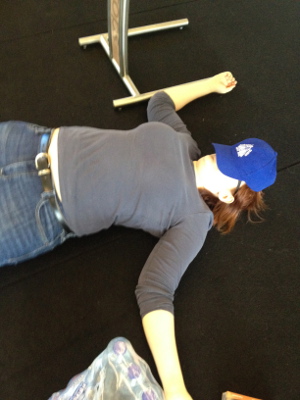 I ended up on antibiotics for two weeks, and I was basically a zombie all through preparations for our trip overseas a week later. But it was all worth it. Camp is done! And it went well! And somebody else has volunteered to do the next one! Really, couldn't be better. 🙂