Autumn in Munich continues to be warm and sunny, so we've been taking advantage to get out and about. Last weekend we caught the bus to Nymphenburg Palace, the main summer residence for the former rulers of Bavaria of the House of Wittelsbach. The palace itself is bigger than Versailles, and you approach alongside canals that flow into a large reflecting pond with a fountain.
The day was so beautiful, we didn't even bother to go inside! We'll save the interior for the winter. The park attached to the palace is enormous, and consists of both a formal French garden as well as an "English-style" wilderness (like the Englischer Garten). It was lovely to explore the shady tree-lined paths!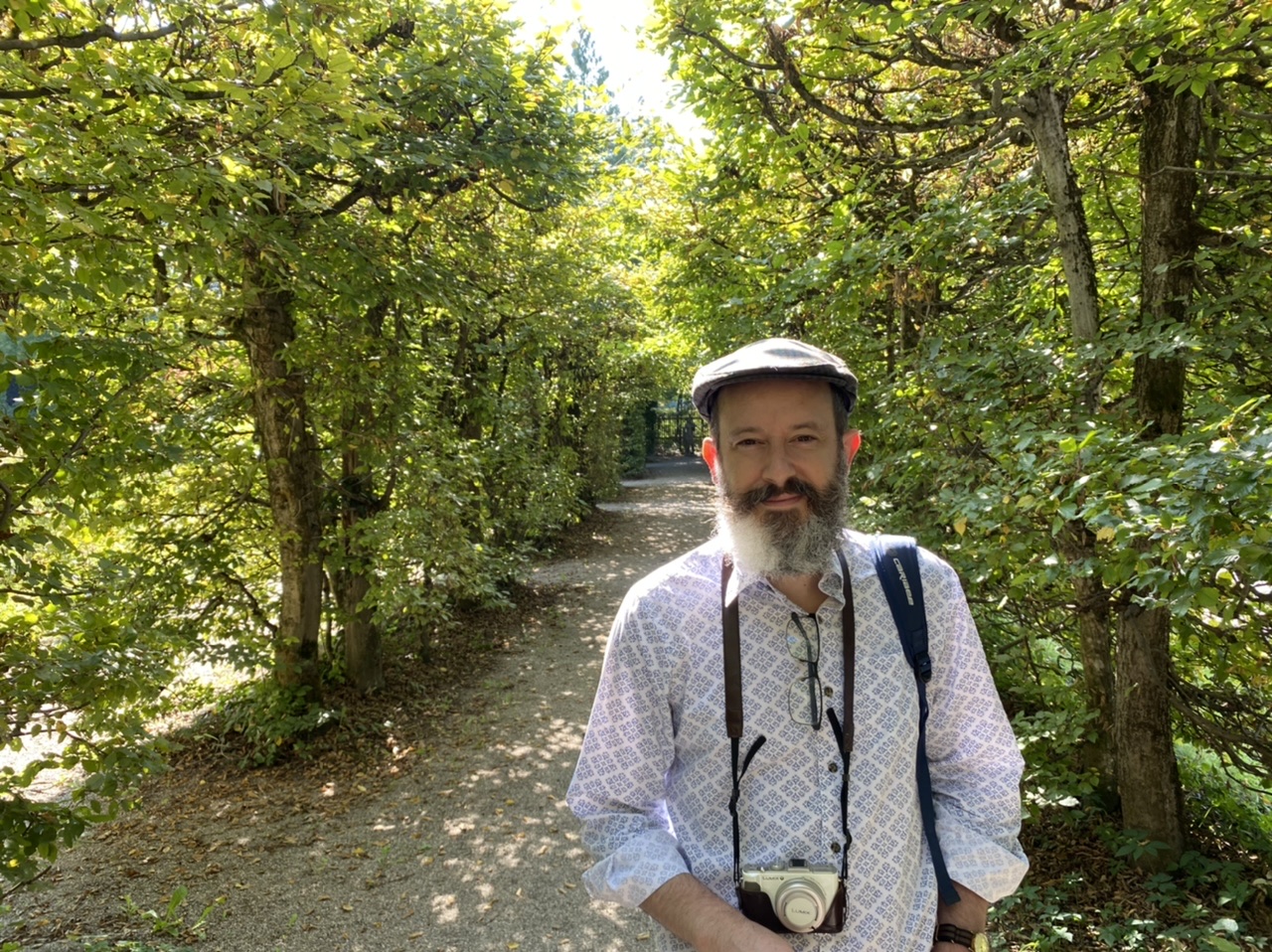 We saw quite a bit of wildlife! There were plenty of ducks and geese, of course, but we also spotted large fish in the two lakes. We were also stunned to come across a small deer grazing. It seemed remarkably unfazed by people…
We made the looooong hike to the far end of the park. I had been looking forward to seeing the Grand Cascade in action, but unfortunately it was dry! Not sure why that was. Still, we had fun sitting on a bench near Athena and enjoying a snack. You can see all the way back to the palace if you squint.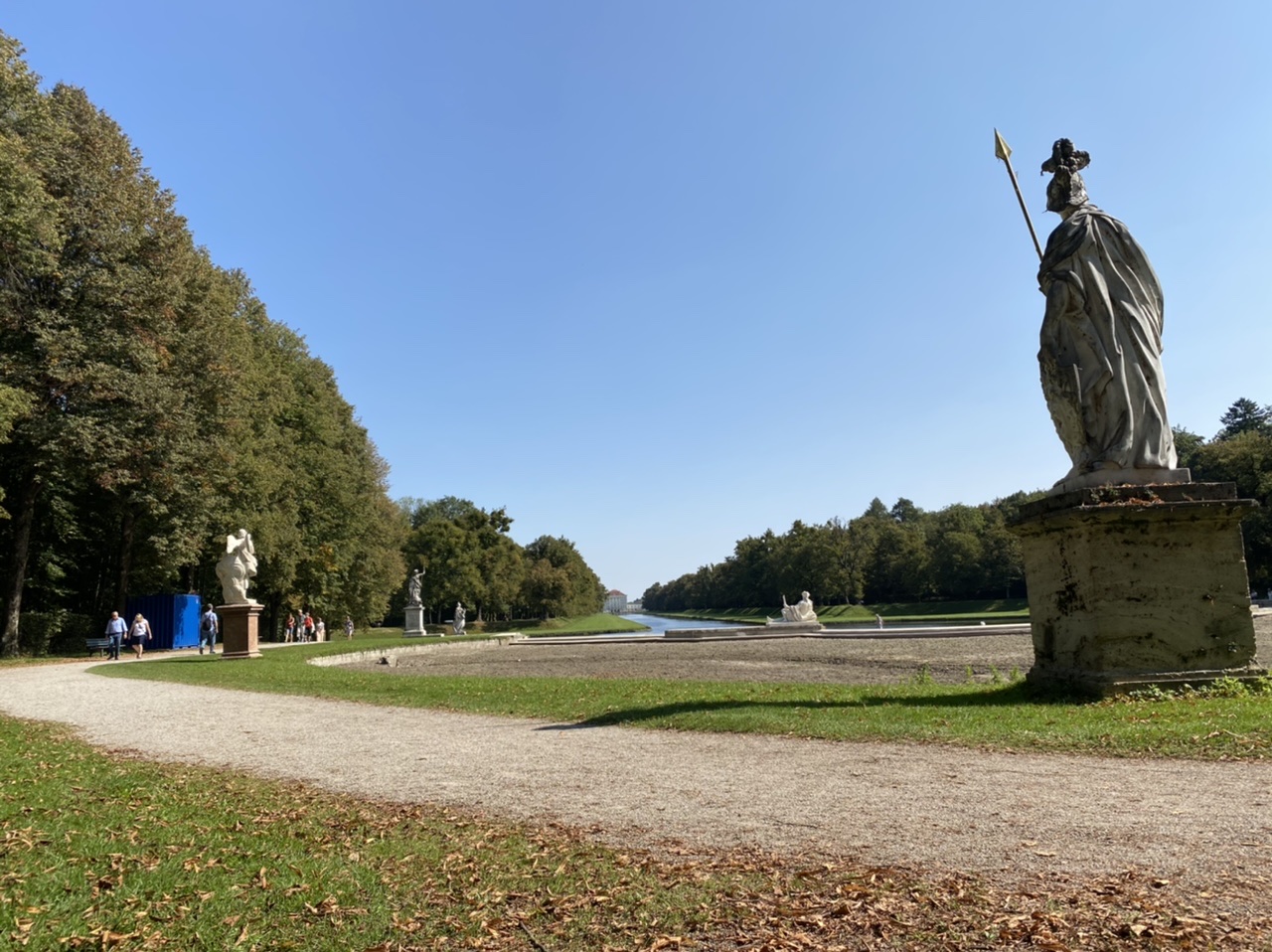 The park had several "pavilions" – miniature palaces that served as hunting lodges and tea rooms and bathing houses. Mythological figures featured heavily in the decorations, and we had fun trying to identify each of them. The Apollotemple stands opposite the Badenburg, and we wandered around the lake to visit both.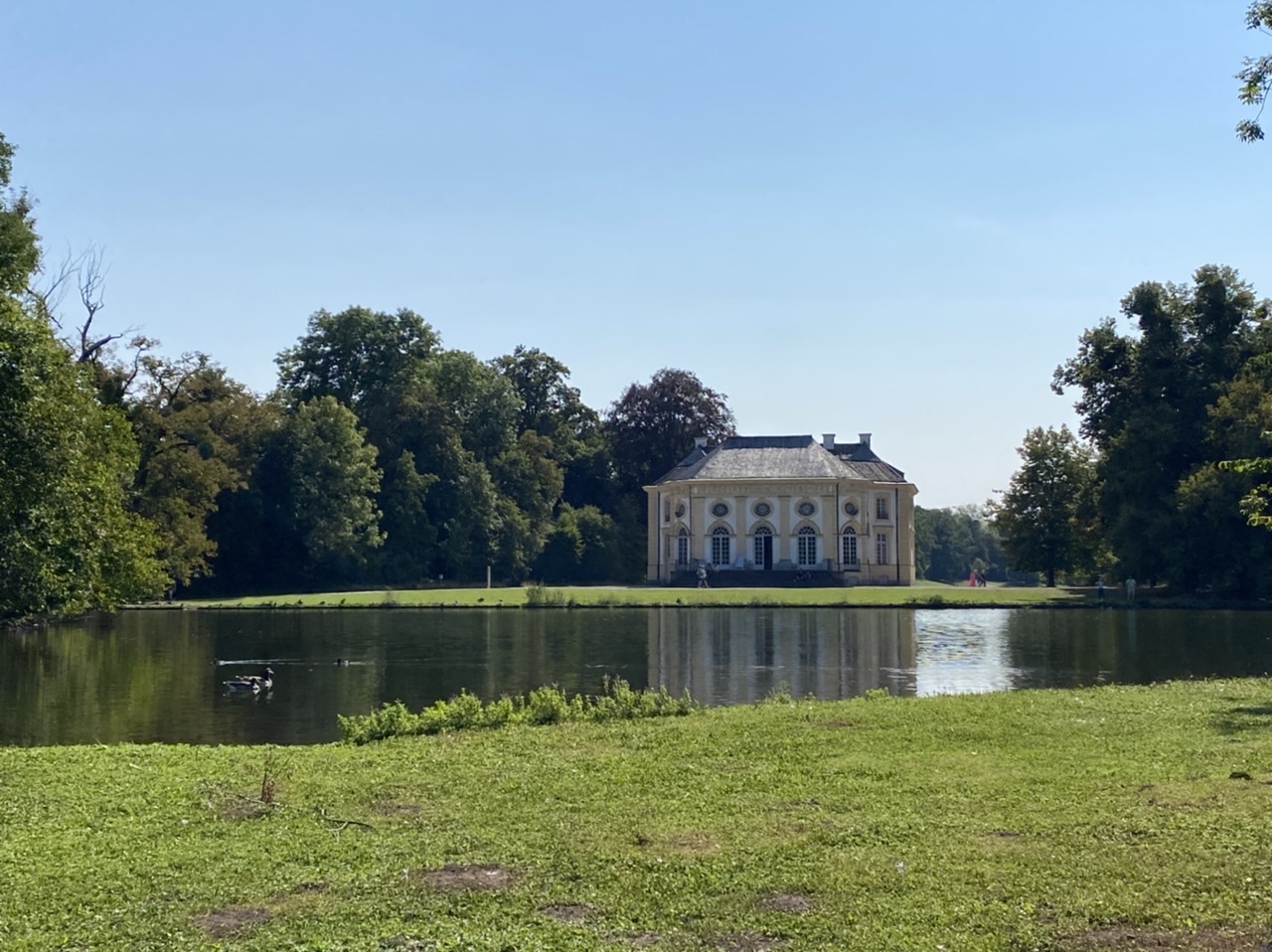 We were delighted at one point to find a small cataract, complete with Pan playing a flute and a goat lounging nearby…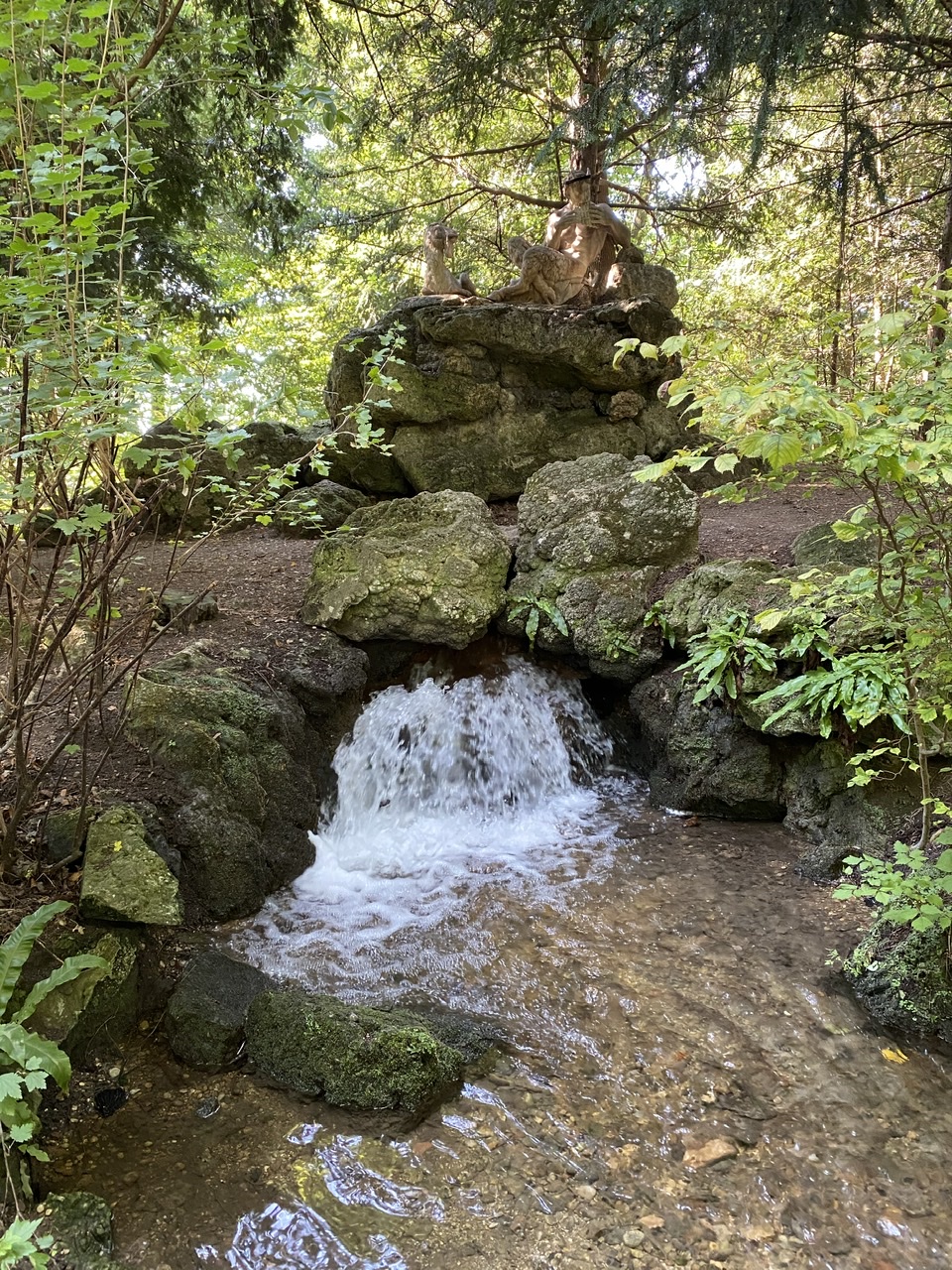 As we completed our giant circular tour of the park, we ended up back at the formal French gardens near the palace. The statues were gorgeous against the blue sky and the flowers in bloom.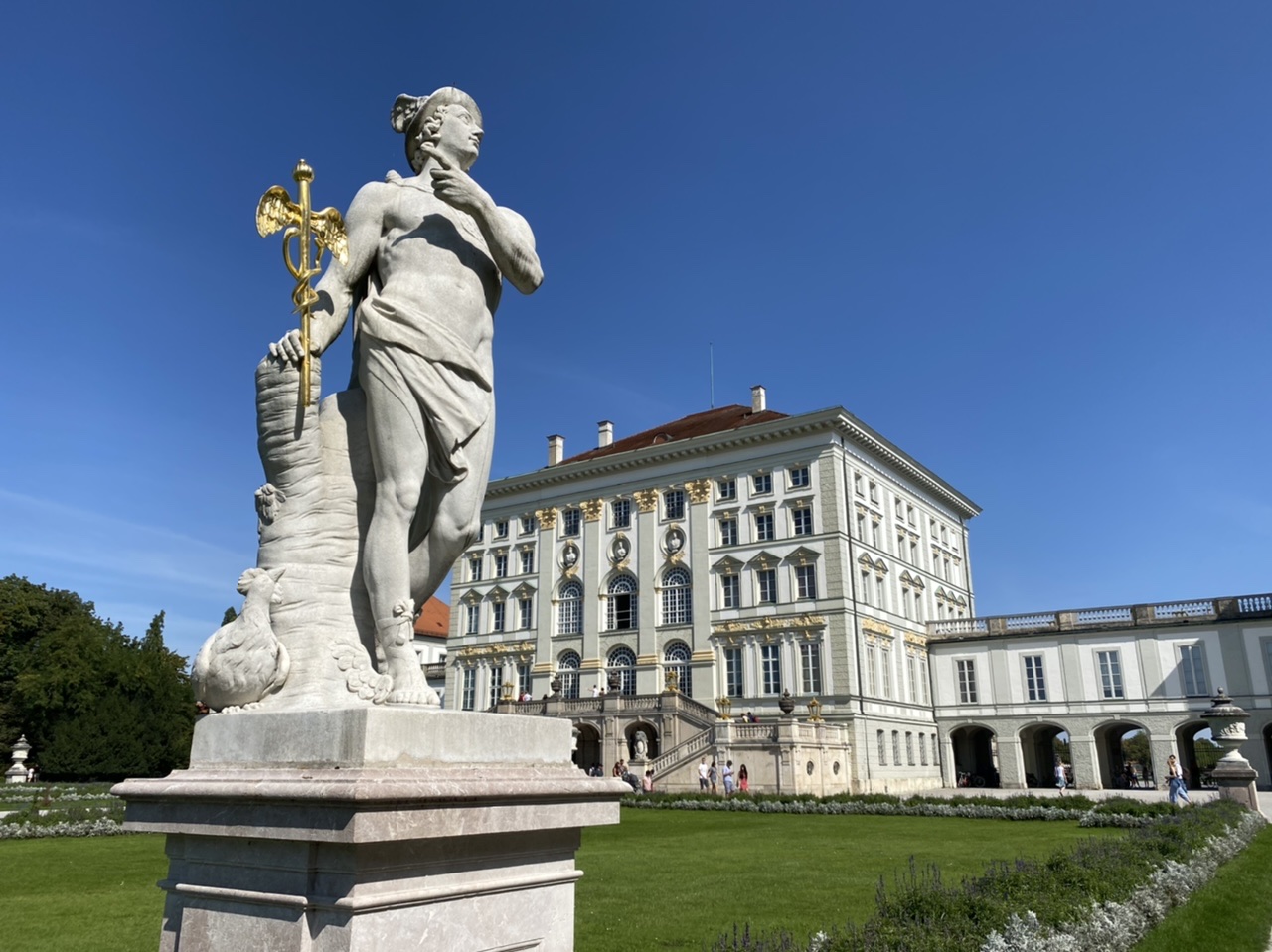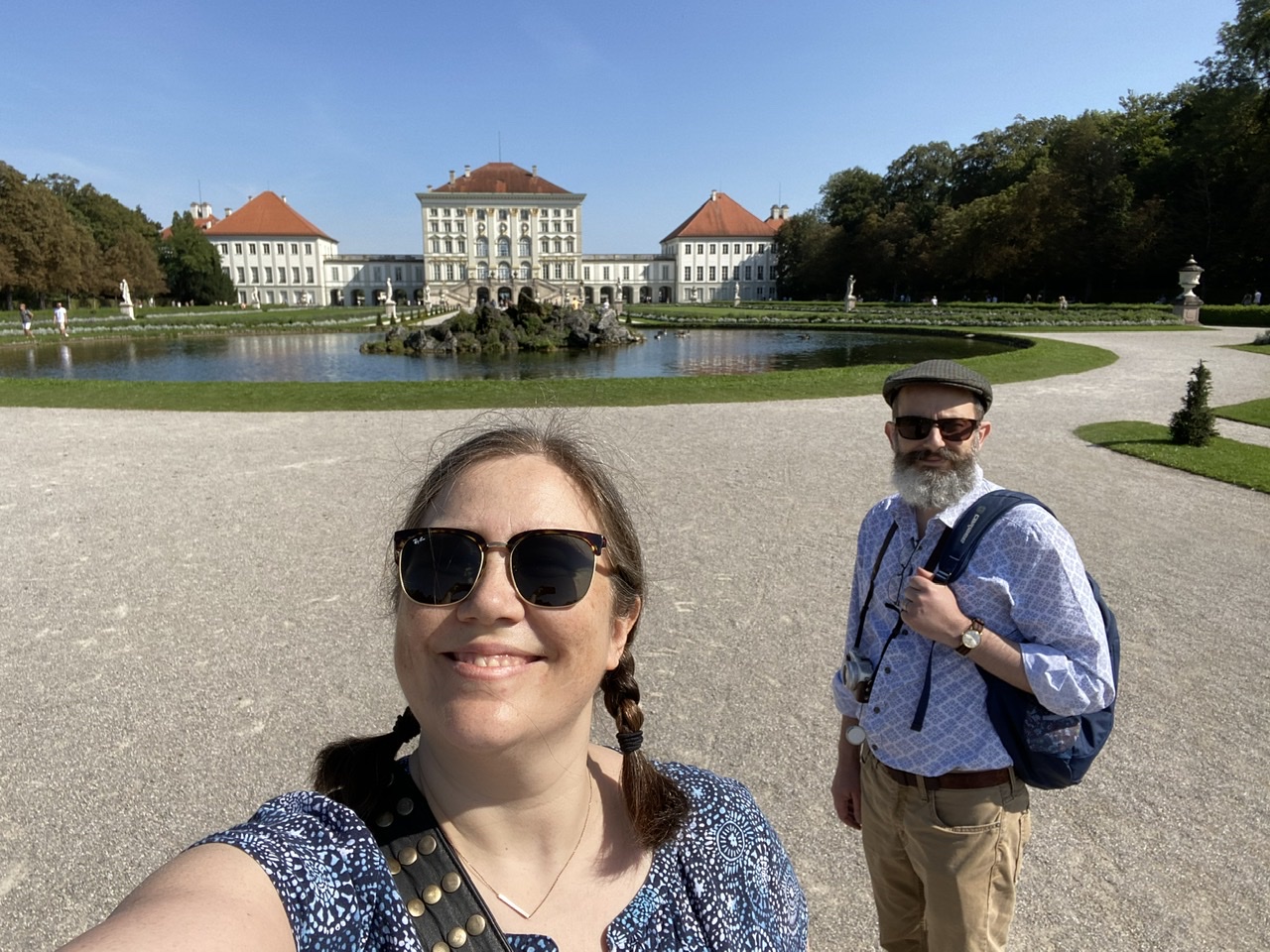 I even spotted Dionysus… 😂🍷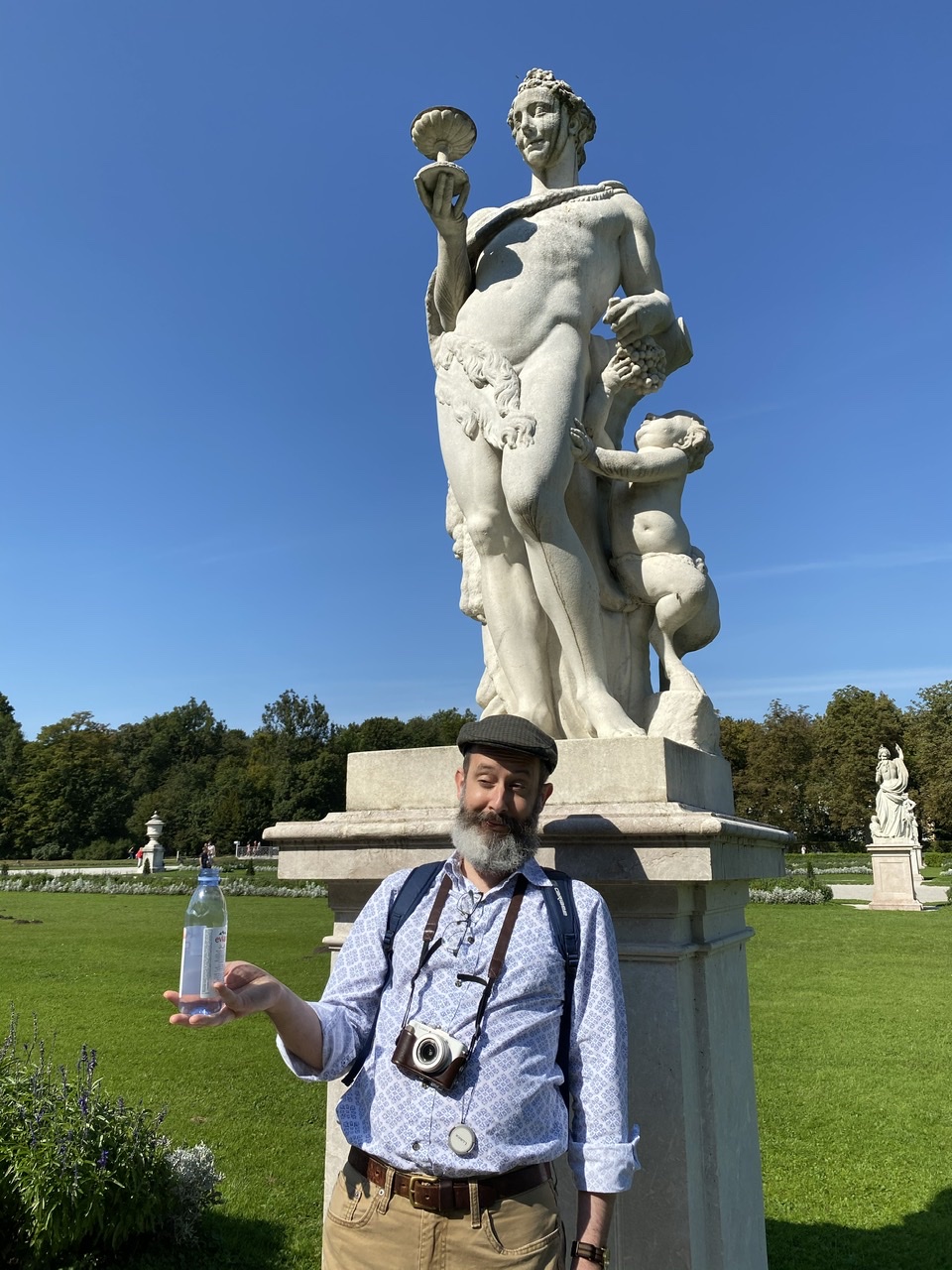 On the way home, we walked to another well-regarded ice cream shop: Patagon Helados. This was Argentinian ice cream – never had that before! It was delicious… 🍦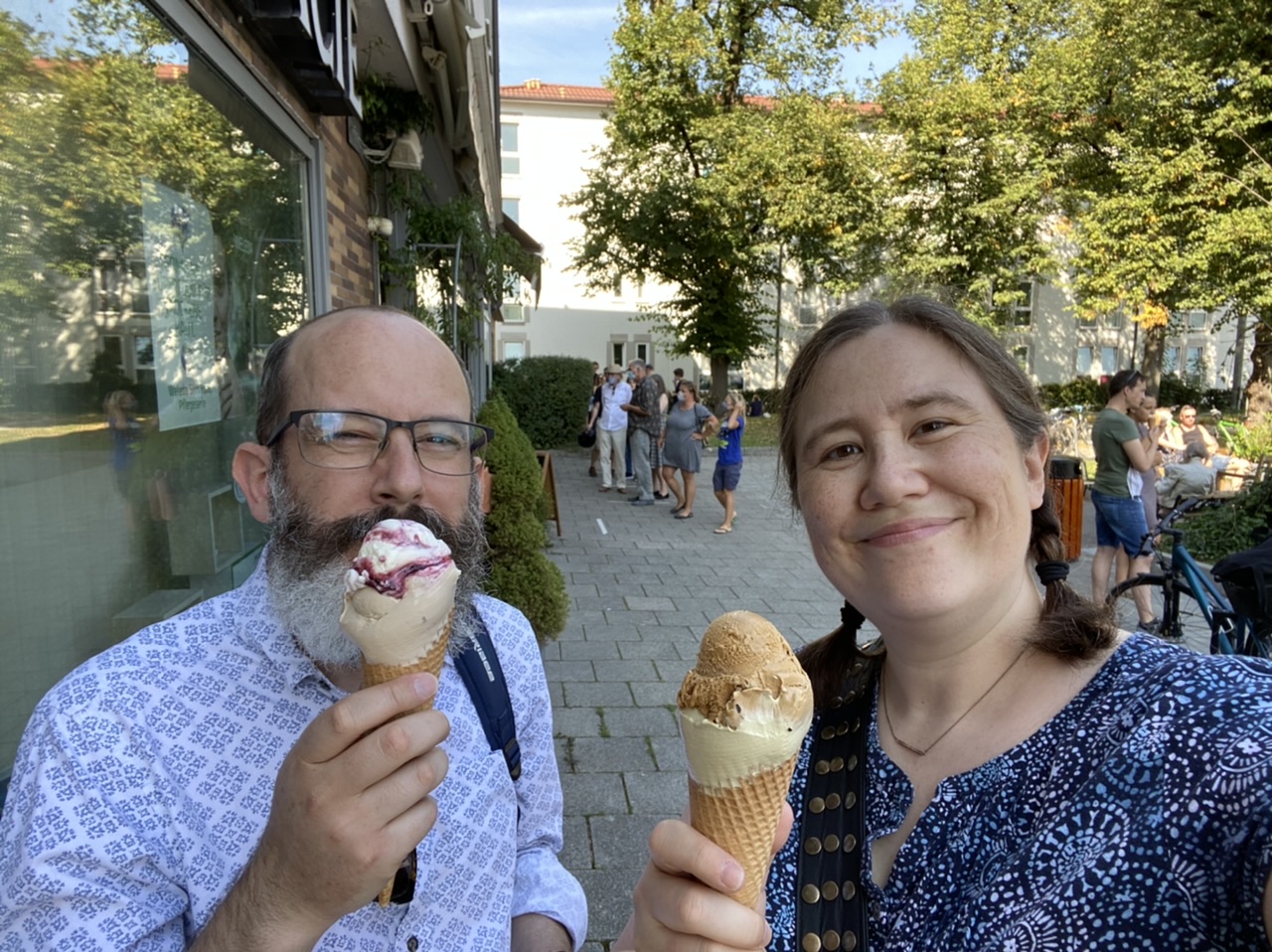 Fast forward a week, and we had our first visitor – Rodd's old uni buddy Scott! Scott's lived in Germany for many years now, but had only spent limited time in Bavaria. We gave him a tour and took him out to dinner at the local Wirtshaus Friday night.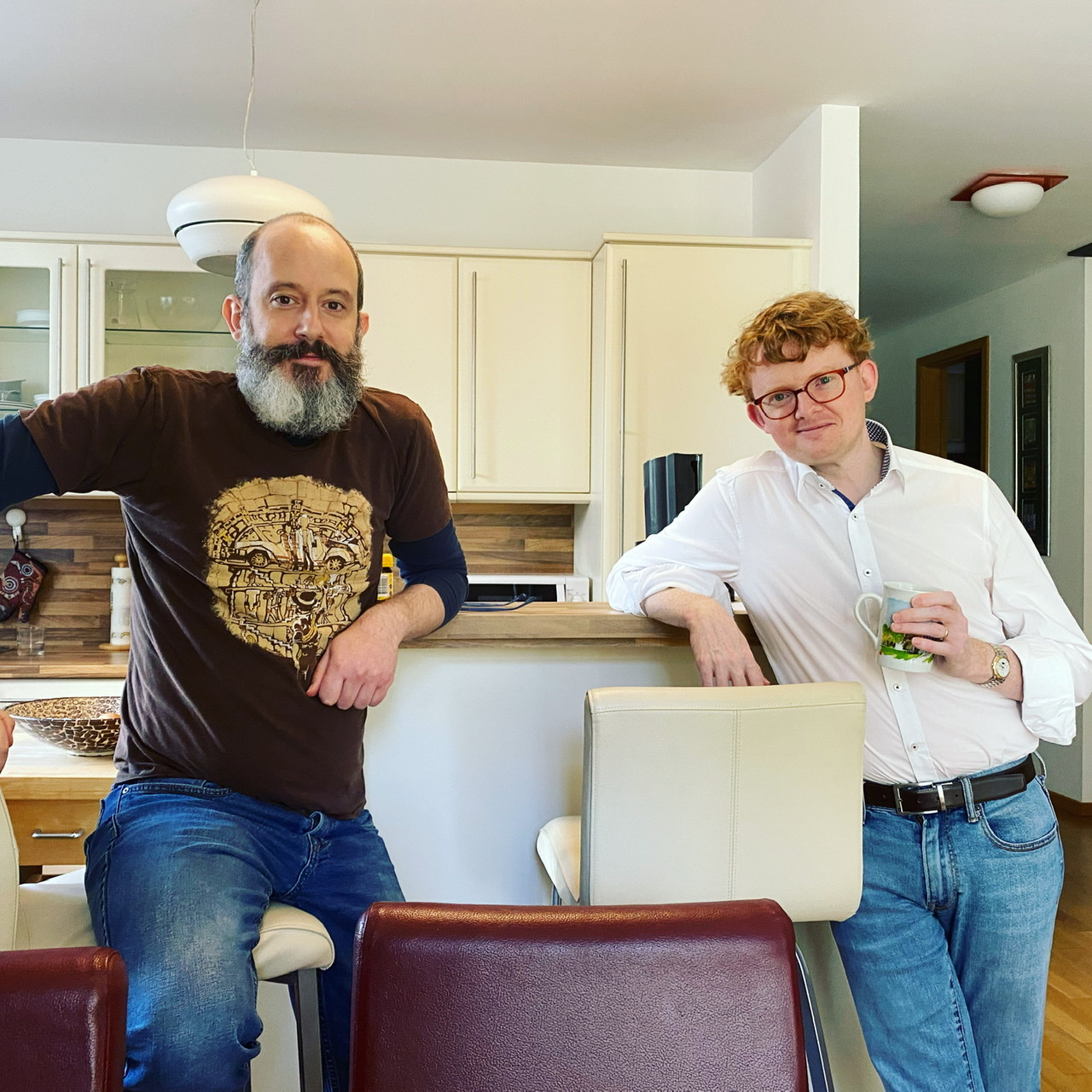 Since Scott had a car with him, we decided on Saturday to go somewhere a bit farther afield. We headed to Oberschleissheim to the Deutsches Museum Flugwerft Schleissheim, an aircraft museum at a historic airfield. It was about half an hour's drive from our house, and when we got their at lunchtime, we spotted a sign pointing to a "Biergarten am Flugplatz." We headed off on foot down the indicated road, wondering the whole time where the heck we were going to end up. Fifteen minutes later, we popped out at an amazing little beer garden literally next to the runway, complete with a live oompah band. We had sausages and beer and watched as gliders were yanked into the sky with a mechanical winch (like giant kites). It was SO FUN and surreal at the same time.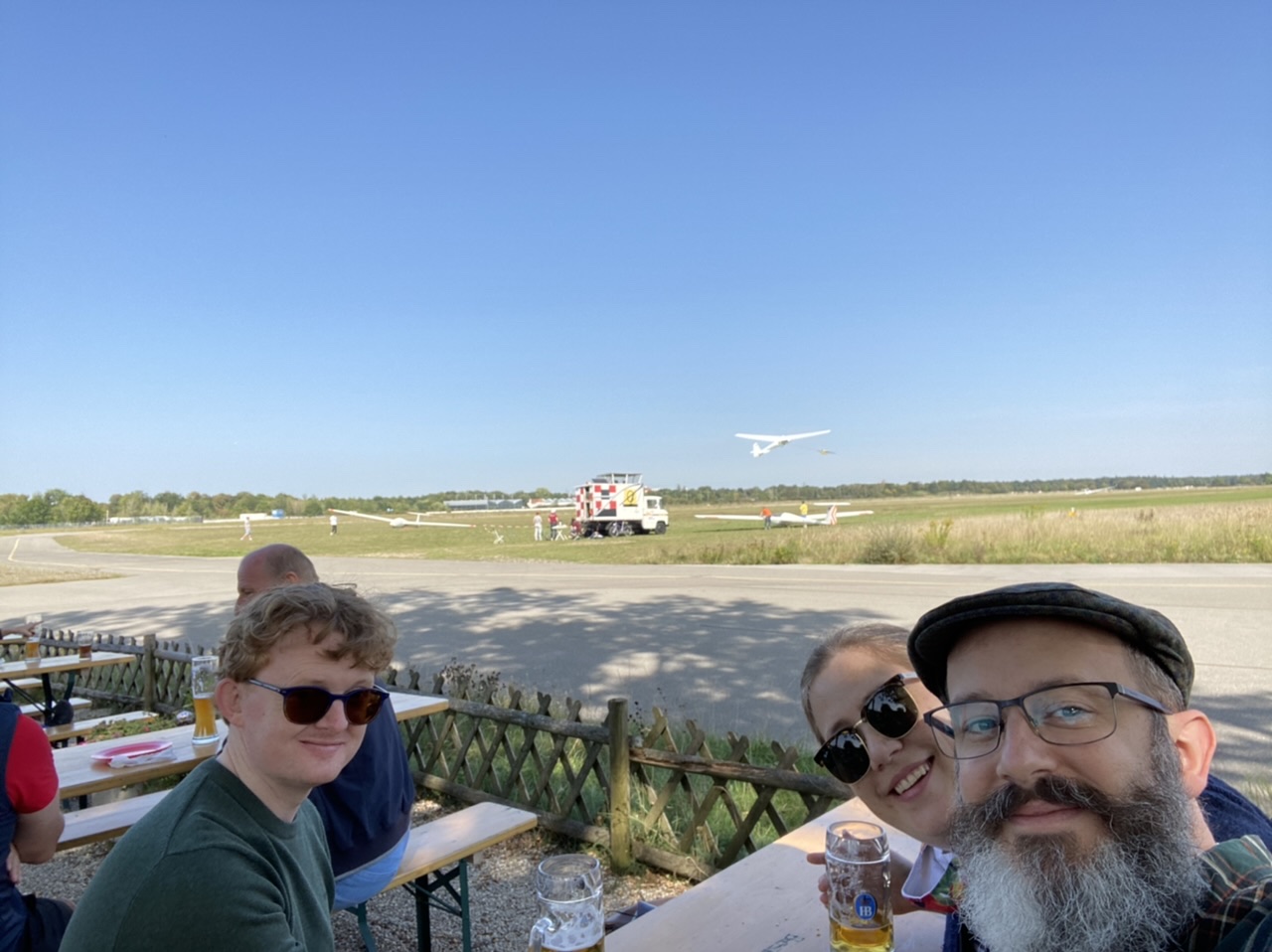 We also toured the museum itself, which had like 70 airplanes from the dawn of aviation up to the present day.
Today for our last day we headed to the Westpark, since the Snook and I had only previously explored half of it. We crossed Garmischer Strasse and headed to the far western section. The park was full of people having picnics, riding bikes, grilling sausages, and just enjoying life. We enjoyed seeing the four Asian gardens remaining from the International Garden Expo in 1983, including this gorgeous Thai-Sala.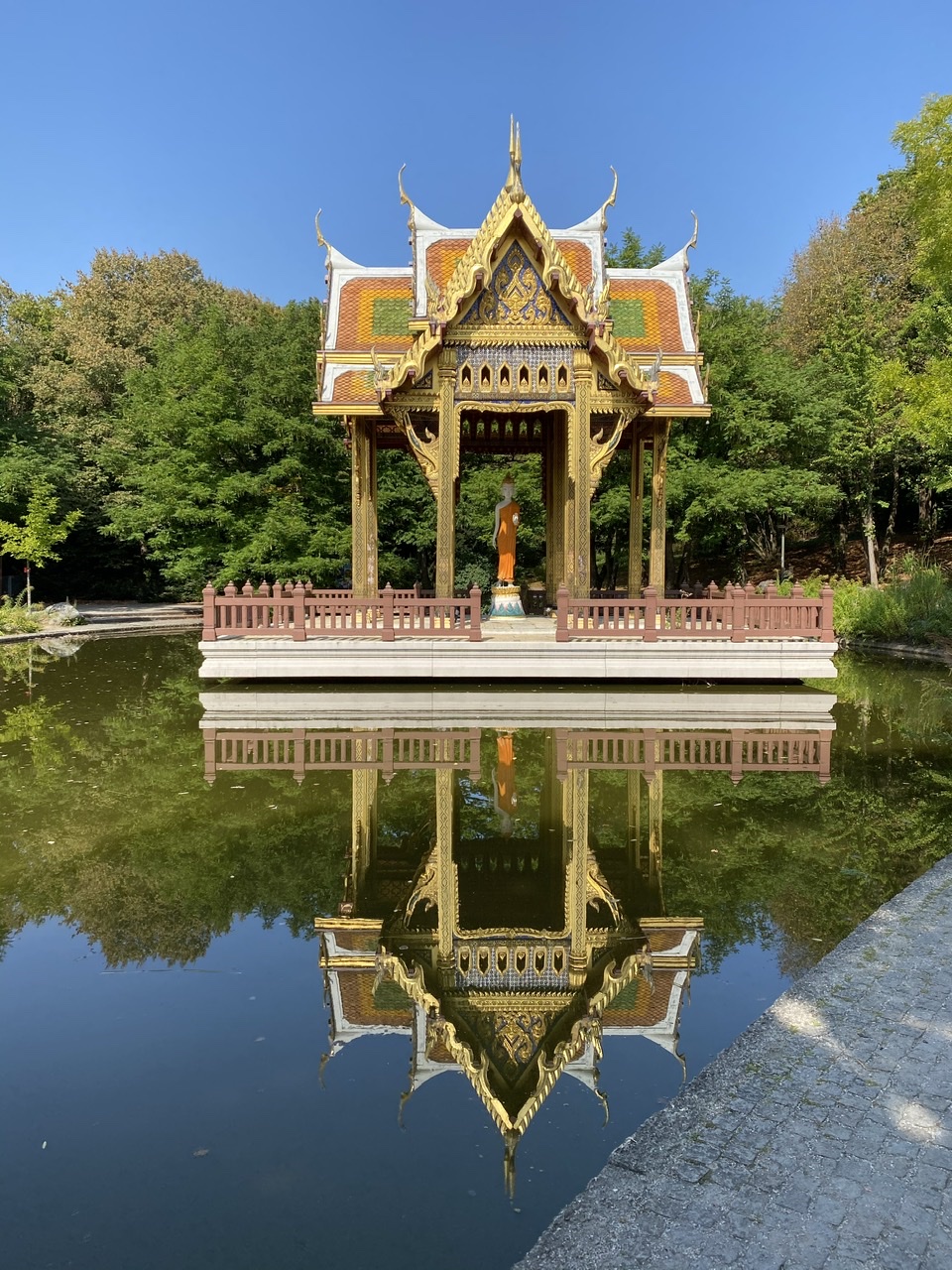 We brought a picnic ourselves and enjoyed it in the park's biergarten overlooking the lake. The Snook was intrigued by the stall selling fish cooked on sticks over charcoal, and I reckon at some point he'll actually try it!
We then wandered home, enjoying the warm sun and the beautiful flowers. I don't know how many more of these weekends we'll have left, but it was lovely to get to spend it with an old friend!