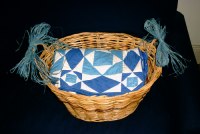 Storm at Sea Quilt
It's done! Today is the wedding of my friends Kenya and Sal, and this is the quilt I made for them. It's a traditional American pattern called "Storm at Sea". I started it just over a year ago (but I took a bit of break in the middle of the summer). The top was machine-pieced but I quilted the whole darn thing by hand. I also used a bias binding for the edge, which was a first for me. All in all I'm really proud of how it turned out. And isn't the basket cute? I saw it in a shop yesterday and realized it was the perfect way to package the quilt. Read on for more pictures (and click to enlarge).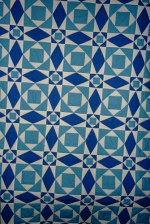 Here's a shot of the quilt pattern itself. As you can see, it's all made up of triangles and squares but somehow they kinda fool the eye into seeing curves and waves.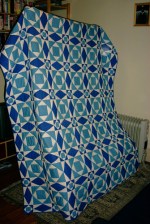 The Snook is actually standing on a chair and holding the quilt up here (and hiding behind it) so you can get an idea of how big it is. It's probably about queen-sized, I'd say.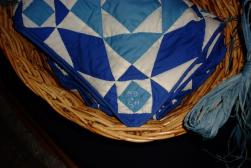 I suck at embroidery, but it's sorta tradition that you personalize the quilt for the receiver. Here's my, uh, "rustic" attempt at adding their initials.

Like I said, I'm proud of it. And hey, that's one more thing I can cross off my crafty backlog!