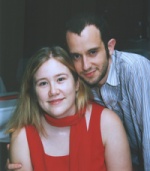 Summit Restaurant Review
In accordance with our tradition, the Snook and I headed out last night for a fancy dinner to celebrate our anniversary. We'd booked a table at the Summit, which is the revolving restaurant on the 47th floor of the Australia Square building. We were lured in by this review: "Very James Bond, circa Diamonds Are Forever. But after a few drinks it turns very Austin Powers, circa The Spy Who Shagged Me. Groovy, baby." Who could resist that? So we got all cleaned up and headed out.
The decor is very retro with deep red carpet and molded white space chairs. The view was fantastic. We were there at 7:30 so it was dark and we had the whole lit-up city to look at. It did take a while to adjust to the "outer-half-of-the-room-is-spinning" thing. (It reminded me of the White Water Landing platform at Cedar Point, actually.) The rotation was very slow – it took us over two hours to go all the way around – but it was still very noticeable. I can't imagine how annoying it must be for the waiters to constantly have their tables moving in relation to the kitchen. As is apparently the custom at revolving restaurants, a lady came around with a camera and took several pictures of us. Later on in the meal she brought back the proofs so we could check them out. My favorite was the photo above. Pretty nice, huh? I may get some copies made for our parents. (We also bought another one of the Snook by himself in which he looks like the sleaziest lounge lizard in the history of the world. I burst out laughing when I saw it. It's hilarious. I'll post it sometime soon.)
The food was really good. My starter was veal fillet on angelhair pasta with pesto and basil, and for the main I had venison wrapped in pastry. Both were incredibly yummy. The Snook had the "game trio" to start (venison, quail, and 'roo) and then the seafood risotto. For dessert he had sorbet and I had the almond and amaretto parfait. I'm still drooling. Oh! And I finally had a mojito! I liked it a lot. I'm not a wine connoisseur myself but the Snook felt that the list was very good and the wines we bought by the glass were excellent. Overall the food cannot be faulted. It wasn't as orgasmically over-the-top as Rockpool but it was better than Wildfire. Service was good but they didn't seem to have enough staff on and we often had to catch a waiter's attention when we needed something.
Final rating: 8.5/10. Excellent food, okay service, great view. Of the Sydney restaurants we've visited, I'd only rate Rockpool and Bennelong higher.