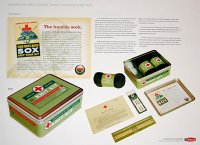 My friend Leigh-Anne sent me an interesting e-mail the other day. She works for the American Red Cross and she wanted to pick my brains for a little market research. She writes: "We are putting together a commemorative knitting kit based on our World War era "Knit Your Bit" campaign which enabled civilian volunteers to support troops by knitting needed clothing and blankets. Our goal is to release this knit kit for the 60th anniversary of D-Day and as the world remembers and memorializes the 60th anniversary of the ending of World War II." A prototype of the kit is pictured here. "This is a sock-knitting kit which would include instructions and all the tools necessary to produce one pair of (WWII regulation) socks. There also will likely be two other sets of instructions for vintage/era knitting projections such as a muffler, gloves and/or cap." The kits would be sold for around $25 and proceeds would go to support the Red Cross's emergency and disaster relief efforts. And it comes in a groovy reusable tin!
I e-mailed Leigh-Anne right away to tell her how awesome I think the project is. I love the idea of all these new young knitters putting aside the novelty scarf yarns for a while and discovering a connection to our collective past. For most of us us, knitting is a hobby, something that we do in addition to full-time jobs and financed by our own discretionary income. Sixty years ago, it would've been something your Mom taught you as a skill you'd need in married life. You would've made all your clothes. (How foreign a concept is that?) During the War, making socks and sweaters was a small but direct way these women could contribute to wider events in the world. It's just amazing to think about.
Anyway, Leigh-Anne's given me permission to start publicizing the kit to get feedback from my fellow knitters. What do you guys think? Personally, I'd get at least one for myself and probably give them as gifts too. I think it's a brilliant idea and I can't wait to see the final result.