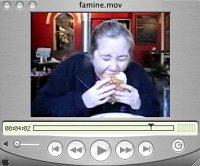 Worldvision Famine 2004 is over!
Thanks to everyone who supported me and donated this year. The hunger itself was pretty manageable, but I didn't expect the massive headache that went along with it. My various food addictions are stronger than I thought! I made the mistake of having a big night out with my co-workers Friday night and then I stayed up way too late watching the royal wedding. Hangovers are hard to dispel without a good greasy fry-up (especially when your better half is eating one in front of you). Saturday night was the worst. Sunday morning I felt pretty good, actually, but by the time 3:00 rolled around I was literally drooling. We headed to Glebe and ended up at Cafe Otto, where my plan to eat spaghetti faded in the face of their massive hamburgers (complete with beetroot, bacon, and a fried egg). It was positively orgasmic. Anyway, the Snook helped me make a little film to document the whole Famine experience. You can download it here (6 MB – Quicktime). I don't know if it's just lingering starvation euphoria but I think it's the funniest thing ever. Enjoy!
PS – What's up with me and the 'thumbs-up'? I do it in every shot! I really had no idea. Do I do that all the time? It makes me look like an idiot!