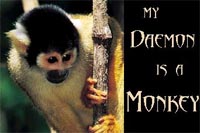 What Animal Would Your Daemon Settle As?
I haven't done a silly quiz in a long time. Here's my result:
My MONKEY DAEMON represents a nature that is admired, detail-oriented, and full of curiosity. Some people might call me self-absorbed. I like to plan ahead, and hone my various talents to perfection.
I'm not sure that describes me perfectly, but hey, monkeys are cute and funny! A monkey daemon would rock, as long as it wasn't a scary evil monkey like Mrs. Coulter's. (Link courtesy of Marci, who is a hare.)
If you have no idea what I'm talking about, "daemons" are from Phillip Pullman's His Dark Materials books. Even if you haven't read them, you'll learn about them when the movie comes out in a couple years.