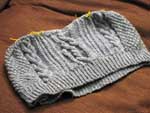 Looking Glass Sweater
This is the first unveiling of my latest knitting project, a cabled jumper for the Snook. The pattern is from the Sirdar Denim Book of Aran Knits (which for some damn reason isn't up on our site, so I had to link to it elsewhere). He wanted something warm but not itchy, something like a sweatshirt that he could wear around the house. So I'm knitting it in Denim Sport Aran (wool, cotton, and acrylic blend), which worked really nicely on my sampler sweater. I'm calling it the Looking Glass Sweater because, with all the naiveté of a rookie knitter, I decided to adapt the pattern to be knit in the round instead of flat. So I cast on the body stitches, knit my ribbing, and then knit the first round of the pattern. Then I stopped DEAD IN MY TRACKS. The first problem is that this annoying pattern writes everything out in words instead of using a simple, succint chart. (I hate words.) It wouldn't be such a bit issue except for problem two: every even-numbered round has to be knit backwards, and every single stitch has to be inverted (knits become purls, etc.). This is because in the original, the even-numbered rounds were on the wrong-side of the garment, and I'm knitting it from the front-side only. At any rate, I spent about two hours tearing my hair out before I cracked open Excel and plotted my own damn chart. It's now a hundred times easier. I still like the concept of every other row being inverted from the original though, like some sort of Mobius strip or 4-dimensional space, which is why I've given it the name that I have. Never let it be said that knitters are not philosophical!
On a side note, cables are really hard to photograph! If you use the flash you lose all shadow and definition of the cables. This is the best I could do without the flash. As you can see, the sweater has panels of double moss stitch on each side, followed by a braid, a section of slip-stitch ribbing, and a triple intertwining central cable. Pretty neat, huh?