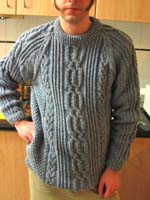 Looking Glass Jumper
At last, the Snook's new cabled jumper is complete. It's pattern C from Sirdar's Denim Book of Aran Knits and it was knitted in the Denim Sport Aran. (The Snook was the third size; I bought the required seven balls but even though I lengthened the body and sleeves, I only used five-and-a-half.) This was my first attempt at converting a pattern written for flat knitting into circular, and I'm about 90% happy with the result. There is a rather glaring error on the front of the jumper – clearly visible at right – but we'll just call it my Amish mistake. (It was too far to frog down and too complicated a spot to correct with a dropped stitch. I thought about swapping the front for the back, but that felt like I was trying to hide it too much. I like that it has a real human error in it. Can you spot it?) The jumper was so named because every other row of the pattern had to be inverted and read backwards to be knit in the round. It only really got fiddly once I started doing the neck shaping; I was juggling five sets of decreases at once (left front, right front, two sleeves, and the back). I just sorta winged it. Pretty nice huh?
Incidentally, it's really hard to take a decent photograph of cables. I took both the ones below before I figured out that I had to do it without the flash. But isn't the Snook with his Puss-Puss sooooo cuuuuuute?