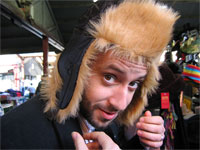 Melbourne Recap
Everyone told me that Melbourne was just going to be a Shopping Mecca, and they were so right. I mean, just look at Snookums there! He looks like he stepped right off the catwalk in Milan. (Damn, I do like to put that boy in funny hats.) If you want to skip all the text below and go straight to the pictures, they're here.
Seriously though, I liked Melbourne a lot more than I expected to. People kept talking it up, telling me that it has so much more ART and CULTCHA than Sydney that I was fully prepared to retch from the pretentiousness of it all. But it wasn't bad, really. It was just different. I liked the wide, straight streets; I liked how easy it was to find your way around; I loved the trams. We had glorious weather, mostly sunny and not too cold. Our hotel (the Vibe Savoy) was lovely and super conveniently-located. (And as mentioned before, they were great about moving us when the heating in our original room failed. While I may have exaggerated a bit about the new room, it was on the top floor and had a king-sized bed. So that was nice.)
We mostly played the weekend by ear. We got in early Friday morning and dropped our bags at the hotel for a wander. We tramped all over the place! We must've seen the whole CBD (and a bit beyond). Lunch was burgers and beer in Fitzroy. After checking in and having a bit of a nap, we headed out to the 'burbs to meet Crumpet and Mr. Crumpet (and a couple of their friends). We had a yummo curry with chocolate pudding and ice cream for dessert. (This was not a Fat Fighting weekend.) We had a lot of fun playing with their dogs and swapping Retail Tales of Horror.
Saturday we got up early to hit the zoo. We like zoos. Melbourne is definitely one of the best I've been to. The signage could use a bit of work, but the landscaping and the design were great. Then it was back to the city for our lunch at Flower Drum. But first, we stopped in at the Queen Victoria Markets, which is where Snookums honestly debated buying this hat. (He didn't.) I got some shoes though. And then it was over to the restaurant, hidden in an alley in Chinatown. Oh my goodness… I can only thank Michael for recommending it. We told our waiter that we'd been told to just ignore the menu and go with whatever he thought was best, which seemed to be a common request. We started with three seafood dim sum each: crab, scallop, and prawn. I had been a little apprehensive – still with the seafood phobia here – but I needn't have worried. They were fantastic. The next course was an even bigger challenge: crispy fried whitebait on a bed of fried enoki mushrooms. Five years ago, that dish would have been my KRYPTONITE. But you know what? I loved it. (Mushrooms and fish? Somewhere my Mom is falling out of her chair.) The fish was all about texture: the crispy salty exterior giving way to delicate flesh that melted in the mouth. I devoured it. And the mushrooms? If the waiter hadn't told me what they were, I'd have thought they were deep-fried noodles. Next was the Peking Duck served pancake-style. I've had this before at crap London restaurants, and this was a whole 'nother universe. The duck wasn't shredded; it was a whole slab of succulent breast meat with the usual plum sauce and green onion. But get this – there was also a bit of melon in there! I can still taste it. Lastly was a grilled fillet of beef on Asian greens with special fried rice. The beef had been seared black on the outside but was so soft and rare on the inside… Heaven. Despite the fact that we were pretty full, we let ourselves get talked into dessert. I had the deep-fried ice cream; the Snook went with almond jelly and fruit. What with all this food (and the approximately 17 pots of tea we drank), we positively waddled out of the restaurant…
What was I talking about? I think I went into a little food-memory coma there. Anyway, as you might expect, everything after Flower Drum was a little bit of a letdown. We went back to Fitzroy for some alterna-shopping on Brunswick Street (didn't get anything), then went back to the hotel to get dressed up for dinner. We'd been told to check out the martinis at the Gin Palace, but I found the place a little too self-consciously hip for me. It was like being in Swingers, hanging out in an underground bar with no sign filled with people trying to seem important. The G&T wasn't bad though. Then we decided to kick it old school and head out to Crown Casino with the rest of the plebs. Seriously, half of Melbourne was there. I didn't see a single casino in Vegas that was so packed with punters. We checked out the restaurants but we were a bit fooded out, so we settled for the food court. I have to recommend the big flame-spurty show along the riverside; it seems to go off every hour. Four or five big iron towers shoot massive fireballs into the sky in sequence. It all went downhill from there though. On our way back to the hotel we found ourselves in a crowd of drunken AFL yobbos on their way home from the match… and I suddenly remembered that "cool" "hip" Melbourne is also the home of Kath & Kim and Neighbours. It's a baffling dichotomy.
Sunday we headed out to see the water at last. We caught the tram to St. Kilda and spent some time exploring the Artists' Market along the Esplanade. (I had this song in my head ALL WEEKEND.) Snookums bought a cutting board and I got a fierce wrist cuff from Cybertart (as seen currently on DeskCam). I wanted to ride the roller coaster at Luna Park but it was closed for some reason. We walked on the Pier and said goodbye to the city. Then it was back to the airport and home to a waiting Puss-Puss. She didn't miss us. (But thanks to Amy and Rob for checking on the ungrateful wretch anyway.)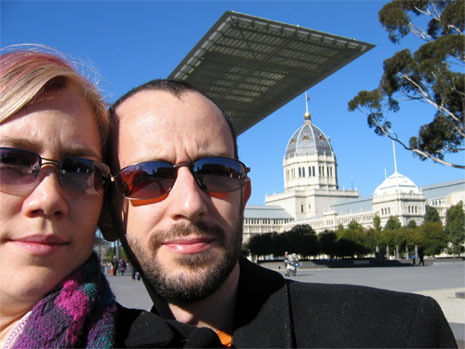 Snookums and I outside the Royal Exhibition Building.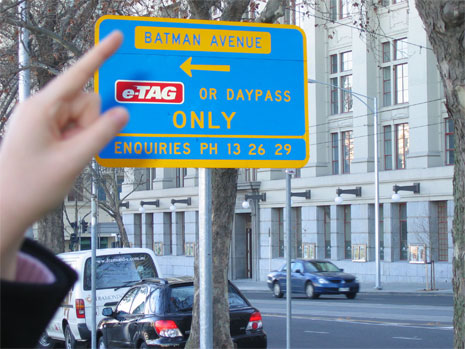 Unexpected street names crack me up. I also like how this photo sorta looks like a GIANT HAND is menacing the poor sign.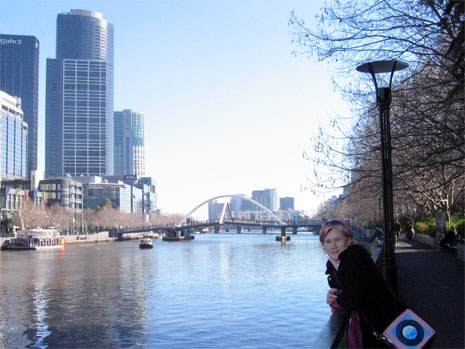 Me and the Yarra River. It's not quite Sydney Harbour… It's not even Darling Harbour, really. But where is? It's reasonably pretty.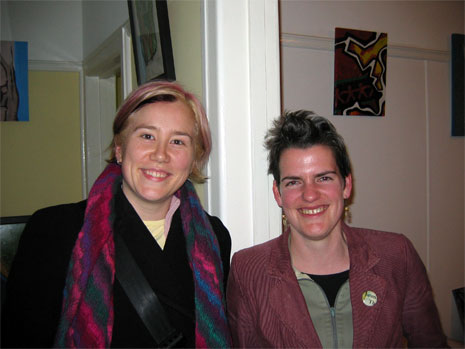 Me and Crumpet.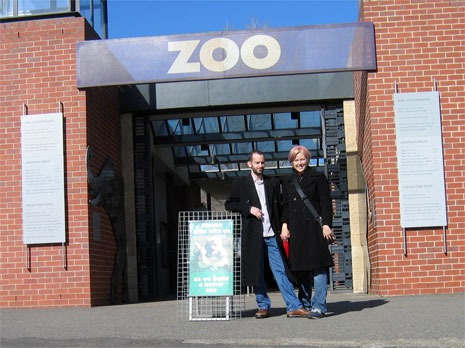 At the Melbourne Zoo.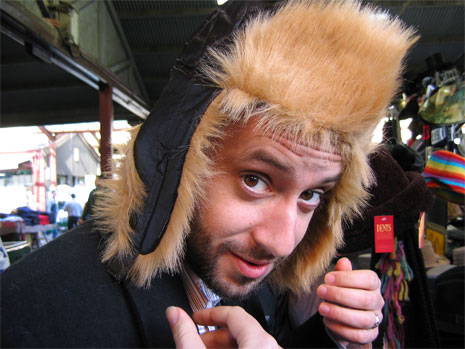 Snookums tries on a funny hat.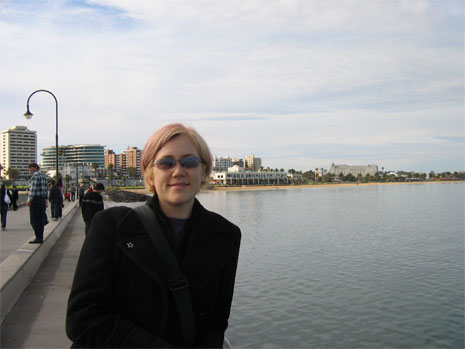 Me on Melbourne Pier, looking back towards the beach.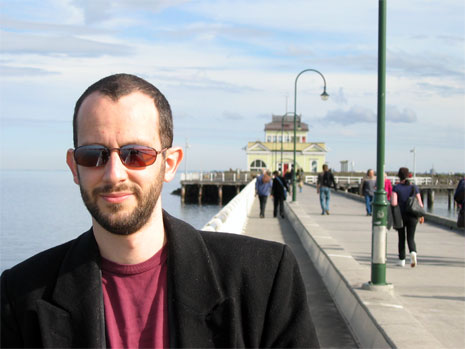 Snookums on Melbourne Pier, looking out towards the Pavilion.