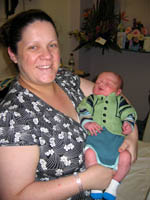 Elizabeth Zimmerman's Baby Surprise Jacket
At last, a finished object to report! I'd seen this famous jacket before but this is the first one I'd ever knit. It was for Tia and her newborn little son, Rohan. I took it over to them at the RPA Hospital tonight, and wonder of wonders, it actually fit! I'm also happy to report that this is officially the first knitted item the baby's ever worn (as poor Tia was too sick to knit for most of her pregnancy). It was knitted out of Debbie Bliss Baby Cashmerino and I used size 3.25mm needles. Read on for more pictures, including yours truly holding a truly unhappy newborn.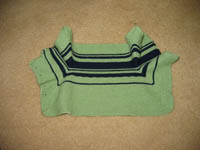 Step One: Knit this thing. Doesn't look like much, does it? I couldn't even figure out which bit I was knitting for a while, which interfered with my plan to use stripes. Finally I just decided to throw in some random stripes and hope they turned out well.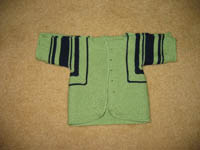 Step Two: Fold it up. Believe it or not, that floppy thing actually folds up into this little jacket. The only seams you have to sew are the two shoulder tops.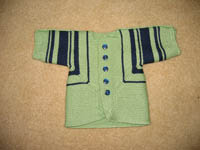 Step Three: Finished! Here I've completed the shoulder seams and added buttons. In an elaborate attempt to avoid actually having to sew, I decided to try picking up along each shoulder and then doing a three-needle cast-off. It worked pretty well! Probably took me a lot longer than it would've to just sew the thing, but I'm nothing if not stubborn.


The back of the jacket.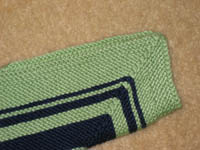 The only problem I had with my shoulder joining method was that picking up on the back side of the shoulders created a weird little strip of stocking stitch on an otherwise all garter stitch garment. I decided that Rohan probably wouldn't mind, but I may try to find a workaround for this in the future.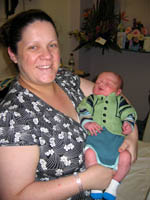 So tonight the Snook and I headed over to the hospital to deliver the jacket to the little nipper in person. He was all swaddled up asleep when we got there but that didn't stop Mum from dressing him up right away. How cute is he? I'm sure he'll outgrow it quickly, but for now he's got one cozy little cardigan to keep him warm.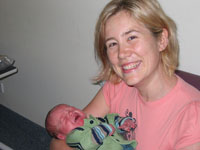 And five seconds later, there I was in a chair with a baby in my arms. He really didn't like being woken up though, and he really didn't like being that far away from his Mama. Poor little thing started to buck and cry, so here I'm like, "Hurry up Snookums and TAKE THE DAMN PICTURE ALREADY!" As soon as I handed him over to his dad Daniel, he turned into a little angel again.

Tia and Daniel are doing great, by the way, and it's wonderful to see them so happy with their new little family. It blows my mind to think back to a year ago when Tia confessed they were trying for a baby, and all the complications and problems that arose. But there in that little hospital room, I got to see the happy ending to the story. Welcome, Rohan Porter.