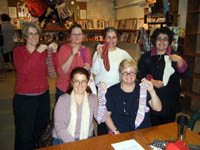 The rest of the weekend…
It was actually a busy one. Friday night we joined Tim, Stef, and a bunch of friends to celebrate them buying their first house. There were drinks at Ryan's bar, then a trip to Lowenbrau for much beer and pork. Saturday morning there was a trip to Toby's for breakfast, followed by the aforementioned tree planting. (It was seriously like one of those heinous challenges on The Biggest Loser. My biceps are aching.) Then this morning I taught the third and final sock workshop, where my nine ladies got to finish the toes and learn Kitchener stitch. (I forgot to take the group picture til after three girl had already left. Sorry, ladies!) After the class, I dragged out my sewing machine and proceeded to break FIVE NEEDLES in the process of mending the Snook's ripped jeans. (Note to self: buy needles specially for denim.) I also made some real progress on Matt's Scarf. The Snook went on a husbandly crusade and proceeded to fix our leaking shower before making a massive batch of Ron's "Blue Stater's Texas Chili", which was so good.
Oh! And I went for a run, in the course of which I finally met the not-so-mythical Goat of Chippendale. His name is "Maxy" and he was a very nice goat. I just wish he had a girlfriend so I could get some fresh goat's milk!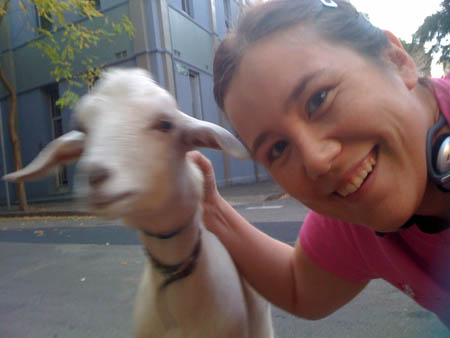 Phew. I'm oddly still feeling slightly unenthusiastic about jumping back online. No idea why. I've lost my digital mojo a bit, it seems.