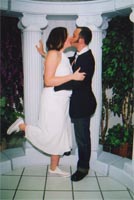 Happy 5th anniversary, Snookums!
Yep, five years ago today we walked down the aisle in Vegas and you guys watched live on the Internet. FIVE YEARS! How crazy is that? I was about to say that those kids would barely recognise us, but that's not true. Where we are right now is exactly where that girl would've hoped to be in five years, and that's really something I should appreciate more. Thank you, Snookums, for being my best friend and for sharing my adventures. I couldn't imagine it any other way.
We're off to the Boathouse tonight to celebrate, and our wedding rings are scheduled to be delivered next week. (Yep, we're finally getting rings. They are the nerdiest rings in the history of the world. You'll love it.) I told the Snook today: "The traditional fifth anniversary gift is wood. Feel free to snicker." To which he replied: "The Todd approves." HA!