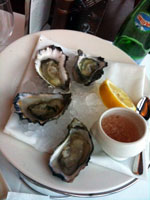 The Boathouse at Blackwattle Bay
Last Friday was our fifth wedding anniversary, so we headed over to the Boathouse at Blackwattle Bay for dinner. We'd never been there before, but it was highly recommended — and even better, Eileen had gotten us a gift certificate! The restaurant is literally right above the Sydney Uni boathouse, sticking out into the water, and we watched a number of dragon boat crews zooming around the bay at dusk. The vibe was casual but upmarket. We started by sampling some different types of oysters: two from the south coast and two from Queensland. They were great. I'm not enough of an oyster connoisseur yet to tell you the difference, but the Snook said the Queensland one was definitely sweeter and firmer. We also shared an entree of "Seared Yellowfin Tuna with Organic Soy Dressing, Quail Egg & Shiso Leaf." Tiny but very flavorful.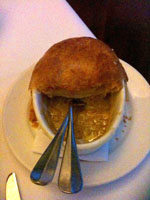 Now the mains. I'd heard that their Snapper Pie was a specialty, so I was already leaning that direction. But then I actually saw it delivered to our next table. Wow! They make quite a presentation of it. The pie is wheeled out on a cart by a server, who makes a special show of plating up half the crust along with a portion of the fish and gravy. As soon as she cut open that crust, the smell of truffles whacked me in the face. TRUFFLES! That sealed it. So I had the snapper pie (served with mashed potato and a smoked tomato) while the Snook had the "New Zealand Pink Ling Involtini with Black Olive, Pancetta & Asparagus." The pie was everything I hoped it would be. SO GOOD. Yeah, it was the better part of $50, but it was so worth it. I should also point out that the utensils pictured here are big serving spoons, not normal cutlery. It's a very generous dish, and I ate every scrap! (I later asked the waiter if the recipe was available, and he told me in a whisper that it was on the Internet. Sweeeeeet.) The Snook's dish was well-prepared and the flavour was great, but he discovered he's not much of a fan of the texture of ling. Anyway, we were getting full by this point so we decided to just share some cheese for dessert. The cheese plates were certainly generous. Each one came with a number of different breads, grapes, fig jam, and sliced apple. We were stuffed. It was such a good meal.
The final verdict: I loved the pie so much and I'd go back in a heartbeat… but it's not cheap. With that food and three drinks, we were up over $250. Nice if you've got a gift certificate, but a bit pricey for visiting more than once or twice a year. I'd say to save this one for a special occasion… and give that online recipe a try!