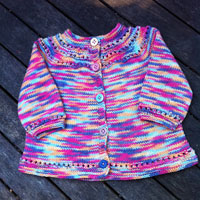 Eyelet Yoke Cardigan
One of my co-workers just had his first baby – a little girl – so I decided to knit something for him. I had some Morris Empire 4ply in #436 Bloom that I thought would be perfect. I went to Ravelry to look for suitable baby cardigans with patterns that wouldn't compete too much with the variegated wool. (And no Baby Surprise! I am going to come out of the closet and admit that I think they're pretty ugly. I'm going to stop torturing myself by knitting them.) Anyway, I found this Eyelet Yoke Cardigan that seemed like it would work. It was really quick to knit up, and I used less than 2 balls of the Empire (on 3.5mm needles). The eyelet details on the yoke (pic), sleeves, and waist kept it fun and interesting. For the buttons, I was pleased to find 5 similar-ish buttons (pic) in my stash all in colours that matched the wool. Hooray for mismatched buttons! (More details on Ravelry here.)
I gave the cardy to Fei this morning and he was thrilled! I can't wait to see pics of it on his little girl.