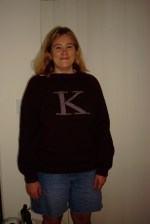 Sorry for the silence… but I've been busy finishing my Weasley Sweater! It's a seamless raglan in deep maroon with a great big gray "K" embroidered on the front. It's 100% wool and warm as hell. It's probably actually a little nicer than the ones Mrs. Weasley makes, but faced with a choice between filmic accuracy and my desire to not wear a lumpy boat-necked monstrosity, my sense of fashion won out. (Apologies for the lack of contrast in the picture; Snookums took it at midnight as soon as I finished the thing. I'll post some better ones – and pattern notes for you knitters – tomorrow.) My costume for the Azkaban opening is taking shape… I just need to make myself a Gryffindor scarf and locate a grey pleated skirt. The Snook said I can use his black academic gown. Yay!
Update: Better photo and knitting notes added.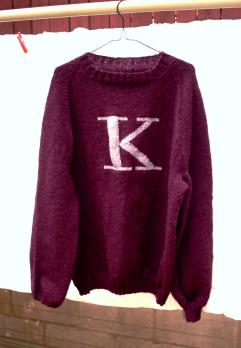 First off, if you want to knit a sweater as painlessly as possible get Jacqueline Fee's book The Sweater Workshop. It won't teach you the basics of knitting, but if you already know how to knit and purl it'll show you everything else you need to know to design your own sweaters. This is my third project based on the book (after the sampler and the Snook's sweater) and it turned out great.
The wool is Naturally Guernsey DK from New Zealand in the Mackenzie (purple) and Dundee (gray) colors. I started by measuring one of my existing sweaters from armpit-to-armpit to get my key number. Everything else in the pattern is based on percentages of that. I wanted it to be a little big and baggy too (to match the ones in the movie). Then I knitted a swatch with a couple different size needles to find a gauge I liked. Once I had that, I started the body on a big 80cm long 4.5mm circular needle. I did about two inches of ribbing and then knitted the body up the armpits in straight stocking stitch. Then I set it aside and started the sleeves.
I decided to be clever and knit both sleeves at once on two circular needles. It was actually almost a little too clever for me but I got it in the end. I went with the "full" style sleeves from the book, which means that you do all the increases as soon as you finish the cuff and the rest of the sleeve is knit straight. It's a baggier style which I like. Once I had knitted them to the armpit, I carefully joined all three tubes together. (It's actually not that complicated and Fee gives you great instructions.)
Once everything is on one needle, away to the collar you go. I decided that since my jumper was going to be plain, I would liven it up with a decorative raglan seamline. (Raglan sleeves are like a sweatshirt, where you have a diagonal seam running from the armpit up the collar.) I used seamline "E" in the book, which consisted of PSSO, K1, and PSSO-R. Not complicated and I got into the rhythm pretty quickly. Eventually I had to stop going around and round and start going back and forth to prepare for the collar. I went with the standard crew neck setup but planned to do it as a rollneck instead. (For a rollneck you just knit every round instead of ribbing them.) Once I got the rollneck on, though, I didn't really like the way it looked. So I frogged it back and did a conventional ribbed crewneck instead. Looks much better.
Next I had to graft the underarm openings, which again sounds difficult but isn't too hard if you follow Fee's instructions. Lastly, I had the Snook help me print out a large pixellated letter "K" to use as a pattern for the front. The letter had to be done as swiss darning (or "duplicate stitch") because there's no way to do intarsia when you're circular knitting (unless you want to weave in a million loose ends). It ended up being somewhat like doing cross-stitch. Once that was done, I just had to weave in my ends and it was finished!