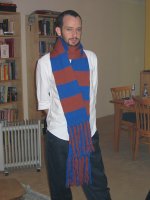 Another Hogwarts Scarf!
As you can see, I've just finished an old-school Ravenclaw scarf as a commission for a nice Aussie girl named Kat. (Kat went with the "blue and bronze" color scheme from the book as opposed to the "blue and silver" from the movie.) The Snook was kind enough to model for me (as usual). It was knitted with Cleckheaton Country 8-ply 100% wool. Somehow my gauge was off from the last one I did, which resulted in a slightly skinner yet longer scarf. The dimensions on this one were 6″ wide by 76″ long (not counting fringe). That should keep Kat pretty warm throughout this winter!
Stay tuned for a revamp of my Harry Potter Scarves page with more pictures and descriptions.