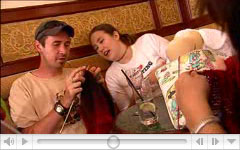 It's all about me and the make-up guy.
As you might've seen in the comments of the previous post, the "pub knitting" filming I went to last month has finally been televised. I'm not in it very much, but there's a nice shot of me helping the make-up guy fix his fake-knitting and you can definitely see the "I Heart Knitting" shirt. Click on the screenshot to watch the whole thing. (File is 5MB.) But yeah, whatever. It's pretty lame. I can't believe they used the "First Rule of Knit Club" joke for the commercial bumper. We also filmed a LOT more than they ended up using (which is weird considering they clearly use at least one shot twice). They don't mention any details about the knitting group and never even name the pub. It was a meaningless bit of filler to promote some stupid novelty blanket pattern in their latest issue. Bah, humbug.
Note: Please let me know if you have any problems with the video. It lags and stutters on my Mac but the Snook swears up and down it runs perfectly on his Linux desktop, therefore mine must be the problem. Just so you know.