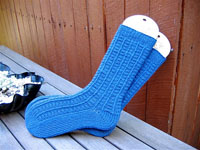 Glib Socks
These are my fifth completed pair for the Southern Summer of Socks, and I think they were the fastest to knit. Less than two weeks from start to finish! I'm still well on track to meet my goal of one pair per month.
This was my first time using the Cascade Fixation. It's a really weird yarn: 98% cotton, 2% elastic. It's thick and sproingy and I know a lot of people use it for bathing suits(!). I bought it because the Snook hates wearing wool on his feet, and I figured he might be willing to wear this. All the patterns I could find were either girly or boring though. I mentioned my frustration to Bex, and she remarked that she was working on a simple sock pattern at the moment. She e-mailed me the stitch pattern and it was perfect. (She's since put the pattern up on Ravelry as a free download.) Read on for the technical details.For the needle size, I looked at the Flame Wave Socks from Interweave's Favorite Socks. They use 3.5mm on the foot for a women's sock, but suggest to use a larger needle to make the sock larger. I was also worried about my tension with knitting with such a sproingy yarn, so I figured it couldn't hurt to go up to the 4mm.
I used Judy's Magic Cast On for the toe, and then increased up to 50 stitches. (26 on the instep for the patterning, 24 on the sole in plain stockinette.) I knit both socks at once on two circular needles. I had him try them on constantly so I could work out the length of the foot. This stuff stretches A LOT. I used a basic short row heel, and then I picked up an extra two stitches in each gap when I started the leg again. (There's still a bit of a hole there, but I'll live with it.) So that brought me up to 55 stitches in total for the leg. Then I just kept going until I was nearly out of wool, when I switched to a 1×1 rib for the cuff.
Very happy with these! Now we'll see whether they can stand up to the Abominable Feet of Destruction. (Cross-posted to Ravelry and the Southern Summer of Socks.)