Easter Show Knitting: This year I set a record in finishing THREE projects for the Easter Show knitting competitions. I probably shouldn't blog about them yet – because, you know, SPIES and whatnot – but I can't be bothered. I never win anyway, so there's no point in being coy. As you will see, I stuck to my customary themes of "Giant Cabled Thing," "Non-Traditional Colours," and "Toys Based on Australian Children's Literature." Oh, and this year I added a new one: "Disturbing Accessories." I even freaked myself out.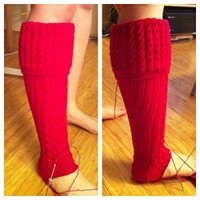 First, the Giant Cabled Thing in Non-Traditional Colours. It's Cookie A's Rhiannon Socks knitted in hot pink Wollmeise. Yes, really. Longtime readers will remember that I actually tried to knit these socks four years ago and failed miserably. There are some truly diabolical cable stitches in there (increasing four stitches while cabling at the same time, for example), but this time I cracked it. I knitted them both at the same time on my usual 2.75mm circs. This photo, of course, is from before they were finished. They were blocking for the past few days so I didn't even have time to get a proper finished photo! Hopefully the Easter Show display monkeys don't, like, cut holes in them when they display them. (If you want more details, check out the Ravelry page.)


Next is my toy entry. Two years ago I knitted Albert from The Magic Pudding, and this year I decided to knit Sam Sawnoff. Sam, of course, is a penguin and a loyal member of the Noble Society of Pudding Owners. I used the Norman Lindsay watercolour as my model, basing the body off the "Fairy Penguin" pattern in the "Cleckheaton Wildlife in 8ply" book. I actually used two strands of 8ply wool throughout to make him bigger, and I improvised the feet and wings a bit (since the pattern instructions were incomprehensible). His eyes are felt, and his trousers are calico. They turned out a bit more nappy-like than I wanted, but I don't think it can be helped given the realities of penguin anatomy. Incidentally, I'm pretty sure Norman Lindsay never even saw a real penguin. Sam is WACK. (More details on Ravelry here.)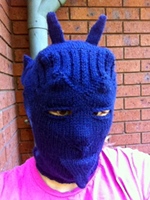 And now we come to DISTURBING: the Bokaclava. I'm not sure how I came across this free pattern, but somehow a few years ago I agreed to knit one for my colleague Sean. It sat hibernating for a long time til I was inspired to finish it. My goal, of course, was to completely freak out the Show judges. And given how much it freaked ME out every time I tried it on, I think I will succeed. I knitted it out of some random Aran wool that I was gifted, and the thing looks more like something you'd buy in a Newtown fetish shop than something entered in a country show. And really, that's pretty much what I was going for! BOOYAH. (And the Rav page is here.)
And now to wait and see the results of the judging. Any bets?