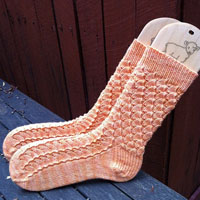 Nanner and Boyfriend Socks
Here are my final two pairs of socks for the 2011 "Super Special Six Pattern Sock Club"! First up are the Nanner Socks from wendy knits. These were knitted at the same time on a pair of 2.75mm circular needles. The wool is Knitabulous Yarn Ultimate Sock in "Sorbet". If my socks look weird to you compared to the pattern photo, it's because I knitted them incorrectly. I only discovered it when my friends at Sewjourn noticed the difference. It turns out that I had followed the charts exactly… and missed the bit of text that explained how you were to insert a row of plain knitting every other row. Oops. So my lace scallop repeats are only half as high as they should be. My only planned modification was to gradually add in an extra repeat on the leg portion, just to give a bit more room in the cuff. That worked out pretty well! My complaint about these socks is that they bias and twist really badly. I'm not sure whether that's due to the pattern or due to my error in knitting them. More photos are available over on Ravelry.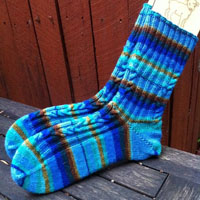 These are the Boyfriend Socks from slippedstitch, which I only finished last night. They were knitted toe-up one-at-a-time on a pair of 2.75mm circular needles. The wool is Regia Design Line Kaffe Fassett. The photos aren't very colour-accurate; the green is a lot stronger in person. (This is probably my least favourite of the Kaffe Fassett colourways.) The pattern is interesting. From the photos I thought that the cables actually travelled, but they don't. Instead when the pattern repeat ends, some knits become purls and vice versa. It's weird at first, but you get used to it. I eventually had it memorised. I used Judy's Magic Cast-On for the toe and knitted the heel as written in the pattern. I knitted 3.5 repeats of the cables, then did a couple P2tog so that it turned nicely into K2P2 ribbing. Then I just ribbed til I ran out of wool. They fit the Snook nicely. Again, more photos over on Ravelry.
And that's it! Six pairs of socks done for 2011. I didn't do any substitutions; I knitted all the socks as set out a year ago: Shur-tugal, Nutkin, Leyburn, Fox Faces, Nanners, and Boyfriend. I also used up quite a bit of sock yarn from stash, which is always welcome. Yay!