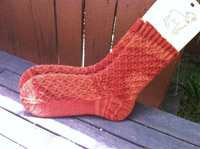 Shur'tugal Socks
This was the first pattern scheduled for the "Super Special Six Pattern Sock Club" I'm participating in. The idea is that the group (which is now up to 200 members!) chose six sock patterns via a vote and throughout the year we'll be knitting them with wool from our stashes. (You can read more here, here, and here.) I have plenty of sock wool in my stash, so in December I tucked away six special skeins for this series. On New Year's Eve, I pulled one out at random: the Shibui Sock in "Pagoda" (a beautiful burnt orange) that I bought at my Mom's LYS in Goshen. I wound the two skeins together into a center-pull ball and then I was off!
The problem is that I hated this pattern. Oh, don't get me wrong, it's really well-written. I've just found historically that I get really, really bored with tiny allover repeating patterns, especially those involving two-stitch cables. (Remember Conwy?) Plus I just could NOT memorise the pattern. Twice I picked it up at the wrong spot and had to frog back. I knitted both socks at the same time on 2.75mm circulars, and I did the larger size. It just seemed to take FOREVER. I was so thrilled to finally cast them off today and be done with it! They are pretty though. More details are over on Ravelry.
I will also admit to some irrational irritation with the pattern just because of the name. Apparently it has something to do with "dragon riders" and it's from that book I hated.