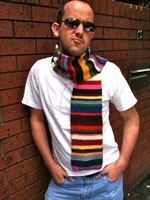 Matt's Random Striped Scarf
Remember back in June when I launched my site redesign? Well, in exchange for making my awesome header, I agreed to knit Matt a custom scarf. He liked the look of Kelley Deal's recycled scarves, so that's where the inspiration came from. I used sixteen different colours of 8 and 10ply wool on a 4.5mm circular needle (knitted as a tube). Each colour was assigned a number and put on a bit of paper in an envelope. In another envelope I had a selection of bits of paper with 1, 2, 3, 5, and 8 written on them (Fibonacci stripes). I'd pick a slip from each envelope and then knit the specified colour in the specified number of stripes. After all the slips were gone, I put them back in and mixed them up again. This assured that the stripes were random, but not too random. (I wanted a relatively even distribution of the colours.) I think it turned out really well! It's about six inches wide when flattened, and about five feet long. (Another view.) Matt didn't want fringe, so I sewed the ends shut. It's now blocked and on its way to him. Thanks again, Matt! There are a couple other pics on Ravelry…
And isn't the Snook a natural male model?