Maile Sweater and Swirl Hat
Hey, I knitted something! It's been months and months, actually. But last week my friend Kevin's first child was born, and such a thing demands commemoration. I picked the pattern and the yarn before the birth, assuming that the combination would work for either gender. It helps that the father is Irish. 🙂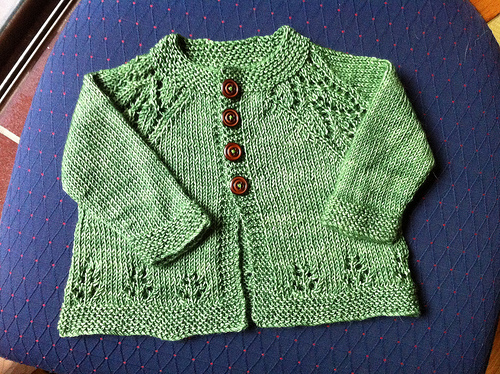 The cardigan is the Maile Sweater. It's knitted from the bottom up in one piece. I actually knitted it twice: the first time on 3.5mm needle as per the pattern, and the second time on 3.75mm needles. (I thought it looked a little small so I frogged it and started over.) On the first attempt, I followed the pattern exactly including knitting the sleeves flat and joining them with no cast-off stitches. I wasn't thrilled with it though, and the underarms had a few stitches that looked very stretched. So when I frogged and reknitted, I took the opportunity to experiment. The sleeves were knitted this time in the round via Magic Loop. When I joined them, I set aside 4 live stitches on the body and 4 live stitches on the underarm of the sleeve on waste wool. I later grafted these together (a la Elizabeth Zimmerman). It makes for a very nice finish, and it definitely made those first few rows after joining easier.
The wool is "Merino Chubby Sock" in Barleygrass by the Knittery. One skein was plenty to knit the jumper, and I had so much left over that I actually made a matching hat. The pattern is the "Swirl Hat" from Sheepy Time Knits. And I still have wool left over! This stuff goes a long way.
As usual, there are more photos and details over on Ravelry: Maile Sweater / Swirl Hat. Now I just have to wait to get a photo of the baby actually wearing them!